Receive training in the comfort of your home or office
The Digital Workshop is focused on providing quality online, webinar-style training on computer software, business applications, and computer usage. We strive to help you meet your goals, and in addition to our regularly-scheduled courses, we offer several online courses in private and group formats. We will work to create the perfect online training solution for you and pride ourselves in our quality training and customization options.
Taking classes online often means the human element of the classroom experience is lost. The success of our students is realized by providing online, flexible classes while always incorporating a hands-on, classroom approach. In addition, our online classes include face time with the instructor and additional lab time after each class to re-connect with a real person and get the help you need.
We're here for you every step of the way. So let's get started!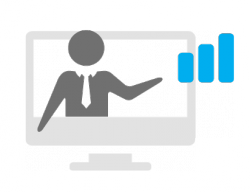 How are your online classes different?
The Digital Workshop offers a different student experience than an online university or community college. We strive to keep the human element of a traditional classroom alive in an online format. Our passion for hands-on instruction continues online by incorporating the following:
Small groups (8-10 students per class)
Accelerated format
Q&A session at the end of every class
Short and convenient sessions
One month of free technical support
Customized examples relevant to your learning needs
Physical textbook (e-books by request only)
Why should I register for your online classes?
Our online courses bring the same hands-on approach used in all of our in-person classes, while providing personalized attention to our students and keeping class sizes small. Our goal is to create a better online learning experience by combining the core values of any in-person class with the convenience and accessibility of an online webinar-style format.
How do I get started?
If you have more questions that aren't answered here, check out our FAQ page. Or, contact us by completing the form below to receive more information about our online courses.