Step by Step Welcome Guide
Education at Digital Workshop Center is not the same as a traditional univerisity.  We focus on live classes, taught online in a bootcamp format.
For new and prospective students, there are common questions that we want to help answer.  Our welcome guide walks you through what to expect, scheduling questions, and much more.
What you will find in this guide:
Expectations for your education
Institutional Profile
Graduate statistics
Scheduling
Learning about Capstone projects
Helpful resources & links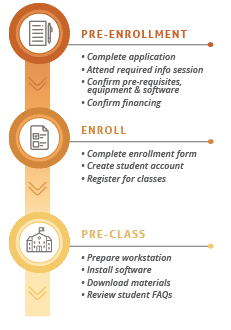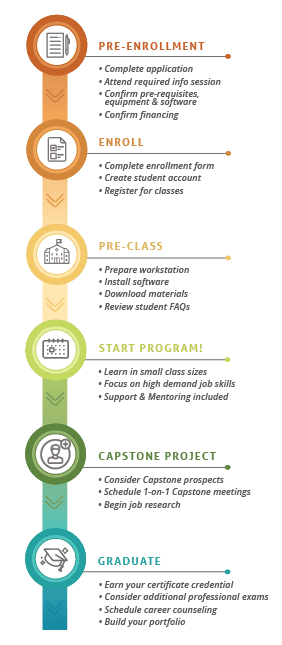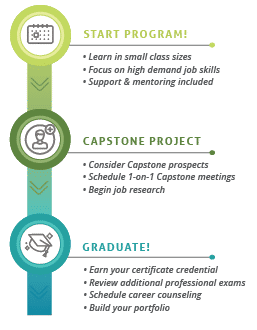 Download the
Welcome Guide Now
Empowering you with skills, not degrees
If you are unemployed or a dislocated worker, WIOA funding for skills training may be available.  Download our WIOA guide to help you through the process of working with the WIOA grant and to find the outcome you need faster.
Learn useful tips and follow a step-by-step guide to getting started.
Why Digital Workshop Center?

81%
of program graduates last year from unemployed to employed.

2.9
months avg to find employment after graduation

$12k
average increase in salary of certificate program students

1-on-1
career counseling and mentoring services included
Always Live | Hands-On | Small Class Sizes | Expert Instructors | Streaming Online
*program statistics compiled from DWC enrollment report (2019-2021)
I started a job the very next day after I finished the classes with a nonprofit just like I had hoped to.  And the computer skills that I learned at Digital Workshop gave me the knowledge, ability and confidence to apply for the job. I use the skills I learned everyday on the job.
Frequently Asked Questions
Why do I need to fill out the information requested?
We will always keep your information private and safe.  We ask for your information in exchange for a valuable download in order to a) improve your experience on our site, b) to provide you with information on next steps for professional development, or c) to send you relevant information we think may of value to you.
Read our full privacy policy here.
Is this really free?
Yes, 100% free.   We are just sharing some useful downloads that may improve your professional development and experience at DWC.  Let us know if you have any questions and we're here to help.