Home
»
Posts Tagged "GI Bill"
Once back to the civilian workforce, Veterans are trainable, creative problem solvers, resilient, and responsible members of any team. However, if there is a gap in the technology skills needed in the current workforce, that is where DWC can help the most.
Starting today until July 15th, 2017, DWC is giving away 10 FREE classes of $300 each to Veterans!
read more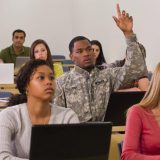 Following a comprehensive review and certifying process, Digital Workshop Center (DWC) is approved to receive Veterans education benefits across Colorado. Joining a selective list of eligible training providers in Colorado, Digital Workshop Center will provide Veterans with live, hands-on skills training for career and job skills.
read more