Social Media for Business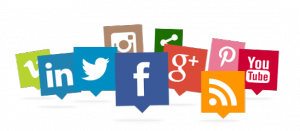 22.7% of the time we spend online is on social media websites. Is social media part of your marketing plan?
This class is an A-Z explanation of how to integrate social media into your digital marketing strategy to increase awareness, create social media campaigns, build your brand, connect with your customers, grow customer loyalty, and more.
If you are looking to change careers or jump start your own business, this social media for business class is right for you!
Class Objective: You will learn which social media platforms are best for your business and how to create a strategy for effectively using them. Social media platforms covered in depth include LinkedIn, Facebook, and Twitter.
Target Student: This class is designed for people who are interested in understanding how to use social media for their business, and who desire to gain the skills necessary to fully implement a digital marketing strategy.
Performance-Based Objectives
Upon successful completion of Social Media for Business, students will be able to:
Determine which social media platforms are best for your business
Integrate social media into your marketing plan
Create a system to manage your social media
Understand the importance of digital marketing as a part of your overall marketing plan
Effectively use digital marketing and social media to increase awareness, build your brand, connect with your customers, and grow their loyalty
Important Note: If you want to get the most out of social media, you will need to invest a good amount of time into the entire process. This class does not go into specific detail regarding account setup, etc. for your specific social media platforms since this process varies greatly from business to business.
If you are interested in setting up your own social media pages or working on your own particular digital marketing project with the assistance of one of our knowledgeable instructors, we offer hourly consulting and would be happy to help you every step along the way.  Request a customized hourly consult here. 
Prerequisites: Introduction to Computers or equivalent knowledge.
Training Style: Instructor led, group-paced, classroom-delivery learning model with structured hands-on activities.  Available for Private or Group Sessions.
Class Includes
Professional Reference Packet
Free access to CoWorking space on class days (FC Only)
One month of technical support
One year for a free re-take (for attended students of public classes only)
Certificate of Completion
Class Info
Classroom equipped with computers
3 hours of training
Breaks are taken throughout each session
Class size limited
Target Audience: Beginner
Financial Aid
Click here to learn more about financial aid options including DWC's 6-month payment plan, WIOA Workforce Funding, and more.
Terms and Conditions
Please read our Terms and Conditions before you register.
Certificate Program
This course is part of one of the DWC Certification Programs.
Available Classes
Dates/Times
Information

ONLINE

Thu 12-14-2017
6:00pm - 9:00pm



Price: $169.00
Space Available: 15 seat(s)
Course Closing Date: 12-07-2017
Location: Online
Instructor(s): TBD
Dates/Times
Information

Thu 12-14-2017
6:00pm - 9:00pm



Price: $159.00
Space Available: 16 seat(s)
Course Closing Date: 12-12-2017
Location: Digital Workshop Center - Ft. Collins - View Map
Classroom: Classroom
Instructor(s): TBD
Interested in scheduling a private training session? If the public class schedule above does not meet your availability, please
contact us
.
Other 1-ON-1 and Group Training Options
Private Class - Contact us for pricing and scheduling
Custom, Hourly Training -
Submit a
Consulting Request