Learn frontend web development in Fort Collins, Denver, or online
Why Should I Enroll In This Bootcamp?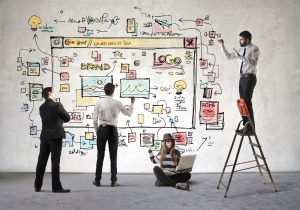 Studying the frontend technologies of modern web sites is crucial to your ability to design your own.  Whether you are looking to get into web design as a career or to improve your understanding of the frontend of web languages and tools needed today, this comprehensive Frontend Web Development Bootcamp will help you to reach your goals.
The Frontend Web Development Bootcamp includes an orientation to web development languages such as HTML, CSS and JavaScript.  These classes cover the core languages of the web as well as related frameworks such as AngularJS and Bootstrap.
In your remaining front-end development classes, you will learn how to use Adobe Photoshop to create web page mock-ups and convert then to code easily.   Also, digital marketing classes on Google Analytics and Search Engine Optimization will help round out your knowledge of designing effective sites from the ground up.
Get started creating beautiful, responsive websites optimized for professional desktop and mobile performance!
Upon successful completion of the Frontend Web Development Bootcamp, students will:
Use HTML and CSS to create the structure and style of a website from scratch
Understand the core languages of all web pages and be able to modify code effectively
Work with JavaScript to improve the functionality of websites
Design in Adobe Photoshop and be able to convert designs to code
Analyze site performance data through Google Analytics
Optimize a web sites search engine rankings using best practices of Search Engine Optimization
Complete project assignments related to creating responsive desktop and mobile web sites
Prepare for a career in Frontend Web Development as a junior developer
How Long Does This Bootcamp Take to Complete?
Each bootcamp program allows one year to be completed, but, depending on your pace of learning and skill level, you may move as fast or as slow as you like within that time frame.
Total Class Hours: 114
What Classes Are Included In This Bootcamp?