Blueprint Basic Digital Literacy
Our innovative program helping people learn basic technology skills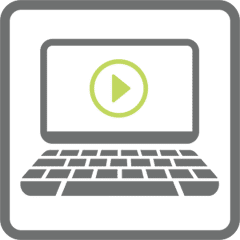 The Blueprint Program focuses on teaching you essential digital literacy skills in a one-on-one class setting.
We strive to help students understand the importance of technology within their professional life, while recognizing the challenges of working with a disability.  We help each student feel more connected and empowered by teaching some of the most popular technology tools in a low stress class environment.
Essential Tech Skills in a One-on-One Setting
Essential Technology Skills
The core goal of this program is for each student to learn technology skills at their own pace.  Our experience working with students with limited technology skills or disabilities allows our instructors to control the pace of the program based on each individual.
Skills learned in this program include introductory computer skills, Microsoft Word, PowerPoint, Outlook, Word and Google Workspace.
You schedule your class sessions around your availability and commitments.  Because every program is private, there is also no need to worry about social anxiety of attending class in a group setting.
Career Coaching
Including in every Blueprint Program are career coaching workshops in a one-on-one setting with your mentor.
You will work closely with our expert staff to refine your next steps in your career search.   Career services in our Blueprint program include one-on-one resume reviews and job search workshops.
Program Outline
Upon successful completion of the Blueprint Program, students will:
Understand basic technology vocabulary and concepts
Learn features of video conferencing (i.e. Zoom)
Work with files and folders to organize documents
Change settings and personalize the computer
Learn best practices of working with common technology including browsers, search, email & more
Understand common commands such as Save vs Save As, Print, Open, Rename & Delete
Write professional documents and implement time-saving features in Microsoft Word
Communicate effectively on a team using Outlook with features such as email, calendar, tasks and contacts
Design a professional presentation using Microsoft PowerPoint
Create and edit spreadsheets using Excel
Understand the benefits of Google Apps and how they are utilized in business today
Plus:
Finish a real-world administrative project with one-on-one help from your mentor
One-on-one job search and resume writing assistance with a career coach
One-on-one mentoring
Every Blueprint Program is 100% one-on-one
.  You work through the class lessons at your own pace and your instructor is there to help you every step of the way.
Acting as your mentor through the program, your instructor will teach you the best practices of working with technology and popular software.
Our program also includes one month of mentoring support after the end of each class and  a final Capstone project to allow you to demonstrate all that you have learned to others.
Working with Vocational Rehabilitation
DWC works closely with Vocational Rehabilitation and Workforce Center offices across the U.S. to customize the Blueprint Program for each individual client as needed.
Our instructors have worked with students suffering various mental and physical disabilities including depression, anxiety, autism, TBI, hearing loss and visual impairment among others.  We show every student the compassion and attention they need in order to build their confidence using technology.
Situational or entrepreneurial assessments available on request.
What Skills Will You Learn?