Hands-on Adobe Illustrator for Beginners Classes will get you started
Class Description
This four-part series training class introduces you to Adobe Illustrator, a sophisticated graphics application that helps you to create complex and attractive designs. The Adobe Illustrator for Beginners class (Level 1) will teach you how to create logos, advertisements, and other illustrations with ease using this software.  However, creating complex designs can be overwhelming if you are not familiar with the tools present in Adobe Illustrator and their features.
In Adobe Illustrator for Beginners, you will learn the application by drawing and manipulating simple shapes to create logos, as well as combining text and graphics to create advertisements.
This class is hands-on and intensive, but designed to help make difficult topics easier to understand.  Your instructor, an Adobe Certified Expert, will work with you closely to make sure that you avoid common mistakes in Illustrator and apply best practices when possible.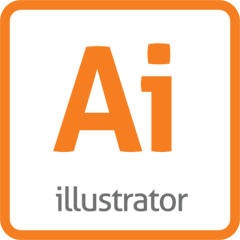 Class Objectives
Upon successful completion of our Adobe Illustrator for Beginners class, students will be able to:
Understand the Illustrator environment and vocabulary
Review graphic type and resolution for web vs print documents
Work with multiple artboards
Understand techniques for selecting artwork
Use existing shapes to create professional designs
Create and transform artwork
Use color, type, and patterns to enhance your designs

Class Includes:
14 hours of training
Professional Textbook
Download materials with practice data files
Free access to CoWorking space on class days (FC Only)
One month of technical support
One year for a free re-take (for attended students of public classes only)
Certificate of Completion

General Info:
Target student: Beginner
Coursework may be assigned outside of class
Computer & software provided in class
Class size limited

Available Public Classes
Schedule/Cost

Tue 10-20-2020
6:00pm - 9:30pm
Thu 10-22-2020
6:00pm - 9:30pm
Tue 10-27-2020
6:00pm - 9:30pm
Thu 10-29-2020
6:00pm - 9:30pm






Streaming Live Online



Price: $795.00
Space Available(Online): 3 seat(s)
Location: Online

Course Closing Date: 10-18-2020
Instructor(s): Jake Van Newkirk

Online
---
---
Available Private Training
Digital Workshop Center offers each class in a private, one-on-one format. Private training may be scheduled around your availability and customized to your specific needs.
Consulting allows you to work one on one with your instructor, but does not follow a class curriculum.
If the public class schedule above is not ideal, please choose from the following options: