Home
»
Posts Tagged "adobe indesign"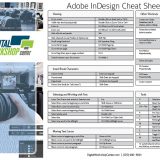 The Digital Workshop Center provides free cheat sheets on many popular software applications. If you are looking for a quick Adobe InDesign reference sheet, then we've got just the thing for you!
The InDesign cheat sheet includes several useful shortcuts and common commands to help you be more efficient and confident while working in InDesign. Several of these commands are included in our hands-on InDesign Level 1 training class, so if you need more InDesign help please contact the Digital Workshop office. Stay tuned for more cheat sheets coming soon!
read more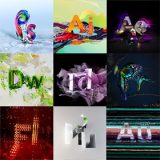 The Adobe Creative Suite offers an array of industry-leading software products for graphic design, web design, professional photography, video editing, and much more.  For any aspiring designer looking at the Adobe software choices, there is a lot of overlap between the graphic design products (and for good reason!).
If you are confused as to which product is right for you when you decide to tackle that new, creative project, it is helpful to know the key differences between the three major graphic design programs in the Creative Suite: Photoshop, Illustrator, and InDesign.
read more