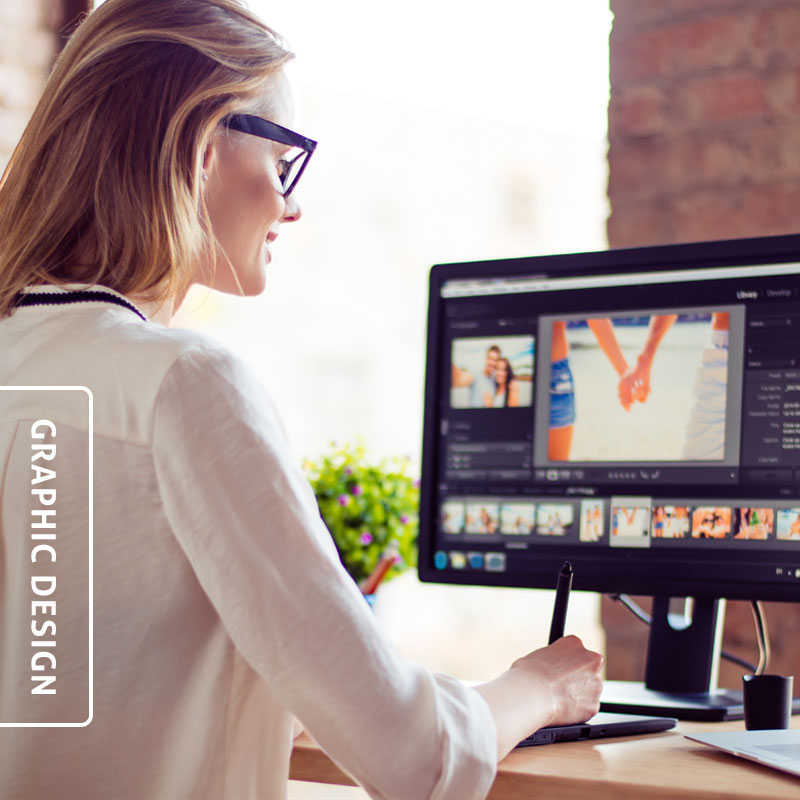 Graphic Design programs will bring your visual design skills up to date with a comprehensive look at the essential tools used by marketing & graphic design professionals today.  Certificate Programs focused on vocational training can help you to launch a new career in high demand, high growth industries.
Digital Workshop Center offers flexible online class scheduling & rolling enrollment.  Talk to a student advisor today to learn more.
Launch a new career in graphic design today
Master the necessary Adobe skills and learn from design professionals
Why Digital Workshop Center?

82%
of program graduates last year from unemployed to employed.


$19k
average increase in salary of certificate program students

1-on-1
career counseling and mentoring services included
Always Live | Hands-On | Small Class Sizes | Expert Instructors | Streaming Online
How Long Does Each Program Take to Complete?
Each certificate program or bootcamp allows one year to be completed, but, depending on your pace of learning and skill level, you may move as fast or as slow as you like within that time frame.  DWC works on a rolling enrollment system and provides flexible scheduling options so you can choose the classes that best fit your life.
At DWC, each certificate program or bootcamp is comprised of many stand-alone classes.  Once you have completed all the necessary course work, you will earn your certificate.
When can I start?
Classes are offered on a rolling enrollment basis multiple times throughout the year, typically once per trimester.
What format are these classes?
Stand-alone classes at DWC are focused skills workshops that teach in a specific area of a high demand career field. 
Often described as a "short course" format, these accelerated workshops can be attended as stand-alone or can be taken as part of a larger certificate program.
Certificate programs offer more comprehensive training to help lead you to empoyment, support & mentoring, portfolio building, and career coaching.
To find out more about DWC's style of training, talk to a student advisor today.
What career services or internships do you offer?
For full length programs, support and mentoring is included and you will be eligible to work one-on-one with a career counselor.
Workshops for job search and resume writing are included in the cost of your program.  Our expert career advisors will help you prepare for the next steps of your career path.  Your success is our success.
Click here to learn more about career counseling
DWC partners with Parker-Dewey to offer micro-internships to our students.  These project-based internships are a great way for students to build real-world experience.  Learn more
Talk to a student advisor to discuss career coaching & internship options today.
Who teaches these classes?
All classes are taught by industry professionals with 10+ years experience in their field.  Check the specific class offering to learn more about the assigned instructor for each class.
You may also learn more about our team here.
Certificate Program vs Bootcamp?
A DWC 
Certificate Program
 is a career based track of classes, designed to improve your skills for professional development.  Popular certificates include graphic design, digital marketing, and business administration.
A DWC Bootcamp is an intensive program based around one software application.,  It is more focused on one specific skill than a Certificate Program.
If you are unsure which is right for you, talk to a student advisor to learn more.
Payment & financial aid options
DWC offers several flexible financial aid options to help you finance your education.  None of our financial aid tools will require a federal student loan or add severe interest penalties.
If you are interested in scholarship opportunities, speak with a student advisor and discsuss eligibility requirements.
Or learn more about flexible payment plan options that fit your monthly budget.
Click here to learn more about financial aid options and get started.