Home
»
Posts Tagged "project review"
A local utilities company has been managing meeting room requests across multiple campuses on a regular basis.  Their method for organizing and working with these requests was a manual, time intensive process with many user errors throughout.
Digital Workshop Center (DWC) was hired to create a custom Visual Basic Application (VBA) in Microsoft Excel and connected to Outlook.  The goals of the project was to reduce the time of manual entry, to reduce the time needed for each user to create a meeting request, and to standardize the process so that requests would be consistent across the company.
read more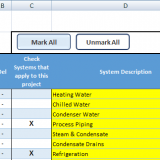 The goal of this project was to create an automated solution to create the cover sheets and submittal registers that had been created manually in Excel in the past. After reviewing the current processes with NMIS, DWC determined that they did not have a current system in place to create these documents. Different users created the forms in different ways, and there was a lack of consistency of the final product.
read more