Prepare for the best graphic design jobs in Northern Colorado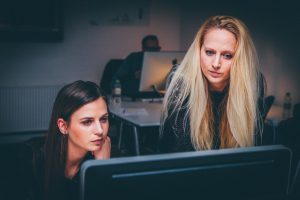 The Digital Workshop Center focuses on teaching you the skills you need to land jobs in high-demand fields such as web design, graphic design, digital marketing, business administration, or video editing and production. We aim to give students the skills, not degrees, you need to be able to be competitive with other candidates and successfully perform in tech-based jobs. Our goal is to always help our students graduate with the ability to enter the workforce by becoming highly employable in growing fields. In Northern Colorado, one of the fastest-growing fields is graphic design. We exist to help you land one of the many great graphic design jobs in Northern Colorado.
To give you an idea of the kinds of jobs available to graphic designers in Northern Colorado, we've rounded up some of the most enticing jobs open as of January 2019. Check out these listings and be sure to continue to check LinkedIn, Indeed, and other job boards to see the new positions that get posted regularly.
Top Graphic Design Jobs in Northern Colorado:
Graphic Artist

–

Columbine Health Center in Fort Collins is looking for a full-time graphic artist with deep skills in the Adobe Creative Suite. This job offers great benefits and opportunities for growth.

Packaging Graphic Specialist

– If you're passionate about the presentation of products, this job might just be a great fit for you! Nutrien Ag Solutions in Loveland, Colorado, a global agricultural business with hundreds of products across multiple business units, is looking for a person with great graphic design skills to join their team to provide labeling and packaging design support.

Graphics Designer

– Like craft beer? Great graphic designer? This job at Breckenridge Brewery in Littleton, Colorado, is one-of-a-kind! The graphics designer will be responsible for managing the various graphic arts needs of Breckenridge Brewery's marketing department. You might even get a beer here and there out of the gig!

Graphic Designer

– The startup world provides a unique opportunity for graphic artists to create a brand from scratch and really make a big impact on the company. Neat Homes in Boulder, Colorado, is looking for a designer to join their team to play a key role in their company branding, and shaping how their clients, partners, employees, recruits, and investors view them.
And more – there are thousands of jobs listed in Northern Colorado that require applicants to have at least basic graphic design skills. This field is projected to grow in the coming years, and more skilled workers will be needed to fill these positions.
The average graphic designer in Colorado makes just over $20.00 per hour, but in some places salaries may be as high as $24 per hour. According to the Bureau of Labor Statistics, depending on the kind of graphic design field you enter into, there is amazing room for growth. "Employment of graphic designers in computer systems design and related services is projected to grow 20 percent" between 2016 and 2026. Launching a career in graphic design is a timely move for anyone with an artistic flair and an interest in website design, digital marketing, and mobile application creation.
Ready to launch your career in graphic design?! There are plenty of opportunities for anyone to enter the world of design and digital marketing. Companies, marketing agencies, universities, and more are always on the hunt to fill graphic design jobs in Northern Colorado with great candidates. Digital Workshop Center in Fort Collins and Denver, Colorado, offers a Graphic Design Certificate Program, as well as individual classes about all Adobe Creative Suite programs, to help you get the skills you need to land a career as a graphic designer.
As one of the only Adobe Authorized Training Centers in Colorado, Digital Workshop Center offers the highest-quality graphic design instruction and allows you to finish the courses in a short period of time to make the career moves you've always dreamed of. We offer all the classes you need to provide a solid foundation in the most cutting-edge graphic design software available today. Click here to learn more about getting the skills you need to be hired for one of these amazing graphic design jobs in Northern Colorado.