Fundamental Digital Marketing Certification
Learn how to drive more traffic to your website in the Fundamental Digital Marketing Certification
Why Should I Enroll In This Certificate Program?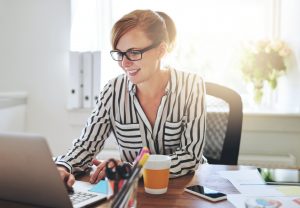 The Fundamental Digital Marketing Certification combines the latest disciplines in digital marketing: search engine optimization, social media, email marketing, and analytics for reporting.
Search Engine Optimization (SEO) allows you to increase traffic to your website and rank higher in search engine results. All major search engines such as Google rely on SEO to display relevant search results to users. Web pages that rank the highest or appear at the top of the list are considered the most relevant to users. All businesses need to include a SEO strategy into their current marketing plan in order to maximize discovery through search engines.
Social media is positively correlated with business success rates. Social media sites such as Facebook, Twitter, LinkedIn, YouTube and more, place great emphasis on the virtual relationships your business forms with customers and/or followers. Social media provides an excellent opportunity to show off your businesses brand, personality and customer service skills.
SEO, Social Media, and Email Marketing work hand-in-hand to drive customers to your website and online networks. Google Analytics gives you the data to increase the number of conversions or sales from your website. The Fundamental Digital Marketing Certificate from the Digital Workshop Center provides a solid jumping ground for making your business stand out online. As these are a few of the hottest topics in business, you will be able to apply all of the skills you learn in the Digital Marketing Certification to any career going forward. Learn digital marketing techniques that the experts use and improve your business today!
How Long Does This Program Take to Complete?
Each certification program allows one year to be completed, but, depending on your pace of learning and skill level, you may move as fast or as slow as you like within that time frame.
Total Class Hours: 27
When Can I Start?
Students are able to start with any class within the program list as long as prerequisites are met. Classes in this certification program are offered approximately every 8 weeks. Select the class titles below for class schedules, individual class hours, and other details. A staff member will contact you to schedule Social Media Advertising training after you have completed all other classes.
What are the prerequisites for this program?
Introduction to Computers or equivalent knowledge. Web Design with HTML5 and CSS3 and general familiarity with internet technologies is recommended, but not required.
What Classes Are Included In the Fundamental Digital Marketing Certification?
Cost: $1,378 (or $114.83/month for 12 months)
*Program costs may vary based on class location. For detailed pricing information, please contact our office for a cost estimate.
What Is Included In A Certification Program?
Professional Textbook(s) or Reference Packet(s)
Download materials with practice examples
Free access to CoWorking space on class days (FC Only)
One month of technical support
One year for a free re-take (for attended students of public classes only)
Certificate of Completion
Financial Aid
Click here to learn more about financial aid options including DWC's payment plans, WIOA Workforce Funding, and more.
Terms and Conditions
Please read our Terms and Conditions before you register.
Questions?
Contact us the DWC office with any questions or concerns.
How Do I Get Started?
To get started and enroll in a Certification Program, please fill out the application form below or call our office at 970-980-8091.