Veterans Training Scholarship available for our veterans and their families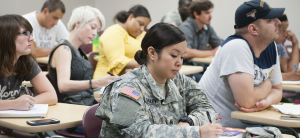 DWC is now offering a monthly training scholarship for Veterans, their spouses, and children up to $2500 per month for qualified participants. The goal of this scholarship is to create a positive impact on our community and those who have served our country.  The best way DWC can support our veterans and our local communities is to help up-skill the Veteran workforce and help them to succeed with technology skills after their service is complete.
Applicable Classes
This scholarship may be applied to public, group classes in areas such as:
How does this work? Veterans Training Scholarship Eligibility
First, to be eligible for free training under the Veterans Training Scholarship, you must be eligible for GI Bill or Post 09/11-Bill education benefits. While we will not draw against your benefits as part of this scholarship, the funds are limited to those who are eligible for education benefits. To determine your eligibility, you can login to your eBenefits account or WAVE account.
Each month, up to $2500 of select DWC classes will be made available for scholarship awards.  The classes available may vary from month to month, based on various factors such as available seats, timing, and costs.  Each month, scholarship applications will be reviewed by DWC staff to determine award winners.   DWC staff will notify award winners via email on the specific classes that are eligible.
DWC classes available under this scholarship will be public, group classes only.  Materials are not included.  Scholarship awards are non-transferable.  Some other restrictions may apply.
The scholarship period is currently open and applications are being accepted.