How HTML and CSS Skills Can Boost Your Resume

If you want your resume to stand out from the crowd, consider learning HTML/CSS skills. This isn't nearly as scary as it sounds. Having just a little knowledge of HTML/CSS skills can make a big difference in your career, regardless of the professional field you're in. Hypertext Markup Language (HTML) and Cascading Style Sheets (CSS) are the foundation of web development. Used together, HTML and CSS form a powerful duo that can create websites of any size, shape, or function. But what if you're not a web developer? You don't have to be a web developer in order to benefit from HTML/CSS Skills! Whether you're a small business owner, administrative assistant, event coordinator, or a dog walker, you can benefit from these skills!
Why Have HTML/CSS Skills?
Businesses of all shapes and sizes rely on the digital world for marketing, customer management, e-commerce, and more. Having the ability to manipulate some code to create a plethora of digital collateral is immensely useful. When we searched for the keyword HTML/CSS in the state of Colorado on Indeed.com, we found 49 entry-level positions and 170 mid-level positions that are looking for someone that has some HTML/CSS skills.
Take a look at these current job openings in a variety of industries that are hoping candidates have a working knowledge of HTML/CSS:
ZenDesk Administrator for Loan Simple, Inc., a National Mortgage Company. ZenDesk is a customer service management platform that many businesses use to help, well, manage their customers. In this case, you can see by the job description that it's not a website design position, it's not a digital marketing position, and it's not a graphic design position. So why would they be looking for someone with HTML/CSS skills? This is a perfect example of how this skill can boost your resume.
For this position, having HTML/CSS skills won't just help you get the interview, but they'll help you thrive in this type of position.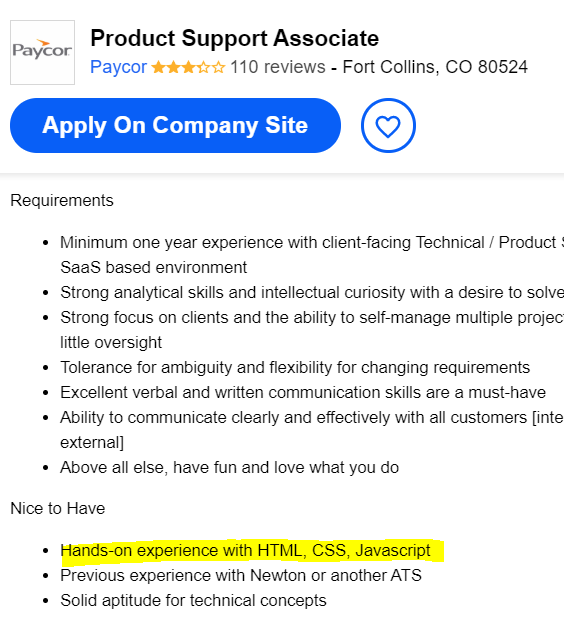 Product Support Associate for PayCor, an HR and Recruiting Business. Here again, is another example of how having HTML/CSS skills on your resume will help you land an interview. In this case, if you're interested in being a Product Support Associate at an HR, Recruiting, and Payroll business, you'll have a leg up on the others who can't say they have these skills. There are many reasons why an employer would want an employee to be able to style and make changes to a website, email template, or more. Being able to do that will help you shine.
Marketing Coordinator for Agency FIFTY3, a full-service agency of creatives, analysts, strategists, creators, artists, and marketers. In this case, the Marketing Coordinator will work closely with their Senior Website Specialist to manage the implementation of digital landing pages and assist with full website builds. Having experience in HTML/CSS will allow you to not only be able to communicate with the senior website specialist, but also be able to take on some of the work and be an asset to the marketing department.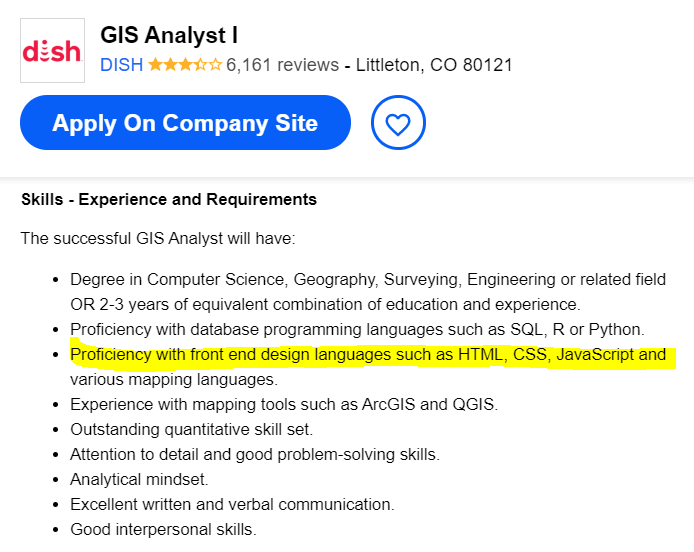 GIS Analyst 1 for DISH. People who have a degree in Geography, Engineering, or Surveying may not even consider the need for adding HTML/CSS skills to their resume. However, this is another great example of how adding HTML/CSS skills to your resume will absolutely help you advance your career or land a new job with DISH as a GIS Analyst. This candidate needs to be able to utilize their knowledge of spatial data and mapping software as well as be able to design digital maps using front end design languages such as HTML, CSS. If you're currently in one of these fields and you don't have any HTML/CSS knowledge, it's a good idea to join one of our classes to boost your resume.
Junior Graphic Designer for BioTrust Nutrition. The world of graphic design is changing. In many cases, companies now seek graphic designers who can do both the creative design work as well as some front end web development work. Having knowledge in HTML/CSS as a graphic designer will increase overall productivity and allow projects to move through the pipeline more efficiently. In this case, as a Junior Graphic Designer, a candidate needs to be able to drive creative direction for campaigns as well as create website landing pages and emails which require HTML/CSS abilities to customize.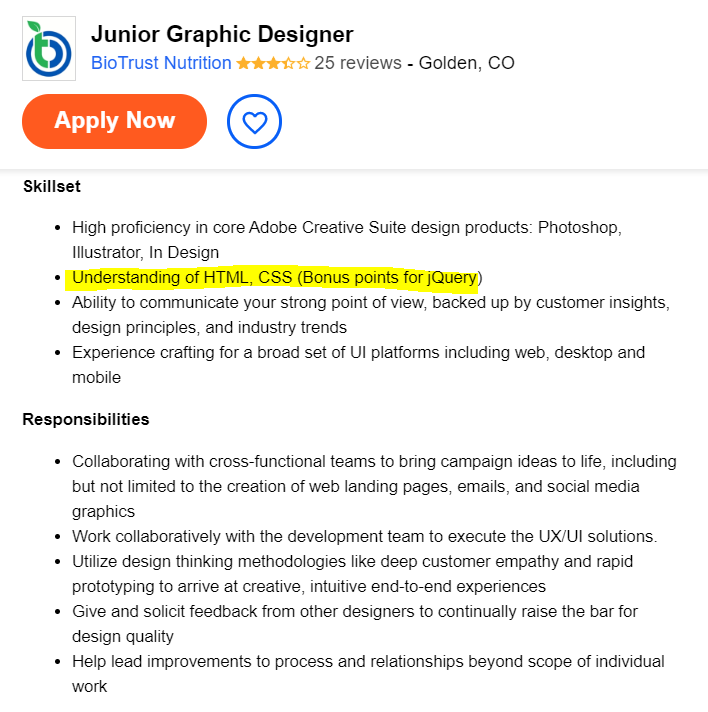 Here are 5 other general things you can do with your HTML/CSS skills
Create a custom email marketing newsletter

Update your company's website

Teach code to others

Be able to communicate effectively with your technical team

Create a resume website from scratch
If you're ready to learn the core languages of the web and add HTML/CSS skills to your resume, then our Web Design with HTML and CSS class is right for you! This class will start you down the path of becoming a junior-level web developer. Full-stack and frontend web development begins with the HTML and CSS languages, and you will be guided from the beginning in a hands-on, small-class setting by our expert instructors.
Web Design with HTML and CSS is the first step for anyone looking to add valuable skills to their resume or to manage a web-based project of their own. With so many career paths requiring HTML & CSS skills, let us help you get started with the necessary training today! Contact us if you have questions or are ready to get started!
Interested in Web Design Classes?