Learn the principles & elements of design fundamentals today
Class Description
In this Design Fundamentals for Beginners Class, you will be introduced to an orientation to digital design with emphasis on the history and the basic principles of digital design using key computer graphics tools. Having the vernacular, knowledge and skill to execute a creative vision is critical to a project's success especially for roles ranging from project managers to production designers.
In the Design Fundamentals class, you will learn the essentials for all students looking to be successful in the design world.  While many of our other classes at DWC teach you the technical skills of the newest design programs, this class focuses on design principles to ensure that you understand how to answer the most important question of all: "what is good design?".
Taught by local graphic designers, Introduction to Design Fundamentals is one of our most popular classes to help you stay on top of design trends and apply them to your digital projects.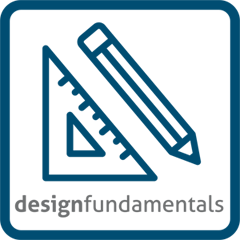 Class Objectives
Upon successful completion of the Design Fundamentals class, students will be able to:
Use analog and digital tools to apply design elements to a composition using solid design principles.
Expand their vocabulary of the principles and elements of modern design
Effectively receive and deliver critique with the goal of improving a design's ability to communicate visually to its audience.

Class Includes:
7 hours of training
Professional Textbook
Download materials with practice data files
Free access to CoWorking space on class days (FC Only)
One month of technical support
One year for a free re-take (for attended students of public classes only)
Certificate of Completion

General Info:
Target student: Beginner
Coursework may be assigned outside of class
Computer & software provided in class
Class size limited
Available Public Classes
Dates/Times
Information

Mon 11-04-2019
9:00am - 12:30pm
Fri 11-08-2019
9:00am - 12:30pm




Live Classes



Price: $289.00
Space Available: 15 seat(s)
Location: Digital Workshop Center - Ft. Collins - View Map
Classroom: Classroom

Course Closing Date: 11-02-2019
Instructor(s): Jake Van Newkirk



Live Online classes



Price: $299.00
Space Available(Online): 16 seat(s)
Location: Online

Choose Location: Digital Workshop Center - Ft. Collins - Online
---
---
Available Private Training
Digital Workshop Center offers each class in a private, one-on-one format. Private training may be scheduled around your availability and customized to your specific needs.
Consulting allows you to work one on one with your instructor, but does not follow a class curriculum.
If the public class schedule above is not ideal, please choose from the following options: