Hands-on Articulate Storyline for Beginners Training
Class Description
As one of the leaders in e-learning software, Articulate Storyline 360 provides powerful features to bring your e-learning ideas to life. To maximize your productivity in this complex program, the Articulate Storyline for Beginners (Level 1) class will help you utilize the tools in this program the right way. This class will teach you the real-world skills that are necessary when creating a professional, interactive Storyline project for your organization.
Throughout this class, you will be guided by an expert in instructional design and e-learning development, who will show you step-by-step how to tackle advanced technical concepts in Articulate Storyline in an easy to understand format.
Articulate Storyline for Beginners (Level 1) is project-based and you will create soft-skills lessons, software demonstrations, interactive training simulations, and/or video demos. The final products will be available to be published to the web or SCORM-compliant Learning Management Systems. For custom team training, the content of the class will be customized to best suit your organization's needs and specific application of Articulate Storyline 360.
Enrolling in an Articulate Storyline for Beginners training class at the Digital Workshop Center will help you learn the e-learning development skills you need in the time frame you expect.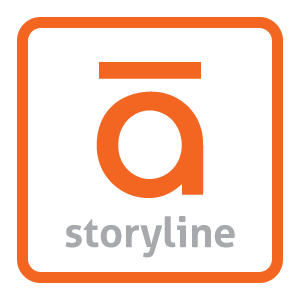 Class Objectives
Upon successful completion of our Articulate Storyline for Beginners class, students will be able to:
Understand e-learning software basics

Incorporate best practices to create engaging digital courses

Add standard objects to a slide such as text, images, characters, videos, PowerPoint content, audio, and more 

Explore basic editing tools and techniques

Enhance the user experience by adding interactivity

Publish your content for various platforms

Class Includes:
14 hours of training
Professional Textbook
Download materials with practice data files
Free access to CoWorking space on class days (FC Only)
One month of technical support
Certificate of Completion

General Info:
Target student: Articulate Storyline Level 1 is intended for a diverse audience of students who are new to e-learning development in Storyline or those looking to improve their skills and understanding of the Storyline workflow.
Coursework may be assigned outside of class
Class size limited

Pre-requisites:
Basic knowledge of presentation software and e-learning concepts is helpful but not required.

It is also recommended that you have the Articulate Storyline 360 software before starting class.  You can purchase the software or obtain a 60-day trial from https://articulate.com/360.
Training Type
Instructor led, group-paced, classroom-delivery learning model with structured hands-on activities.  Available for Private or Group Sessions.
Available Public Classes
Schedule/Cost

Mon 2-08-2021
9:00am - 12:30pm
Wed 2-10-2021
9:00am - 12:30pm
Mon 2-15-2021
9:00am - 12:30pm
Wed 2-17-2021
9:00am - 12:30pm






Streaming Live Online



Price: $299.00
Space Available(Online): 8 seat(s)
Location: Online

Course Closing Date: 2-06-2021
Instructor(s): Kimberly Fields

Online
---
---
Available Private Training
Digital Workshop Center offers each class in a private, one-on-one format. Private training may be scheduled around your availability and customized to your specific needs.
Consulting allows you to work one on one with your instructor, but does not follow a class curriculum.
If the public class schedule above is not ideal, please choose from the following options: