Working with DVR offices to provide vocational training across Colorado and Wyoming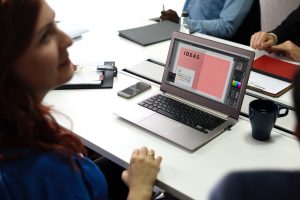 At the Digital Workshop Center, we've seen many students overcome so much and apply the skills learned through vocational training to land the career of their dreams. We are proud to be a pathway to improved career outcomes for everyone, including those with disabilities. DWC offers vocational training programs for the disabled to improve technological and computer skills to enter the job market and compete in the workforce.
As a Colorado or Wyoming resident with a recognized disability, you may be eligible to receive financial aid for technology skills training through The Division of Vocational Rehabilitation (DVR). The DVR exists in Colorado and Wyoming to help people with disabilities to succeed at work and achieve independent living. They are committed to helping job seekers become skilled and viable candidates through education, partnership, and facilitation by creating a diverse and qualified workforce.
With campuses in Fort Collins and Denver, Vocational Training Programs for the Disabled at the Digital Workshop Center ensures that we are a trusted partner and we aid them in the education and training of job seekers. We work closely with job seekers of all types including those with autism, learning disabilities, or vision or hearing impairments to get the computer and job training needed to land the job of their dreams.
Here at the Digital Workshop Center, we firmly believe having a disability should never be a reason for anyone to be excluded from an educational setting. We are your partner in upskilling your resume and getting the skills you need to be successful in the workplace. We've worked with students of all ages, learning styles, and backgrounds to successfully complete classes and certificate programs to help prepare for employment, find and keep a job, and increase earnings, at your learning style and pace.
To learn more about our classes and the financial aid available through the DVR, download our FREE guide full of practical tips to help you navigate the Division of Vocational Rehabilitation (DVR). Our guide will walk you through everything from how to find your local DVR office, give you more information about eligibility requirements and qualifications, and tips to help us work together to develop a training plan for high demand careers. Contact us to learn more about vocational training for persons with disabilities at the Digital Workshop Center.