Home
»
Posts Tagged "guide"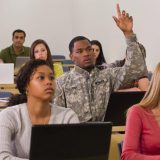 Following a comprehensive review and certifying process, Digital Workshop Center (DWC) is approved to receive Veterans education benefits across Colorado. Joining a selective list of eligible training providers in Colorado, Digital Workshop Center will provide Veterans with live, hands-on skills training for career and job skills.
read more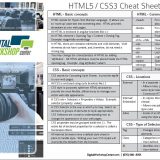 Download the HTML & CSS Cheat Sheet for FREE! The Digital Workshop Center provides free cheat sheets on many popular software applications. If you are looking for a quick HTML and CSS reference sheet, then we've got just the thing for you! The HTML5 & CSS3 cheat sheet includes basic concepts and common elements to help you be more efficient and confident while working in code. Several of these concepts and elements are included in our hands-on Web Design with HTML and CSS training class, so if you need more HTML & CSS help please contact the Digital Workshop office.  Stay tuned for more cheat sheets coming soon! Click the link to download the cheat sheet in PDF format: HTML & CSS Cheat Sheet...
read more