Microsoft Outlook Classes
Learn Microsoft Outlook
Why Should I Take This Class?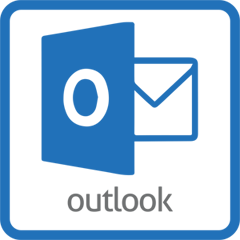 Microsoft Outlook manages everything from your email to your personal calendar, contacts, tasks, to-do lists, and more. Outlook is designed to do the work for you and operates as a personal information and task manager.
Whether you use Outlook at home or work, Microsoft Outlook classes will help you become more productive and save time in the office.  Start getting organized and learn how to appropriately manage your time and daily tasks the right way.
Upon completion of Microsoft Outlook classes, you will leave with the skills to customize the Outlook environment to work for you. All of our hands-on classes include a professional textbook and one month of technical support.
All Microsoft Outlook classes are provided in a live format.  You will get your questions answered in real-time and work with a live instructor to reach your goals.
Custom and private training options are available.
What Can I Create After This Class?
When you complete Outlook training, you will be able to:
Use folders to organize your email messages
Manage your contacts
Schedule appointments and meetings
Manage tasks and notes
Customize your personal calendar
Share folder information and more
How Do I Get Started?
Click a class title below to view schedules and register.
Questions? Contact us at 970-980-8091.
Level 1 - Microsoft Outlook for Beginners Class
View Schedule →
Live - $349 | Streaming - $349
Learn how to use Microsoft Outlook the right way including core features for communication, scheduling, and tasks.
Level 2 - Microsoft Outlook Advanced Class
View Schedule →
Live - $509 | Streaming - $519
Learn how to use advanced features to customize the Outlook environment, calendar, and mail messages, and more to your daily workflow