Your Digital Marketing Resume Should Include these Five Essential Elements
Congratulations! You've jumped through the hoops, gained crucial professional skills, and now you're ready to land yourself a brand new career! Easy enough, right? Not exactly. It turns out that the job application process can be daunting and exhausting. However, if you follow these five tips to optimize your digital marketing resume, you'll be one step ahead of many other applicants and on your way to shaking hands with a new company.
A digital marketing resume is essential in showing employers who you are and what you have to offer. While every digital marketing resume and cover letter are different for each job you're applying for, they all follow the same structure. Knowing the language an employer is looking for will help you stand out from the crowd.
Five Tips to Optimize Your Digital Marketing Resume
Your digital marketing resume is your calling card. Be sure that it includes all of your important information right at the top with your name being the title. While the format of the digital marketing resume is flexible, your phone number, email, and the city you're based in should follow the title in a smaller font. Since the goal of this is for the employer to contact you, be sure the reader can easily understand how to do so. Also, be sure to include a link to your LinkedIn profile so the employer can learn a little more about you and know that you're a real person who is interested in the position.
Clean and simple resume title
Next, before listing your education and experience, including a
professional summary
at the top with
specific skills
,
experience
, and
goals
to give a quick preview of what your cover letter and resume will contain. Here is a great example of a professional summary.
"Driven marketing professional specializing in the development and implementation of marketing plans and programs for small businesses. Proficient with web maintenance and design; skilled at communicating and developing relationships with clients and customers. Developing knowledge of Adobe InDesign and Illustrator."
2 – Keep It Short and Sweet
Your digital marketing resume shouldn't give the person reading it a headache. Make sure it is organized appropriately and is easy to scan. Use bullet points to break up the text and help keep it looking clean and simple. According to The Balance Careers,
"the average recruiter or hiring manager spends only seconds looking over an applicant's resume. To get the interview, you need to make your experience stand out – and quickly. A bulleted list can help you build your case. It shows the employer quickly and easily that you are a good fit for the job."
Also, while it may be tempting to get creative with the design of your digital marketing resume, it's best to keep it simple. Of course, it depends on the situation, but we recommend you avoid infographics and overly creative designs to keep from annoying the people who are trying to sift through hundreds of resumes. 
Keep in mind that the standard length of a resume should not exceed one page. A three-page long resume is daunting to read, and chances are, the recruiter or hiring manager won't bother looking at anything beyond the first page. A one-page resume allows you to showcase your most applicable skills and qualifications in the shortest amount of time possible.
Not sure this is what they mean when they say "simplicity is key"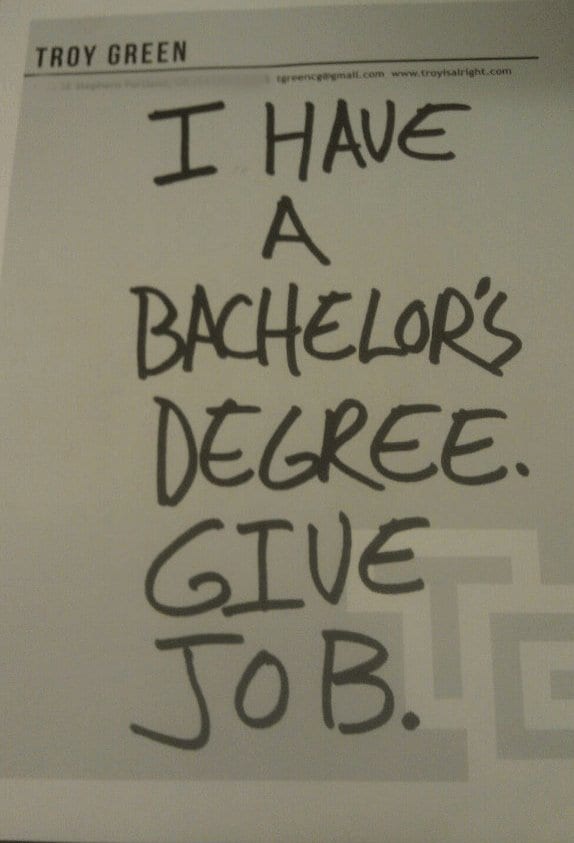 Whoever has ever had the thought "My Little Pony would be a great resume theme!"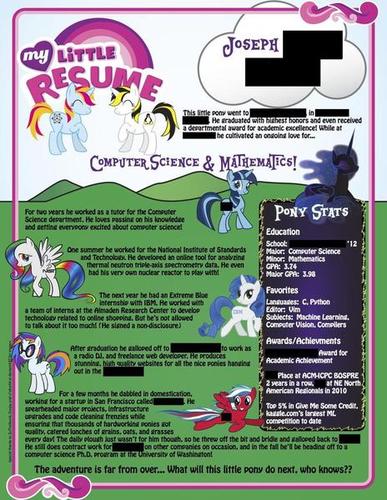 This is what you're recruiters and hiring managers are looking for; short, simple, and gets the point across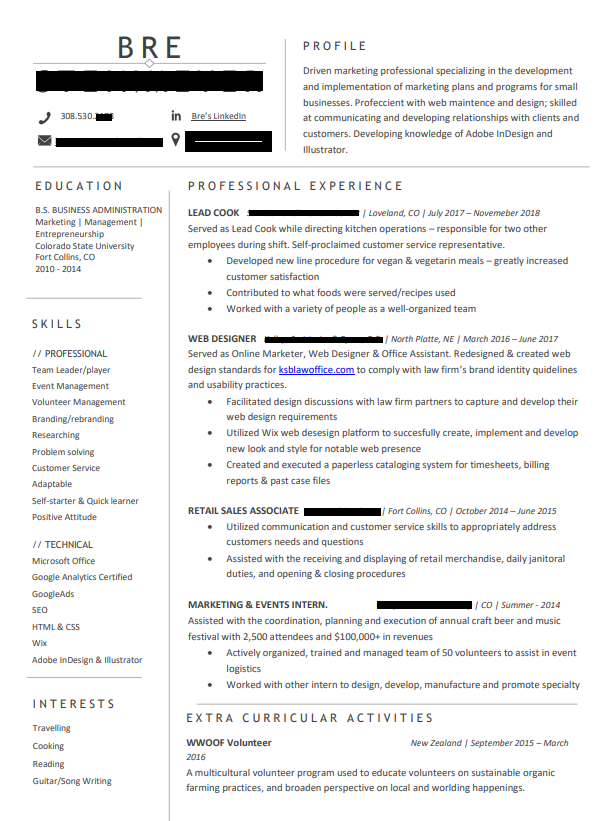 This is so important! Do your research. Tailor your digital marketing resume to the company and position you're applying for. You probably don't need to include your 10 years as a swim instructor if you're applying for a job in website development. But, if you're applying for a job in web development do include any and all experience you have with different platforms, front end/back end development, etc.
Your digital marketing resume should include analytics and metrics to quantify your skills. You want to WOW the recruiter with specific stats such as a 26% increase in organic traffic or a 16% increase in organic revenue, for example. But, it's not enough to just flaunt these numbers, you also need to explain how you did this. Don't leave anything up for guessing. This is where you can really shine and stand out from the crowd. Here is a great example of stating exactly what task you excelled at, and the results of your work.
"Optimized 15 landing pages during the course of the internship, resulting in 17% lift in organic search traffic"
Do not skip this step! Proofread your digital marketing resume! The fastest way for your resume to get tossed in the "do not call" list is if the recruiter or employer finds a typo. Don't assume you didn't make any errors. Read it. Then read it again. Ask someone else to read it too. One great way to catch spelling and grammar errors is to run it through Grammarly. 
Actually, we were looking for "Fosifnsushidv"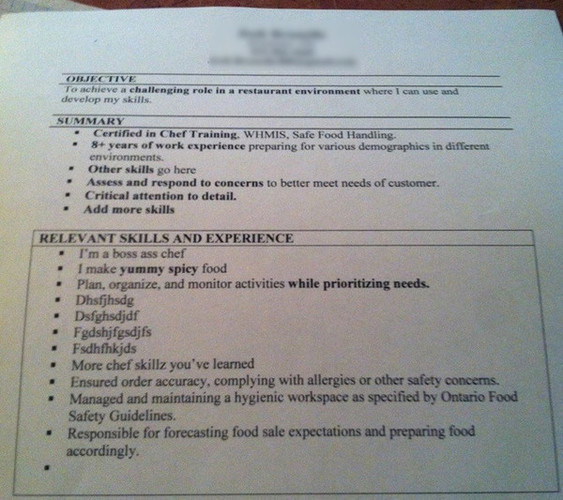 Great attention to detail here…
Double check everything so you don't end up like Vanessa who accidentally attached an image of Nicolas Cage instead of herself.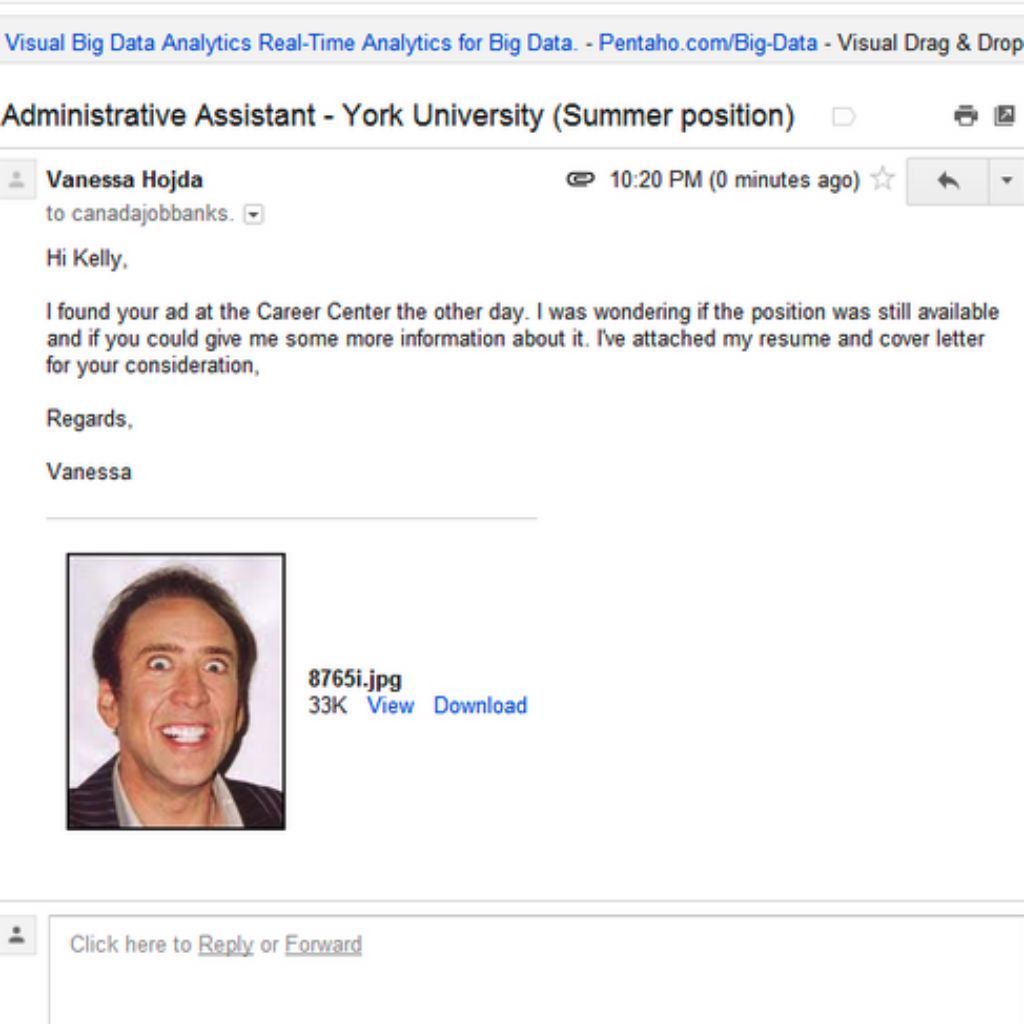 Allow yourself time to optimize your digital marketing resume before every job you apply for. You've done so much work to get where you are, don't stop now by skimping on the job application process. Get noticed. Book an interview. Land a new career!
If you're feeling like your digital marketing experience could benefit from some new skills, the Digital Workshop Center is here for you. Our digital marketing classes and certificate program are industry-recognized to give you the skills you need to land a career in the digital marketing industry or to jumpstart your freelance career. Click here to learn more about the digital marketing education opportunities we offer and to set up a time to connect with a student advisor.
How can Excel and Analytics help you?