Measuring The Value of Paid Employee Training
Is your professional training working for you? What are your goals?  How do you calculate the ROI?
We walk you through 4 ways to measure your ROI on professional development training:
Create Goals to Measure
Develop Talent Programs
Determine Methods of Delivery
Evaluate the Results
1) Goal Setting
Job satisfaction
How do you cultivate a fulfilled worker? Empower them with knowledge and allow them to grow. If your employees are satisfied, that is the goal. Satisfaction is monetary sometimes but also employees want to learn, grow, and be challenged.
Employee retention
The extension of regular duties, training, and personal development keeps people around a lot longer. Retention is the biggest measure of ROI in training and development. The training is an investment if your employee stays.
Business impact
Measure the impact based on current projects. How did the training get you tangible results? Were new ideas brought to the table? Was your staff about to complete the work more accurately or decrease the time spent on the project?
Consider the outcome
"Training promotes job satisfaction. Nurturing employees to develop more rounded skill sets will help them contribute to the company. The more engaged and involved they are in working for your success, the better your rewards." ~go2HR
2) Develop Talent Programs
If given the proper tools and systems, you can build a high performing, happy staff.
"Two-thirds of high performers reported that their bosses did not deliver on supporting them for formal training programs. Even with limited funds for training, framing assignments from the viewpoint of what the high performer will learn can make a difference." ~Harvard Business Review
Framing expectations
Are the expectations for the training clear to your employee? Setting them up with clear goals around the training will help your employee gain more out of it.  Setting expectations upfront will give you more to track and analyze.
Train the whole team
Uniting the team with the same knowledge will increase productivity. You give them all the same tools. Each may master it in a new way, but they are all aligned on the same path for execution of future projects together. Consider the cost of one training into the equation.
It should be readily accessible
Make it easy for everyone to sign up and commit to the training. Have the trainer come to you. Have the documents easy to find and easy to complete. Give options on dates and process request promptly.
Lock in the process
"Leading research and advisory services firm Bersin & Associates found that while career development programs have been a top five initiative for HR organizations it surveyed in the last two years, almost one-half of all organizations have no career planning process in place." ~Deloitte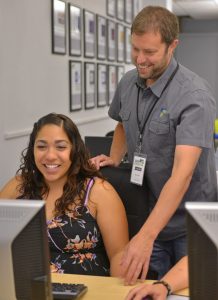 3) Training Methods
When considering the method of training, you must take into account cost and effectiveness of training. You want to maximize what your employees learn. The method will determine that.
28.3 % use Blended Learning: This is a combination of all listed below. There is usually an instructor and some sort of technology component.
25.9 % use Online Delivery Methods: Can be a webinar, video, or live demo.
1.9% use Mobile Devices: This is an app or some sort of gamification learning module.
48.1% use Instructor Led: This is the most effective form of training. Employees learn more with a live instructor who is an expert.
Training that works
"46% of employees say their company's training courses/methods make them less likely to leave" – (CompTIA)
4) Evaluate the Process
"ROI can be measured regarding retention metrics. Two separate studies show a correlation between perceived lack of career development opportunities and retention." ~Impact Group
ROI Analysis:
Training Cost
Internal Promotion
Cost of Training Method
Productivity (increase or decrease in time spent on project)
Employee Retention and turnover rate
Job Satisfaction rating
Formula: ROI (%) = ((Monetary benefits – Training Costs)/Training Costs) x 100 (training tips)
Create an Employee Matrix to measure the goals you set in the beginning:
Were your goals met?
Did your employees feel they got anything from the training?
Will the training open doors for your company?
Can you further develop this new skill?
Here are a few testimonials from companies that have developed strong professional development programs:
"Learning online is quite easy, but nothing beats being in a classroom with peers and a teacher that can address your particular questions on the spot.  These classes are invaluable experiences for budding designers!" – John Kliewer, Scott Barber Inc
"Digital Workshop Center understands the balance between customized training and allocating time to get the training done. Their flexibility in assisting us here at Triple Crown Sports with our needs in technology training has been superb, along with their attention to detail in regards to the topics they offer and the custom topics we have requested."  – Patty Harsch, Triple Crown Sports
"Digital Workshop Center provided on-site, tailored training to meet our business needs. We would definitely choose DWC for future computer training classes." – Esther Velasquez, Platte River Power Authority
Now you can measure the effectiveness of your training. Professional Development training is worth the money and time you commit to it. Put thought into your program planning. Design a professional development plan that will be related to the work you are doing. This can be a great investment for your whole company.