Home
»
Posts Tagged "scheduling"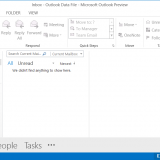 Microsoft Outlook offers several features that can help organize your busy life. If you're just getting started with Outlook, check out Part 1 of this series here.
One often overlooked feature that exists within Outlook is the fact that you can click and drag emails in order to create new contact information, calendar items, and tasks. Dragging the selected message to the Calendar, Contact, or Task tab on the left-hand pane of your Outlook window will automatically pull up a prompt to create one of these new items with your email message already attached.
read more
I know sometimes I look like a really busy man, at least on paper.
My friends and family often ask me how I keep all my classes, shows, tasks and events organized. Many years ago, I relied on old-school paper organizers, a couple of highlighters and a lot of sticky notes.
I had a pretty amazing scheduling system that no one else on this planet would be able to understand. My appointment acronyms and color coding of meetings might've looked like the handywork of a messy third-grader, but it made perfect sense to me and that's all that mattered.
read more