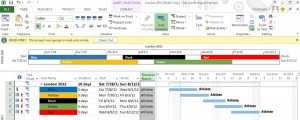 At Digital Workshop Center, we are extremely excited to be moving into a new Old Town location to better serve the community as a resource for digital arts classes and business computer training. However, with a big office move such as this, there are also a lot of headaches to organize and many phases of the project to consider.
For a project of any size, including our moving plan, Microsoft Project is a powerful project management application that can help a team stay on track. Tracking time and cost resources effectively, Project has emerged as an industry leader for project management.
Using Project, teams can track their project plan better than ever before. After entering in your initial tasks and durations, you can then use one of the many views Project has to offer to be able to look at the data involved more clearly. Then, utilizing the various table data views and visual aids to review the project plan, you can analyze the project status in more detail.
When you need to assign specific resources to a task in order to get it done, Project makes it easy. After assigning the resource, you then have the option to track cost information, budget information and much more.
As an active project manager, you always need to be able to adjust the project plan for delays, work stoppages, accidents or weather. As your project moves into implementation, you have access to a variety of user-friendly reports that can help you fine-tune the plan in real time.
Furthermore, setting a baseline project plan at different critical points along the project ensures that you have a way to compare the actual work done vs. the original estimated work. Staying in control of the variance between these two key factors can often be one of the major reasons for success throughout a project life cycle.
Last, if you find that your project plan feels too massive and bloated, there are many ways to split up the work between co-workers. One great method is to use sub-projects, which allow a project manager to split up a large project into several smaller sections of the project plan. These sub-projects can be assigned individually but tracked as linked sections of the master project plan. In addition, a "resource pool" acts as one central place to track a whole company's resources. Using the resource pool prevents resources from being over-allocated and helps cost tracking, as well.
As the next big project for your company begins, consider using Microsoft Project to ease the pain that a big project often brings with it. Now I have to go update my moving plan and start packing some boxes.
Stay tuned for more Project tips and tricks in this column in the future. If you have specific Project problems you need help with, please visit the Digital Workshop Center's Facebook page (facebook.com/fcdigitalworkshop), post your issue and I will reply there with some advice.
[Originally published in The Coloradoan on 5/23/13]