Digital Workshop Center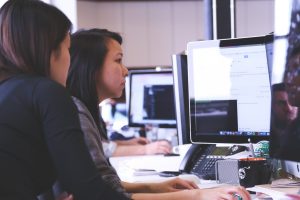 In 2006 in Old Town Fort Collins, DWC was formed as a private occupational school.  Today, DWC continues to offer technology classes for all skills levels.  When you enroll in classes in Fort Collins, you will work with a live instructor and get the personalized attention you need to be successful.
Classes in Fort Collins are offered in both public and private formats.  Popular classes include digital marketing, Adobe Creative Cloud, Microsoft Office, web design, and photography. To learn more about what class is right for you, contact us to schedule a free training plan appointment with a student advisor today.
Contact Info & Address
Phone: 970-980-8091  | Email: info@digitalworkshopcenter.com
Fort Collins campus address:
Mailing / Northern Colorado campus address: 324 Remington St. Fort Collins, CO 80524 (map)
Main Classroom Entrance: Suite 110
Administrative Offices: Suite 130
Where should I park at the Fort Collins campus?
Parking is available in the parking lot spaces marked for 324 Remington Street or on the surrounding blocks. Use the parking map to find valid parking on the street.
Available Public Classes in Fort Collins
Email Marketing for Beginners Class
Schedule/Cost

Mon 12-09-2019
6:00pm - 9:30pm
Tue 12-10-2019
6:00pm - 9:30pm




Live Classes



Price: $289.00
Space Available: 3 seat(s)
Location: Digital Workshop Center - Ft. Collins - View Map
Classroom: Community Room



Streaming Live Online



Price: $299.00
Space Available(Online): 3 seat(s)
Location: Online

Course Closing Date: 12-07-2019
Instructor(s): Greg Moore

Choose Location: Digital Workshop Center - Ft. Collins - Online
Microsoft Excel for Beginners Class – Level 1
Schedule/Cost

Mon 12-09-2019
9:00am - 12:30pm
Wed 12-11-2019
9:00am - 12:30pm




Live Classes



Price: $249.00
Space Available: 13 seat(s)
Location: Digital Workshop Center - Ft. Collins - View Map
Classroom: Classroom



Streaming Live Online



Price: $259.00
Space Available(Online): 14 seat(s)
Location: Online

Course Closing Date: 12-07-2019
Instructor(s): Tim Gauthier

Choose Location: Digital Workshop Center - Ft. Collins - Online
Microsoft Outlook for Beginners Class – Level 1
Schedule/Cost

Tue 12-10-2019
1:30pm - 5:00pm
Thu 12-12-2019
1:30pm - 5:00pm




Live Classes



Price: $249.00
Space Available: 15 seat(s)
Location: Digital Workshop Center - Ft. Collins - View Map
Classroom: Community Room


Choose Location: Digital Workshop Center - Ft. Collins
Capstone Project Meeting
Schedule/Cost

Tue 12-10-2019
5:30pm - 6:30pm




Live Classes



Price: $0.00
Space Available: 0 seat(s)
Location: Digital Workshop Center - Ft. Collins - View Map
Classroom: Classroom


Customize Your WordPress Site – Level 2
Schedule/Cost

Wed 12-11-2019
6:00pm - 9:00pm
Mon 12-16-2019
6:00pm - 9:00pm




Live Classes



Price: $299.00
Space Available: 4 seat(s)
Location: Digital Workshop Center - Ft. Collins - View Map
Classroom: Community Room



Streaming Live Online



Price: $309.00
Space Available(Online): 3 seat(s)
Location: Online

Course Closing Date: 12-09-2019
Instructor(s): Stefano Bossi

Choose Location: Digital Workshop Center - Ft. Collins - Online
Microsoft Word for Beginners Class – Level 1
Schedule/Cost

Wed 12-11-2019
1:30pm - 5:00pm
Fri 12-13-2019
1:30pm - 5:00pm




Live Classes



Price: $249.00
Space Available: 14 seat(s)
Location: Digital Workshop Center - Ft. Collins - View Map
Classroom: Classroom



Streaming Live Online



Price: $259.00
Space Available(Online): 16 seat(s)
Location: Online

Course Closing Date: 12-09-2019
Instructor(s): Ron Arrigo

Choose Location: Digital Workshop Center - Ft. Collins - Online
Capstone Project Meeting
Schedule/Cost

Thu 12-12-2019
9:00am - 10:00am




Live Classes



Price: $0.00
Space Available: 0 seat(s)
Location: Digital Workshop Center - Ft. Collins - View Map
Classroom: Classroom


Adobe Photoshop Advanced Class – Level 2
Schedule/Cost

Fri 12-13-2019
9:00am - 12:30pm
Mon 12-16-2019
9:00am - 12:30pm
Tue 12-17-2019
9:00am - 12:30pm
Thu 12-19-2019
9:00am - 12:30pm




Live Classes



Price: $795.00
Space Available: 14 seat(s)
Location: Digital Workshop Center - Ft. Collins - View Map
Classroom: Classroom



Streaming Live Online



Price: $805.00
Space Available(Online): 13 seat(s)
Location: Online

Course Closing Date: 12-11-2019
Instructor(s): Jake Van Newkirk

Choose Location: Digital Workshop Center - Ft. Collins - Online
Introduction to Typing Class
Schedule/Cost

Fri 12-13-2019
9:00am - 12:00pm




Live Classes



Price: $205.00
Space Available: 0 seat(s)
Location: Digital Workshop Center - Ft. Collins - View Map
Classroom: Community Room


Social Media Advertising Class
Schedule/Cost

Mon 12-16-2019
6:00pm - 8:30pm
Wed 12-18-2019
6:00pm - 8:30pm




Live Classes



Price: $525.00
Space Available: 16 seat(s)
Location: Digital Workshop Center - Ft. Collins - View Map
Classroom: Classroom



Streaming Live Online



Price: $535.00
Space Available(Online): 16 seat(s)
Location: Online

Course Closing Date: 12-14-2019
Instructor(s): Greg Moore

Choose Location: Digital Workshop Center - Ft. Collins - Online
Excel Intermediate Class – Level 2
Schedule/Cost

Mon 12-16-2019
1:00pm - 4:30pm
Wed 12-18-2019
1:00pm - 4:30pm




Live Classes



Price: $249.00
Space Available: 15 seat(s)
Location: Digital Workshop Center - Ft. Collins - View Map
Classroom: Classroom



Streaming Live Online



Price: $259.00
Space Available(Online): 16 seat(s)
Location: Online

Course Closing Date: 12-14-2019
Instructor(s): Troy Namath

Choose Location: Digital Workshop Center - Ft. Collins - Online
Microsoft PowerPoint Advanced Class – Level 2
Schedule/Cost

Mon 12-16-2019
1:30pm - 5:00pm
Wed 12-18-2019
1:30pm - 5:00pm




Live Classes



Price: $509.00
Space Available: 4 seat(s)
Location: Digital Workshop Center - Ft. Collins - View Map
Classroom: Community Room



Streaming Live Online



Price: $519.00
Space Available(Online): 4 seat(s)
Location: Online

Course Closing Date: 12-14-2019
Instructor(s): TBD

Choose Location: Digital Workshop Center - Ft. Collins - Online
Adobe Lightroom for Beginners Class – Level 1
Schedule/Cost

Tue 12-17-2019
6:00pm - 9:00pm
Thu 12-19-2019
6:00pm - 9:00pm




Live Classes



Price: $775.00
Space Available: 3 seat(s)
Location: Digital Workshop Center - Ft. Collins - View Map
Classroom: Community Room



Streaming Live Online



Price: $785.00
Space Available(Online): 4 seat(s)
Location: Online

Course Closing Date: 12-15-2019
Instructor(s): Michael Coronado

Choose Location: Digital Workshop Center - Ft. Collins - Online
DSLR Photography for Beginners Class – Level 1
Schedule/Cost

Tue 12-17-2019
6:00pm - 9:00pm




Live Classes



Price: $119.00
Space Available: 15 seat(s)
Location: Digital Workshop Center - Ft. Collins - View Map
Classroom: Classroom


Choose Location: Digital Workshop Center - Ft. Collins
Advanced Excel Class – Formulas & Functions
Schedule/Cost

Tue 12-17-2019
9:00am - 12:30pm
Thu 12-19-2019
9:00am - 12:30pm




Live Classes



Price: $349.00
Space Available: 4 seat(s)
Location: Digital Workshop Center - Ft. Collins - View Map
Classroom: Community Room



Streaming Live Online



Price: $359.00
Space Available(Online): 4 seat(s)
Location: Online

Course Closing Date: 12-15-2019
Instructor(s): TBD

Choose Location: Digital Workshop Center - Ft. Collins - Online
Google AdWords Beginners Class
Schedule/Cost

Wed 12-18-2019
6:00pm - 9:00pm
Thu 12-19-2019
6:00pm - 9:00pm




Live Classes



Price: $395.00
Space Available: 4 seat(s)
Location: Digital Workshop Center - Ft. Collins - View Map
Classroom: Flex Training Room



Streaming Live Online



Price: $405.00
Space Available(Online): 4 seat(s)
Location: Online

Course Closing Date: 12-16-2019
Instructor(s): TBD

Choose Location: Digital Workshop Center - Ft. Collins - Online
Microsoft Word Intermediate Class – Level 2
Schedule/Cost

Wed 12-18-2019
9:00am - 12:30pm
Fri 12-20-2019
9:00am - 12:30pm




Live Classes



Price: $509.00
Space Available: 15 seat(s)
Location: Digital Workshop Center - Ft. Collins - View Map
Classroom: Classroom



Streaming Live Online



Price: $519.00
Space Available(Online): 16 seat(s)
Location: Online

Course Closing Date: 12-16-2019
Instructor(s): Ron Arrigo

Choose Location: Digital Workshop Center - Ft. Collins - Online
Introduction to Typing Class
Schedule/Cost

Wed 12-18-2019
9:00am - 12:00pm
Fri 12-20-2019
9:00am - 12:00pm




Live Classes



Price: $410.00
Space Available: 0 seat(s)
Location: Digital Workshop Center - Ft. Collins - View Map
Classroom: Community Room


Portrait Photography for Beginners Class
Schedule/Cost

Thu 12-19-2019
6:00pm - 9:00pm




Live Classes



Price: $299.00
Space Available: 3 seat(s)
Location: Digital Workshop Center - Ft. Collins - View Map
Classroom: Classroom


Choose Location: Digital Workshop Center - Ft. Collins
Microsoft Outlook for Beginners Class – Level 1
Schedule/Cost

Thu 12-19-2019
1:30pm - 5:00pm
Fri 12-20-2019
1:30pm - 5:00pm




Live Classes



Price: $509.00
Space Available: 0 seat(s)
Location: Digital Workshop Center - Ft. Collins - View Map
Classroom: Community Room


Introduction to Windows Class
Schedule/Cost

Fri 12-20-2019
1:30pm - 4:30pm




Live Classes



Price: $205.00
Space Available: 4 seat(s)
Location: Digital Workshop Center - Ft. Collins - View Map
Classroom: Classroom


Choose Location: Digital Workshop Center - Ft. Collins
Social Media for Business – Beginners Class
Schedule/Cost

Mon 1-06-2020
6:00pm - 7:30pm
Wed 1-08-2020
6:00pm - 7:30pm




Live Classes



Price: $159.00
Space Available: 4 seat(s)
Location: Digital Workshop Center - Ft. Collins - View Map
Classroom: Community Room



Streaming Live Online



Price: $169.00
Space Available(Online): 2 seat(s)
Location: Online

Course Closing Date: 1-04-2020
Instructor(s): Kristi Lovette

Choose Location: Digital Workshop Center - Ft. Collins - Online
Excel PivotTables & PivotCharts Class
Schedule/Cost

Mon 1-06-2020
9:00am - 12:00pm
Wed 1-08-2020
9:00am - 12:00pm




Live Classes



Price: $349.00
Space Available: 4 seat(s)
Location: Digital Workshop Center - Ft. Collins - View Map
Classroom: Community Room



Streaming Live Online



Price: $359.00
Space Available(Online): 4 seat(s)
Location: Online

Course Closing Date: 1-04-2020
Instructor(s): TBD

Choose Location: Digital Workshop Center - Ft. Collins - Online
Adobe Illustrator for Beginners Class – Level 1
Schedule/Cost

Tue 1-07-2020
6:00pm - 9:30pm
Thu 1-09-2020
6:00pm - 9:30pm
Tue 1-14-2020
6:00pm - 9:30pm
Thu 1-16-2020
6:00pm - 9:30pm




Live Classes



Price: $795.00
Space Available: 16 seat(s)
Location: Digital Workshop Center - Ft. Collins - View Map
Classroom: Classroom



Streaming Live Online



Price: $805.00
Space Available(Online): 15 seat(s)
Location: Online

Course Closing Date: 1-05-2020
Instructor(s): Jake Van Newkirk

Choose Location: Digital Workshop Center - Ft. Collins - Online
Web Design with HTML and CSS Class
Schedule/Cost

Tue 1-07-2020
6:00pm - 9:30pm
Thu 1-09-2020
6:00pm - 9:30pm
Tue 1-14-2020
6:00pm - 9:30pm
Thu 1-16-2020
6:00pm - 9:30pm
Tue 1-21-2020
6:00pm - 9:30pm
Thu 1-23-2020
6:00pm - 9:30pm




Live Classes



Price: $1249.00
Space Available: 4 seat(s)
Location: Digital Workshop Center - Ft. Collins - View Map
Classroom: Community Room



Streaming Live Online



Price: $1259.00
Space Available(Online): 4 seat(s)
Location: Online

Course Closing Date: 1-05-2020
Instructor(s): TBD

Choose Location: Digital Workshop Center - Ft. Collins - Online
PHP for Beginners Class – Level 1
Schedule/Cost

Tue 1-07-2020
6:00pm - 9:30pm
Thu 1-09-2020
6:00pm - 9:30pm
Tue 1-14-2020
6:00pm - 9:30pm
Thu 1-16-2020
6:00pm - 9:30pm




Live Classes



Price: $1889.00
Space Available: 4 seat(s)
Location: Digital Workshop Center - Ft. Collins - View Map
Classroom: Flex Training Room



Streaming Live Online



Price: $1899.00
Space Available(Online): 4 seat(s)
Location: Online

Course Closing Date: 1-05-2020
Instructor(s): TBD

Choose Location: Digital Workshop Center - Ft. Collins - Online
Microsoft PowerPoint for Beginners Class – Level 1
Schedule/Cost

Tue 1-07-2020
9:00am - 12:30pm
Thu 1-09-2020
9:00am - 12:30pm




Live Classes



Price: $349.00
Space Available: 4 seat(s)
Location: Digital Workshop Center - Ft. Collins - View Map
Classroom: Community Room



Streaming Live Online



Price: $359.00
Space Available(Online): 4 seat(s)
Location: Online

Course Closing Date: 1-05-2020
Instructor(s): TBD

Choose Location: Digital Workshop Center - Ft. Collins - Online
Photoshop for Beginners – Level 1
Schedule/Cost

Wed 1-08-2020
6:00pm - 9:30pm
Mon 1-13-2020
6:00pm - 9:30pm
Wed 1-15-2020
6:00pm - 9:30pm
Mon 1-20-2020
6:00pm - 9:30pm




Live Classes



Price: $795.00
Space Available: 16 seat(s)
Location: Digital Workshop Center - Ft. Collins - View Map
Classroom: Classroom



Streaming Live Online



Price: $805.00
Space Available(Online): 16 seat(s)
Location: Online

Course Closing Date: 1-06-2020
Instructor(s): Michael Coronado

Choose Location: Digital Workshop Center - Ft. Collins - Online
Introduction to Mac Class
Schedule/Cost

Thu 1-09-2020
1:30pm - 4:30pm




Live Classes



Price: $205.00
Space Available: 1 seat(s)
Location: Digital Workshop Center - Ft. Collins - View Map
Classroom: Community Room


Choose Location: Digital Workshop Center - Ft. Collins
Introduction to Typing Class
Schedule/Cost

Fri 1-10-2020
9:00am - 12:00pm




Live Classes



Price: $205.00
Space Available: 1 seat(s)
Location: Digital Workshop Center - Ft. Collins - View Map
Classroom: Community Room


Choose Location: Digital Workshop Center - Ft. Collins
Microsoft Word for Beginners Class – Level 1
Schedule/Cost

Mon 1-13-2020
9:00am - 12:30pm
Wed 1-15-2020
9:00am - 12:30pm




Live Classes



Price: $349.00
Space Available: 16 seat(s)
Location: Digital Workshop Center - Ft. Collins - View Map
Classroom: Classroom



Streaming Live Online



Price: $359.00
Space Available(Online): 16 seat(s)
Location: Online

Course Closing Date: 1-11-2020
Instructor(s): TBD

Choose Location: Digital Workshop Center - Ft. Collins - Online
Data Science Certificate Program
Schedule/Cost

Mon 1-13-2020
6:00pm - 9:00pm
Wed 1-15-2020
6:00pm - 9:00pm
Mon 1-20-2020
6:00pm - 9:00pm
Wed 1-22-2020
6:00pm - 9:00pm
Mon 1-27-2020
6:00pm - 9:00pm
Wed 1-29-2020
6:00pm - 9:00pm
Wed 2-05-2020
6:00pm - 9:00pm
Mon 2-10-2020
6:00pm - 9:00pm
Wed 2-12-2020
6:00pm - 9:00pm
Mon 2-17-2020
6:00pm - 9:00pm
Wed 2-19-2020
6:00pm - 9:00pm
Mon 2-24-2020
6:00pm - 9:00pm
Wed 2-26-2020
6:00pm - 9:00pm
Mon 3-02-2020
6:00pm - 9:00pm
Wed 3-04-2020
6:00pm - 9:00pm
Mon 3-09-2020
6:00pm - 9:00pm
Wed 3-11-2020
6:00pm - 9:00pm
Mon 3-16-2020
6:00pm - 9:00pm
Wed 3-18-2020
6:00pm - 9:00pm
Wed 3-25-2020
6:00pm - 9:00pm
Mon 3-30-2020
6:00pm - 9:00pm
Wed 4-01-2020
6:00pm - 9:00pm
Mon 4-06-2020
6:00pm - 9:00pm
Wed 4-08-2020
6:00pm - 9:00pm
Mon 4-13-2020
6:00pm - 9:00pm
Wed 4-15-2020
6:00pm - 9:00pm
Mon 4-20-2020
6:00pm - 9:00pm
Wed 4-22-2020
6:00pm - 9:00pm
Mon 4-27-2020
6:00pm - 9:00pm
Wed 4-29-2020
6:00pm - 9:00pm
Mon 5-04-2020
6:00pm - 9:00pm
Wed 5-06-2020
6:00pm - 9:00pm




Live Classes



Price: $8449.00
Space Available: 4 seat(s)
Location: Digital Workshop Center - Ft. Collins - View Map
Classroom: Flex Training Room



Streaming Live Online



Price: $8459.00
Space Available(Online): 4 seat(s)
Location: Online

Course Closing Date: 1-11-2020
Instructor(s): Scott Stoltzman

Choose Location: Digital Workshop Center - Ft. Collins - Online
Adobe Acrobat Pro for Beginners Class – Level 1
Schedule/Cost

Mon 1-13-2020
1:30pm - 5:00pm
Wed 1-15-2020
1:30pm - 5:00pm




Live Classes



Price: $885.00
Space Available: 16 seat(s)
Location: Digital Workshop Center - Ft. Collins - View Map
Classroom: Classroom



Streaming Live Online



Price: $895.00
Space Available(Online): 16 seat(s)
Location: Online

Course Closing Date: 1-11-2020
Instructor(s): TBD

Choose Location: Digital Workshop Center - Ft. Collins - Online
Microsoft Excel for Beginners Class – Level 1
Schedule/Cost

Tue 1-14-2020
9:00am - 12:30pm
Thu 1-16-2020
9:00am - 12:30pm




Live Classes



Price: $349.00
Space Available: 16 seat(s)
Location: Digital Workshop Center - Ft. Collins - View Map
Classroom: Classroom



Streaming Live Online



Price: $359.00
Space Available(Online): 16 seat(s)
Location: Online

Course Closing Date: 1-12-2020
Instructor(s): Tim Gauthier

Choose Location: Digital Workshop Center - Ft. Collins - Online
Advanced Excel Training – Level 3
Schedule/Cost

Tue 1-14-2020
1:30pm - 5:00pm
Thu 1-16-2020
1:30pm - 5:00pm




Live Classes



Price: $349.00
Space Available: 4 seat(s)
Location: Digital Workshop Center - Ft. Collins - View Map
Classroom: Community Room



Streaming Live Online



Price: $359.00
Space Available(Online): 4 seat(s)
Location: Online

Course Closing Date: 1-12-2020
Instructor(s): TBD

Choose Location: Digital Workshop Center - Ft. Collins - Online
Crystal Reports for Beginners Class – Level 1
Schedule/Cost

Tue 1-14-2020
9:00am - 12:30pm
Thu 1-16-2020
9:00am - 12:30pm




Live Classes



Price: $1029.00
Space Available: 4 seat(s)
Location: Digital Workshop Center - Ft. Collins - View Map
Classroom: Community Room



Streaming Live Online



Price: $1039.00
Space Available(Online): 4 seat(s)
Location: Online

Course Closing Date: 1-12-2020
Instructor(s): TBD

Choose Location: Digital Workshop Center - Ft. Collins - Online
Introduction to Windows Class
Schedule/Cost

Wed 1-15-2020
9:00am - 12:00pm




Live Classes



Price: $205.00
Space Available: 1 seat(s)
Location: Digital Workshop Center - Ft. Collins - View Map
Classroom: Community Room


Choose Location: Digital Workshop Center - Ft. Collins
SEO Beginners Class
Schedule/Cost

Mon 1-20-2020
6:00pm - 9:00pm
Wed 1-22-2020
6:00pm - 9:00pm




Live Classes



Price: $279.00
Space Available: 4 seat(s)
Location: Digital Workshop Center - Ft. Collins - View Map
Classroom: Community Room



Streaming Live Online



Price: $289.00
Space Available(Online): 4 seat(s)
Location: Online

Course Closing Date: 1-18-2020
Instructor(s): Steve Fortson

Choose Location: Digital Workshop Center - Ft. Collins - Online
Microsoft Word Intermediate Class – Level 2
Schedule/Cost

Mon 1-20-2020
9:00am - 12:30pm
Wed 1-22-2020
9:00am - 12:30pm




Live Classes



Price: $509.00
Space Available: 4 seat(s)
Location: Digital Workshop Center - Ft. Collins - View Map
Classroom: Community Room



Streaming Live Online



Price: $519.00
Space Available(Online): 4 seat(s)
Location: Online

Course Closing Date: 1-18-2020
Instructor(s): TBD

Choose Location: Digital Workshop Center - Ft. Collins - Online
Advanced Excel Class – Formulas & Functions
Schedule/Cost

Mon 1-20-2020
1:30pm - 5:00pm
Wed 1-22-2020
1:30pm - 5:00pm




Live Classes



Price: $349.00
Space Available: 4 seat(s)
Location: Digital Workshop Center - Ft. Collins - View Map
Classroom: Community Room



Streaming Live Online



Price: $359.00
Space Available(Online): 4 seat(s)
Location: Online

Course Closing Date: 1-18-2020
Instructor(s): TBD

Choose Location: Digital Workshop Center - Ft. Collins - Online
Google AdWords Beginners Class
Schedule/Cost

Tue 1-21-2020
6:00pm - 9:00pm
Thu 1-23-2020
6:00pm - 9:00pm




Live Classes



Price: $395.00
Space Available: 4 seat(s)
Location: Digital Workshop Center - Ft. Collins - View Map
Classroom: Flex Training Room



Streaming Live Online



Price: $405.00
Space Available(Online): 4 seat(s)
Location: Online

Course Closing Date: 1-19-2020
Instructor(s): Steve Fortson

Choose Location: Digital Workshop Center - Ft. Collins - Online
DSLR Photography for Beginners Class – Level 1
Schedule/Cost

Tue 1-21-2020
6:00pm - 9:00pm




Live Classes



Price: $119.00
Space Available: 16 seat(s)
Location: Digital Workshop Center - Ft. Collins - View Map
Classroom: Classroom


Choose Location: Digital Workshop Center - Ft. Collins
Microsoft Outlook for Beginners Class – Level 1
Schedule/Cost

Tue 1-21-2020
9:00am - 12:30pm
Thu 1-23-2020
9:00am - 12:30pm




Live Classes



Price: $349.00
Space Available: 4 seat(s)
Location: Digital Workshop Center - Ft. Collins - View Map
Classroom: Community Room



Streaming Live Online



Price: $359.00
Space Available(Online): 4 seat(s)
Location: Online

Course Closing Date: 1-19-2020
Instructor(s): TBD

Choose Location: Digital Workshop Center - Ft. Collins - Online
Microsoft Project Class – Level 1
Schedule/Cost

Tue 1-21-2020
1:30pm - 5:00pm
Thu 1-23-2020
1:30pm - 5:00pm
Tue 1-28-2020
1:30pm - 5:00pm
Thu 1-30-2020
1:30pm - 5:00pm




Live Classes



Price: $1695.00
Space Available: 4 seat(s)
Location: Digital Workshop Center - Ft. Collins - View Map
Classroom: Community Room



Streaming Live Online



Price: $1705.00
Space Available(Online): 4 seat(s)
Location: Online

Course Closing Date: 1-19-2020
Instructor(s): TBD

Choose Location: Digital Workshop Center - Ft. Collins - Online
Adobe InDesign for Beginners Class – Level 1
Schedule/Cost

Wed 1-22-2020
6:00pm - 9:30pm
Fri 1-24-2020
6:00pm - 9:30pm
Mon 1-27-2020
6:00pm - 9:30pm
Wed 1-29-2020
6:00pm - 9:30pm




Live Classes



Price: $795.00
Space Available: 16 seat(s)
Location: Digital Workshop Center - Ft. Collins - View Map
Classroom: Classroom



Streaming Live Online



Price: $805.00
Space Available(Online): 16 seat(s)
Location: Online

Course Closing Date: 1-20-2020
Instructor(s): Michael Coronado

Choose Location: Digital Workshop Center - Ft. Collins - Online
Adobe Illustrator Advanced Class – Level 2
Schedule/Cost

Thu 1-23-2020
6:00pm - 9:30pm
Tue 1-28-2020
6:00pm - 9:30pm
Thu 1-30-2020
6:00pm - 9:30pm
Tue 2-04-2020
6:00pm - 9:30pm




Live Classes



Price: $795.00
Space Available: 15 seat(s)
Location: Digital Workshop Center - Ft. Collins - View Map
Classroom: Classroom



Streaming Live Online



Price: $805.00
Space Available(Online): 16 seat(s)
Location: Online

Course Closing Date: 1-21-2020
Instructor(s): Jake Van Newkirk

Choose Location: Digital Workshop Center - Ft. Collins - Online
Adobe Premiere Pro for Beginners Class – Level 1
Schedule/Cost

Mon 1-27-2020
9:00am - 12:30pm
Wed 1-29-2020
9:00am - 12:30pm
Mon 2-03-2020
9:00am - 12:30pm
Wed 2-05-2020
9:00am - 12:30pm




Live Classes



Price: $1325.00
Space Available: 4 seat(s)
Location: Digital Workshop Center - Ft. Collins - View Map
Classroom: Community Room



Streaming Live Online



Price: $1335.00
Space Available(Online): 4 seat(s)
Location: Online

Course Closing Date: 1-25-2020
Instructor(s): Phillip Broste

Choose Location: Digital Workshop Center - Ft. Collins - Online
Microsoft PowerPoint Advanced Class – Level 2
Schedule/Cost

Mon 1-27-2020
1:30pm - 5:00pm
Wed 1-29-2020
1:30pm - 5:00pm




Live Classes



Price: $509.00
Space Available: 4 seat(s)
Location: Digital Workshop Center - Ft. Collins - View Map
Classroom: Community Room



Streaming Live Online



Price: $519.00
Space Available(Online): 4 seat(s)
Location: Online

Course Closing Date: 1-25-2020
Instructor(s): TBD

Choose Location: Digital Workshop Center - Ft. Collins - Online
Adobe Acrobat Pro Advanced Class – Level 2
Schedule/Cost

Mon 1-27-2020
9:00am - 12:30pm
Wed 1-29-2020
9:00am - 12:30pm




Live Classes



Price: $885.00
Space Available: 16 seat(s)
Location: Digital Workshop Center - Ft. Collins - View Map
Classroom: Classroom



Streaming Live Online



Price: $895.00
Space Available(Online): 16 seat(s)
Location: Online

Course Closing Date: 1-25-2020
Instructor(s): TBD

Choose Location: Digital Workshop Center - Ft. Collins - Online
Social Media Advertising Class
Schedule/Cost

Tue 1-28-2020
6:00pm - 8:30pm
Thu 1-30-2020
6:00pm - 8:30pm




Live Classes



Price: $525.00
Space Available: 4 seat(s)
Location: Digital Workshop Center - Ft. Collins - View Map
Classroom: Community Room



Streaming Live Online



Price: $535.00
Space Available(Online): 3 seat(s)
Location: Online

Course Closing Date: 1-26-2020
Instructor(s): Kristi Lovette

Choose Location: Digital Workshop Center - Ft. Collins - Online
Excel Intermediate Class – Level 2
Schedule/Cost

Tue 1-28-2020
9:00am - 12:30pm
Thu 1-30-2020
9:00am - 12:30pm




Live Classes



Price: $349.00
Space Available: 15 seat(s)
Location: Digital Workshop Center - Ft. Collins - View Map
Classroom: Classroom



Streaming Live Online



Price: $359.00
Space Available(Online): 16 seat(s)
Location: Online

Course Closing Date: 1-26-2020
Instructor(s): Tim Gauthier

Choose Location: Digital Workshop Center - Ft. Collins - Online
Project Management Certification
Schedule/Cost

Tue 1-28-2020
6:00pm - 9:30pm
Thu 1-30-2020
6:00pm - 9:30pm
Tue 2-04-2020
6:00pm - 9:30pm
Thu 2-06-2020
6:00pm - 9:30pm
Tue 2-11-2020
6:00pm - 9:30pm
Thu 2-13-2020
6:00pm - 9:30pm
Tue 2-18-2020
6:00pm - 9:30pm
Thu 2-20-2020
6:00pm - 9:30pm
Tue 2-25-2020
6:00pm - 9:30pm
Thu 2-27-2020
6:00pm - 9:30pm
Tue 3-03-2020
6:00pm - 9:30pm
Thu 3-05-2020
6:00pm - 9:30pm




Live Classes



Price: $2995.00
Space Available: 4 seat(s)
Location: Digital Workshop Center - Ft. Collins - View Map
Classroom: Flex Training Room



Streaming Live Online



Price: $3005.00
Space Available(Online): 4 seat(s)
Location: Online

Course Closing Date: 1-26-2020
Instructor(s): Troy Namath

Choose Location: Digital Workshop Center - Ft. Collins - Online
WordPress for Beginners – Level 1
Schedule/Cost

Mon 2-03-2020
6:00pm - 9:00pm
Wed 2-05-2020
6:00pm - 9:00pm




Live Classes



Price: $299.00
Space Available: 4 seat(s)
Location: Digital Workshop Center - Ft. Collins - View Map
Classroom: Community Room



Streaming Live Online



Price: $309.00
Space Available(Online): 4 seat(s)
Location: Online

Course Closing Date: 2-01-2020
Instructor(s): TBD

Choose Location: Digital Workshop Center - Ft. Collins - Online
Excel PivotTables & PivotCharts Class
Schedule/Cost

Mon 2-03-2020
1:30pm - 5:00pm
Wed 2-05-2020
1:30pm - 5:00pm




Live Classes



Price: $349.00
Space Available: 4 seat(s)
Location: Digital Workshop Center - Ft. Collins - View Map
Classroom: Community Room



Streaming Live Online



Price: $359.00
Space Available(Online): 4 seat(s)
Location: Online

Course Closing Date: 2-01-2020
Instructor(s): TBD

Choose Location: Digital Workshop Center - Ft. Collins - Online
Email Marketing for Beginners Class
Schedule/Cost

Tue 2-04-2020
6:00pm - 9:30pm
Thu 2-06-2020
6:00pm - 9:30pm




Live Classes



Price: $289.00
Space Available: 4 seat(s)
Location: Digital Workshop Center - Ft. Collins - View Map
Classroom: Community Room



Streaming Live Online



Price: $299.00
Space Available(Online): 4 seat(s)
Location: Online

Course Closing Date: 2-02-2020
Instructor(s): Greg Moore

Choose Location: Digital Workshop Center - Ft. Collins - Online
Microsoft PowerPoint for Beginners Class – Level 1
Schedule/Cost

Tue 2-04-2020
1:30pm - 5:00pm
Thu 2-06-2020
1:30pm - 5:00pm




Live Classes



Price: $349.00
Space Available: 4 seat(s)
Location: Digital Workshop Center - Ft. Collins - View Map
Classroom: Community Room



Streaming Live Online



Price: $359.00
Space Available(Online): 4 seat(s)
Location: Online

Course Closing Date: 2-02-2020
Instructor(s): TBD

Choose Location: Digital Workshop Center - Ft. Collins - Online
DSLR Photography Intermediate Class – Level 2
Schedule/Cost

Wed 2-05-2020
6:00pm - 9:00pm




Live Classes



Price: $119.00
Space Available: 16 seat(s)
Location: Digital Workshop Center - Ft. Collins - View Map
Classroom: Classroom


Choose Location: Digital Workshop Center - Ft. Collins
Photoshop for Beginners – Level 1
Schedule/Cost

Thu 2-06-2020
6:00pm - 9:30pm
Mon 2-10-2020
6:00pm - 9:30pm
Thu 2-13-2020
6:00pm - 9:30pm
Tue 2-18-2020
6:00pm - 9:30pm




Live Classes



Price: $795.00
Space Available: 16 seat(s)
Location: Digital Workshop Center - Ft. Collins - View Map
Classroom: Classroom



Streaming Live Online



Price: $805.00
Space Available(Online): 16 seat(s)
Location: Online

Course Closing Date: 2-04-2020
Instructor(s): Jake Van Newkirk

Choose Location: Digital Workshop Center - Ft. Collins - Online
Introduction to Typing Class
Schedule/Cost

Thu 2-06-2020
9:00am - 12:00pm




Live Classes



Price: $205.00
Space Available: 1 seat(s)
Location: Digital Workshop Center - Ft. Collins - View Map
Classroom: Community Room


Choose Location: Digital Workshop Center - Ft. Collins
Microsoft PowerPoint Advanced Class – Level 2
Schedule/Cost

Mon 2-10-2020
9:00am - 12:30pm
Wed 2-12-2020
9:00am - 12:30pm




Live Classes



Price: $509.00
Space Available: 4 seat(s)
Location: Digital Workshop Center - Ft. Collins - View Map
Classroom: Community Room



Streaming Live Online



Price: $519.00
Space Available(Online): 4 seat(s)
Location: Online

Course Closing Date: 2-08-2020
Instructor(s): TBD

Choose Location: Digital Workshop Center - Ft. Collins - Online
Introduction to Windows Class
Schedule/Cost

Mon 2-10-2020
1:30pm - 4:30pm




Live Classes



Price: $205.00
Space Available: 1 seat(s)
Location: Digital Workshop Center - Ft. Collins - View Map
Classroom: Community Room


Choose Location: Digital Workshop Center - Ft. Collins
Design Fundamentals for Beginners Class
Schedule/Cost

Tue 2-11-2020
6:00pm - 9:30pm
Thu 2-13-2020
6:00pm - 9:30pm




Live Classes



Price: $289.00
Space Available: 3 seat(s)
Location: Digital Workshop Center - Ft. Collins - View Map
Classroom: Community Room



Streaming Live Online



Price: $299.00
Space Available(Online): 3 seat(s)
Location: Online

Course Closing Date: 2-09-2020
Instructor(s): Michael Coronado

Choose Location: Digital Workshop Center - Ft. Collins - Online
JavaScript for Beginners Class – Level 1
Schedule/Cost

Tue 2-11-2020
6:00pm - 9:30pm
Wed 2-12-2020
6:00pm - 9:30pm
Mon 2-17-2020
6:00pm - 9:30pm
Wed 2-19-2020
6:00pm - 9:30pm
Thu 2-20-2020
6:00pm - 9:30pm




Live Classes



Price: $2189.00
Space Available: 16 seat(s)
Location: Digital Workshop Center - Ft. Collins - View Map
Classroom: Classroom



Streaming Live Online



Price: $2199.00
Space Available(Online): 16 seat(s)
Location: Online

Course Closing Date: 2-09-2020
Instructor(s): TBD

Choose Location: Digital Workshop Center - Ft. Collins - Online
Microsoft Excel for Beginners Class – Level 1
Schedule/Cost

Tue 2-11-2020
1:30pm - 5:00pm
Thu 2-13-2020
1:30pm - 5:00pm




Live Classes



Price: $349.00
Space Available: 16 seat(s)
Location: Digital Workshop Center - Ft. Collins - View Map
Classroom: Classroom



Streaming Live Online



Price: $359.00
Space Available(Online): 16 seat(s)
Location: Online

Course Closing Date: 2-09-2020
Instructor(s): Tim Gauthier

Choose Location: Digital Workshop Center - Ft. Collins - Online
Microsoft Word for Beginners Class – Level 1
Schedule/Cost

Tue 2-11-2020
1:30pm - 5:00pm
Thu 2-13-2020
1:30pm - 5:00pm




Live Classes



Price: $349.00
Space Available: 4 seat(s)
Location: Digital Workshop Center - Ft. Collins - View Map
Classroom: Community Room



Streaming Live Online



Price: $359.00
Space Available(Online): 4 seat(s)
Location: Online

Course Closing Date: 2-09-2020
Instructor(s): TBD

Choose Location: Digital Workshop Center - Ft. Collins - Online
Adobe After Effects for Beginners Class – Level 1
Schedule/Cost

Mon 2-17-2020
9:00am - 12:30pm
Wed 2-19-2020
9:00am - 12:30pm
Mon 2-24-2020
9:00am - 12:30pm
Wed 2-26-2020
9:00am - 12:30pm




Live Classes



Price: $1325.00
Space Available: 4 seat(s)
Location: Digital Workshop Center - Ft. Collins - View Map
Classroom: Community Room



Streaming Live Online



Price: $1335.00
Space Available(Online): 3 seat(s)
Location: Online

Course Closing Date: 2-15-2020
Instructor(s): Phillip Broste

Choose Location: Digital Workshop Center - Ft. Collins - Online
Google Analytics Beginners Class
Schedule/Cost

Mon 2-17-2020
6:00pm - 9:00pm
Wed 2-19-2020
6:00pm - 9:00pm




Live Classes



Price: $279.00
Space Available: 4 seat(s)
Location: Digital Workshop Center - Ft. Collins - View Map
Classroom: Community Room



Streaming Live Online



Price: $289.00
Space Available(Online): 4 seat(s)
Location: Online

Course Closing Date: 2-15-2020
Instructor(s): Steve Fortson

Choose Location: Digital Workshop Center - Ft. Collins - Online
Advanced Excel Class – Formulas & Functions
Schedule/Cost

Mon 2-17-2020
9:00am - 12:30pm
Wed 2-19-2020
9:00am - 12:30pm




Live Classes



Price: $349.00
Space Available: 16 seat(s)
Location: Digital Workshop Center - Ft. Collins - View Map
Classroom: Classroom



Streaming Live Online



Price: $359.00
Space Available(Online): 16 seat(s)
Location: Online

Course Closing Date: 2-15-2020
Instructor(s): TBD

Choose Location: Digital Workshop Center - Ft. Collins - Online
Google Apps for Beginners Class
Schedule/Cost

Mon 2-17-2020
1:30pm - 4:30pm




Live Classes



Price: $249.00
Space Available: 4 seat(s)
Location: Digital Workshop Center - Ft. Collins - View Map
Classroom: Community Room



Streaming Live Online



Price: $259.00
Space Available(Online): 4 seat(s)
Location: Online

Course Closing Date: 2-15-2020
Instructor(s): TBD

Choose Location: Digital Workshop Center - Ft. Collins - Online
Adobe Illustrator for Beginners Class – Level 1
Schedule/Cost

Tue 2-18-2020
9:00am - 12:30pm
Thu 2-20-2020
9:00am - 12:30pm
Tue 2-25-2020
9:00am - 12:30pm
Thu 2-27-2020
9:00am - 12:30pm




Live Classes



Price: $795.00
Space Available: 16 seat(s)
Location: Digital Workshop Center - Ft. Collins - View Map
Classroom: Classroom



Streaming Live Online



Price: $805.00
Space Available(Online): 16 seat(s)
Location: Online

Course Closing Date: 2-16-2020
Instructor(s): Jake Van Newkirk

Choose Location: Digital Workshop Center - Ft. Collins - Online
Microsoft Outlook for Beginners Class – Level 1
Schedule/Cost

Tue 2-18-2020
9:00am - 12:30pm
Thu 2-20-2020
9:00am - 12:30pm




Live Classes



Price: $349.00
Space Available: 4 seat(s)
Location: Digital Workshop Center - Ft. Collins - View Map
Classroom: Community Room



Streaming Live Online



Price: $359.00
Space Available(Online): 4 seat(s)
Location: Online

Course Closing Date: 2-16-2020
Instructor(s): TBD

Choose Location: Digital Workshop Center - Ft. Collins - Online
Introduction to Mac Class
Schedule/Cost

Tue 2-18-2020
1:30pm - 4:30pm




Live Classes



Price: $205.00
Space Available: 1 seat(s)
Location: Digital Workshop Center - Ft. Collins - View Map
Classroom: Community Room


Choose Location: Digital Workshop Center - Ft. Collins
Adobe Lightroom for Beginners Class – Level 1
Schedule/Cost

Mon 2-24-2020
6:00pm - 9:00pm
Wed 2-26-2020
6:00pm - 9:00pm




Live Classes



Price: $775.00
Space Available: 4 seat(s)
Location: Digital Workshop Center - Ft. Collins - View Map
Classroom: Community Room



Streaming Live Online



Price: $785.00
Space Available(Online): 4 seat(s)
Location: Online

Course Closing Date: 2-22-2020
Instructor(s): Michael Coronado

Choose Location: Digital Workshop Center - Ft. Collins - Online
JavaScript Advanced Class – Level 2
Schedule/Cost

Mon 2-24-2020
6:00pm - 9:30pm
Wed 2-26-2020
6:00pm - 9:30pm
Mon 3-02-2020
6:00pm - 9:30pm
Wed 3-04-2020
6:00pm - 9:30pm
Fri 3-06-2020
6:00pm - 9:30pm




Live Classes



Price: $2189.00
Space Available: 16 seat(s)
Location: Digital Workshop Center - Ft. Collins - View Map
Classroom: Classroom



Streaming Live Online



Price: $2199.00
Space Available(Online): 16 seat(s)
Location: Online

Course Closing Date: 2-22-2020
Instructor(s): TBD

Choose Location: Digital Workshop Center - Ft. Collins - Online
Excel Intermediate Class – Level 2
Schedule/Cost

Mon 2-24-2020
9:00am - 12:30pm
Wed 2-26-2020
9:00am - 12:30pm




Live Classes



Price: $349.00
Space Available: 16 seat(s)
Location: Digital Workshop Center - Ft. Collins - View Map
Classroom: Classroom



Streaming Live Online



Price: $359.00
Space Available(Online): 16 seat(s)
Location: Online

Course Closing Date: 2-22-2020
Instructor(s): Troy Namath

Choose Location: Digital Workshop Center - Ft. Collins - Online
Adobe Acrobat Pro for Beginners Class – Level 1
Schedule/Cost

Mon 2-24-2020
1:30pm - 5:00pm
Wed 2-26-2020
1:30pm - 5:00pm




Live Classes



Price: $885.00
Space Available: 16 seat(s)
Location: Digital Workshop Center - Ft. Collins - View Map
Classroom: Classroom



Streaming Live Online



Price: $895.00
Space Available(Online): 16 seat(s)
Location: Online

Course Closing Date: 2-22-2020
Instructor(s): TBD

Choose Location: Digital Workshop Center - Ft. Collins - Online
Web Design with HTML and CSS Class
Schedule/Cost

Tue 2-25-2020
6:00pm - 9:30pm
Thu 2-27-2020
6:00pm - 9:30pm
Tue 3-03-2020
6:00pm - 9:30pm
Thu 3-05-2020
6:00pm - 9:30pm
Tue 3-10-2020
6:00pm - 9:30pm
Thu 3-12-2020
6:00pm - 9:30pm




Live Classes



Price: $1249.00
Space Available: 4 seat(s)
Location: Digital Workshop Center - Ft. Collins - View Map
Classroom: Community Room



Streaming Live Online



Price: $1259.00
Space Available(Online): 4 seat(s)
Location: Online

Course Closing Date: 2-23-2020
Instructor(s): TBD

Choose Location: Digital Workshop Center - Ft. Collins - Online
DSLR Photography for Beginners Class – Level 1
Schedule/Cost

Tue 2-25-2020
6:00pm - 9:00pm




Live Classes



Price: $119.00
Space Available: 16 seat(s)
Location: Digital Workshop Center - Ft. Collins - View Map
Classroom: Classroom


Choose Location: Digital Workshop Center - Ft. Collins
Microsoft Word Intermediate Class – Level 2
Schedule/Cost

Tue 2-25-2020
1:30pm - 5:00pm
Thu 2-27-2020
1:30pm - 5:00pm




Live Classes



Price: $509.00
Space Available: 4 seat(s)
Location: Digital Workshop Center - Ft. Collins - View Map
Classroom: Community Room



Streaming Live Online



Price: $519.00
Space Available(Online): 4 seat(s)
Location: Online

Course Closing Date: 2-23-2020
Instructor(s): TBD

Choose Location: Digital Workshop Center - Ft. Collins - Online
SEO Beginners Class
Schedule/Cost

Mon 3-02-2020
6:00pm - 9:00pm
Wed 3-04-2020
6:00pm - 9:00pm




Live Classes



Price: $279.00
Space Available: 4 seat(s)
Location: Digital Workshop Center - Ft. Collins - View Map
Classroom: Community Room



Streaming Live Online



Price: $289.00
Space Available(Online): 3 seat(s)
Location: Online

Course Closing Date: 2-29-2020
Instructor(s): Steve Fortson

Choose Location: Digital Workshop Center - Ft. Collins - Online
Microsoft PowerPoint for Beginners Class – Level 1
Schedule/Cost

Mon 3-02-2020
9:00am - 12:30pm
Wed 3-04-2020
9:00am - 12:30pm




Live Classes



Price: $349.00
Space Available: 4 seat(s)
Location: Digital Workshop Center - Ft. Collins - View Map
Classroom: Community Room



Streaming Live Online



Price: $359.00
Space Available(Online): 4 seat(s)
Location: Online

Course Closing Date: 2-29-2020
Instructor(s): TBD

Choose Location: Digital Workshop Center - Ft. Collins - Online
Photoshop for Beginners – Level 1
Schedule/Cost

Tue 3-03-2020
6:00pm - 9:30pm
Thu 3-05-2020
6:00pm - 9:30pm
Tue 3-10-2020
6:00pm - 9:30pm
Thu 3-12-2020
6:00pm - 9:30pm




Live Classes



Price: $795.00
Space Available: 16 seat(s)
Location: Digital Workshop Center - Ft. Collins - View Map
Classroom: Classroom



Streaming Live Online



Price: $805.00
Space Available(Online): 16 seat(s)
Location: Online

Course Closing Date: 3-01-2020
Instructor(s): Jake Van Newkirk

Choose Location: Digital Workshop Center - Ft. Collins - Online
Advanced Excel Training – Level 3
Schedule/Cost

Tue 3-03-2020
9:00am - 12:30pm
Thu 3-05-2020
9:00am - 12:30pm




Live Classes



Price: $349.00
Space Available: 4 seat(s)
Location: Digital Workshop Center - Ft. Collins - View Map
Classroom: Community Room



Streaming Live Online



Price: $359.00
Space Available(Online): 4 seat(s)
Location: Online

Course Closing Date: 3-01-2020
Instructor(s): TBD

Choose Location: Digital Workshop Center - Ft. Collins - Online
Introduction to Windows Class
Schedule/Cost

Thu 3-05-2020
1:30pm - 4:30pm




Live Classes



Price: $205.00
Space Available: 1 seat(s)
Location: Digital Workshop Center - Ft. Collins - View Map
Classroom: Community Room


Choose Location: Digital Workshop Center - Ft. Collins
Outdoor Photography Class
Schedule/Cost

Sat 3-07-2020
9:00am - 4:00pm




Live Classes



Price: $298.00
Space Available: 16 seat(s)
Location: Digital Workshop Center - Ft. Collins - View Map
Classroom: Classroom


Choose Location: Digital Workshop Center - Ft. Collins
Adobe InDesign for Beginners Class – Level 1
Schedule/Cost

Mon 3-09-2020
6:00pm - 9:30pm
Wed 3-11-2020
6:00pm - 9:30pm
Mon 3-16-2020
6:00pm - 9:30pm
Wed 3-18-2020
6:00pm - 9:30pm




Live Classes



Price: $795.00
Space Available: 3 seat(s)
Location: Digital Workshop Center - Ft. Collins - View Map
Classroom: Community Room



Streaming Live Online



Price: $805.00
Space Available(Online): 4 seat(s)
Location: Online

Course Closing Date: 3-06-2020
Instructor(s): Michael Coronado

Choose Location: Digital Workshop Center - Ft. Collins - Online
Social Media for Business – Beginners Class
Schedule/Cost

Mon 3-09-2020
6:00pm - 7:30pm
Wed 3-11-2020
6:00pm - 7:30pm




Live Classes



Price: $159.00
Space Available: 16 seat(s)
Location: Digital Workshop Center - Ft. Collins - View Map
Classroom: Classroom



Streaming Live Online



Price: $169.00
Space Available(Online): 16 seat(s)
Location: Online

Course Closing Date: 3-06-2020
Instructor(s): Kristi Lovette

Choose Location: Digital Workshop Center - Ft. Collins - Online
Microsoft Excel for Beginners Class – Level 1
Schedule/Cost

Mon 3-09-2020
1:30pm - 5:00pm
Wed 3-11-2020
1:30pm - 5:00pm




Live Classes



Price: $349.00
Space Available: 16 seat(s)
Location: Digital Workshop Center - Ft. Collins - View Map
Classroom: Classroom



Streaming Live Online



Price: $359.00
Space Available(Online): 16 seat(s)
Location: Online

Course Closing Date: 3-06-2020
Instructor(s): Tim Gauthier

Choose Location: Digital Workshop Center - Ft. Collins - Online
Excel PivotTables & PivotCharts Class
Schedule/Cost

Mon 3-09-2020
9:00am - 12:00pm
Wed 3-11-2020
9:00am - 12:00pm




Live Classes



Price: $349.00
Space Available: 4 seat(s)
Location: Digital Workshop Center - Ft. Collins - View Map
Classroom: Community Room



Streaming Live Online



Price: $359.00
Space Available(Online): 4 seat(s)
Location: Online

Course Closing Date: 3-06-2020
Instructor(s): TBD

Choose Location: Digital Workshop Center - Ft. Collins - Online
Microsoft Word for Beginners Class – Level 1
Schedule/Cost

Tue 3-10-2020
9:00am - 12:30pm
Thu 3-12-2020
9:00am - 12:30pm




Live Classes



Price: $349.00
Space Available: 4 seat(s)
Location: Digital Workshop Center - Ft. Collins - View Map
Classroom: Community Room



Streaming Live Online



Price: $359.00
Space Available(Online): 4 seat(s)
Location: Online

Course Closing Date: 3-07-2020
Instructor(s): TBD

Choose Location: Digital Workshop Center - Ft. Collins - Online
Adobe Acrobat Pro Advanced Class – Level 2
Schedule/Cost

Tue 3-10-2020
1:30pm - 5:00pm
Thu 3-12-2020
1:30pm - 5:00pm




Live Classes



Price: $885.00
Space Available: 16 seat(s)
Location: Digital Workshop Center - Ft. Collins - View Map
Classroom: Classroom



Streaming Live Online



Price: $895.00
Space Available(Online): 16 seat(s)
Location: Online

Course Closing Date: 3-07-2020
Instructor(s): TBD

Choose Location: Digital Workshop Center - Ft. Collins - Online
Introduction to Typing Class
Schedule/Cost

Tue 3-10-2020
1:30pm - 4:30pm




Live Classes



Price: $205.00
Space Available: 1 seat(s)
Location: Digital Workshop Center - Ft. Collins - View Map
Classroom: Community Room


Choose Location: Digital Workshop Center - Ft. Collins
Customize Your WordPress Site – Level 2
Schedule/Cost

Mon 3-16-2020
6:00pm - 9:00pm
Wed 3-18-2020
6:00pm - 9:00pm




Live Classes



Price: $299.00
Space Available: 16 seat(s)
Location: Digital Workshop Center - Ft. Collins - View Map
Classroom: Classroom



Streaming Live Online



Price: $309.00
Space Available(Online): 16 seat(s)
Location: Online

Course Closing Date: 3-14-2020
Instructor(s): TBD

Choose Location: Digital Workshop Center - Ft. Collins - Online
Microsoft Outlook for Beginners Class – Level 1
Schedule/Cost

Mon 3-16-2020
1:30pm - 5:00pm
Wed 3-18-2020
1:30pm - 5:00pm




Live Classes



Price: $349.00
Space Available: 4 seat(s)
Location: Digital Workshop Center - Ft. Collins - View Map
Classroom: Community Room



Streaming Live Online



Price: $359.00
Space Available(Online): 4 seat(s)
Location: Online

Course Closing Date: 3-14-2020
Instructor(s): TBD

Choose Location: Digital Workshop Center - Ft. Collins - Online
Google Analytics Beginners Class
Schedule/Cost

Tue 3-17-2020
6:00pm - 9:00pm
Thu 3-19-2020
6:00pm - 9:00pm




Live Classes



Price: $279.00
Space Available: 4 seat(s)
Location: Digital Workshop Center - Ft. Collins - View Map
Classroom: Flex Training Room



Streaming Live Online



Price: $289.00
Space Available(Online): 4 seat(s)
Location: Online

Course Closing Date: 3-15-2020
Instructor(s): Steve Fortson

Choose Location: Digital Workshop Center - Ft. Collins - Online
Advanced Excel Class – Formulas & Functions
Schedule/Cost

Tue 3-17-2020
1:30pm - 5:00pm
Thu 3-19-2020
1:30pm - 5:00pm




Live Classes



Price: $349.00
Space Available: 4 seat(s)
Location: Digital Workshop Center - Ft. Collins - View Map
Classroom: Community Room



Streaming Live Online



Price: $359.00
Space Available(Online): 4 seat(s)
Location: Online

Course Closing Date: 3-15-2020
Instructor(s): TBD

Choose Location: Digital Workshop Center - Ft. Collins - Online
Microsoft PowerPoint Advanced Class – Level 2
Schedule/Cost

Tue 3-17-2020
9:00am - 12:30pm
Thu 3-19-2020
9:00am - 12:30pm




Live Classes



Price: $509.00
Space Available: 4 seat(s)
Location: Digital Workshop Center - Ft. Collins - View Map
Classroom: Community Room



Streaming Live Online



Price: $519.00
Space Available(Online): 4 seat(s)
Location: Online

Course Closing Date: 3-15-2020
Instructor(s): TBD

Choose Location: Digital Workshop Center - Ft. Collins - Online
Adobe Illustrator for Beginners Class – Level 1
Schedule/Cost

Thu 3-19-2020
6:00pm - 9:30pm
Mon 3-23-2020
6:00pm - 9:30pm
Wed 3-25-2020
6:00pm - 9:30pm
Mon 3-30-2020
6:00pm - 9:30pm




Live Classes



Price: $795.00
Space Available: 4 seat(s)
Location: Digital Workshop Center - Ft. Collins - View Map
Classroom: Community Room



Streaming Live Online



Price: $805.00
Space Available(Online): 4 seat(s)
Location: Online

Course Closing Date: 3-17-2020
Instructor(s): Michael Coronado

Choose Location: Digital Workshop Center - Ft. Collins - Online
DSLR Photography for Beginners Class – Level 1
Schedule/Cost

Thu 3-19-2020
6:00pm - 9:00pm




Live Classes



Price: $119.00
Space Available: 16 seat(s)
Location: Digital Workshop Center - Ft. Collins - View Map
Classroom: Classroom


Choose Location: Digital Workshop Center - Ft. Collins
Social Media Advertising Class
Schedule/Cost

Mon 3-23-2020
6:00pm - 8:30pm
Wed 3-25-2020
6:00pm - 8:30pm




Live Classes



Price: $525.00
Space Available: 16 seat(s)
Location: Digital Workshop Center - Ft. Collins - View Map
Classroom: Classroom



Streaming Live Online



Price: $535.00
Space Available(Online): 16 seat(s)
Location: Online

Course Closing Date: 3-21-2020
Instructor(s): Kristi Lovette

Choose Location: Digital Workshop Center - Ft. Collins - Online
Excel Intermediate Class – Level 2
Schedule/Cost

Mon 3-23-2020
1:30pm - 5:00pm
Wed 3-25-2020
1:30pm - 5:00pm




Live Classes



Price: $349.00
Space Available: 16 seat(s)
Location: Digital Workshop Center - Ft. Collins - View Map
Classroom: Classroom



Streaming Live Online



Price: $359.00
Space Available(Online): 16 seat(s)
Location: Online

Course Closing Date: 3-21-2020
Instructor(s): Tim Gauthier

Choose Location: Digital Workshop Center - Ft. Collins - Online
Adobe Photoshop Advanced Class – Level 2
Schedule/Cost

Tue 3-24-2020
6:00pm - 9:30pm
Thu 3-26-2020
6:00pm - 9:30pm
Tue 3-31-2020
6:00pm - 9:30pm
Thu 4-02-2020
6:00pm - 9:30pm




Live Classes



Price: $795.00
Space Available: 4 seat(s)
Location: Digital Workshop Center - Ft. Collins - View Map
Classroom: Community Room



Streaming Live Online



Price: $805.00
Space Available(Online): 4 seat(s)
Location: Online

Course Closing Date: 3-22-2020
Instructor(s): Jake Van Newkirk

Choose Location: Digital Workshop Center - Ft. Collins - Online
Crystal Reports for Beginners Class – Level 1
Schedule/Cost

Tue 3-24-2020
9:00am - 12:30pm
Thu 3-26-2020
9:00am - 12:30pm




Live Classes



Price: $1029.00
Space Available: 4 seat(s)
Location: Digital Workshop Center - Ft. Collins - View Map
Classroom: Community Room



Streaming Live Online



Price: $1039.00
Space Available(Online): 4 seat(s)
Location: Online

Course Closing Date: 3-22-2020
Instructor(s): TBD

Choose Location: Digital Workshop Center - Ft. Collins - Online
Microsoft Word Intermediate Class – Level 2
Schedule/Cost

Wed 3-25-2020
9:00am - 12:30pm
Fri 3-27-2020
9:00am - 12:30pm




Live Classes



Price: $509.00
Space Available: 4 seat(s)
Location: Digital Workshop Center - Ft. Collins - View Map
Classroom: Community Room



Streaming Live Online



Price: $519.00
Space Available(Online): 4 seat(s)
Location: Online

Course Closing Date: 3-23-2020
Instructor(s): TBD

Choose Location: Digital Workshop Center - Ft. Collins - Online
DSLR Photography Intermediate Class – Level 2
Schedule/Cost

Thu 3-26-2020
6:00pm - 9:00pm




Live Classes



Price: $119.00
Space Available: 16 seat(s)
Location: Digital Workshop Center - Ft. Collins - View Map
Classroom: Classroom


Choose Location: Digital Workshop Center - Ft. Collins
PMI® Exam Preparation Class
Schedule/Cost

Thu 3-26-2020
6:00pm - 9:30pm
Tue 3-31-2020
6:00pm - 9:30pm
Thu 4-02-2020
6:00pm - 9:30pm




Live Classes



Price: $745.00
Space Available: 4 seat(s)
Location: Digital Workshop Center - Ft. Collins - View Map
Classroom: Flex Training Room



Streaming Live Online



Price: $755.00
Space Available(Online): 4 seat(s)
Location: Online

Course Closing Date: 3-24-2020
Instructor(s): Troy Namath

Choose Location: Digital Workshop Center - Ft. Collins - Online
Adobe Premiere Pro for Beginners Class – Level 1
Schedule/Cost

Mon 3-30-2020
9:00am - 12:30pm
Wed 4-01-2020
9:00am - 12:30pm
Mon 4-06-2020
9:00am - 12:30pm
Wed 4-08-2020
9:00am - 12:30pm




Live Classes



Price: $1325.00
Space Available: 4 seat(s)
Location: Digital Workshop Center - Ft. Collins - View Map
Classroom: Community Room



Streaming Live Online



Price: $1335.00
Space Available(Online): 4 seat(s)
Location: Online

Course Closing Date: 3-28-2020
Instructor(s): Phillip Broste

Choose Location: Digital Workshop Center - Ft. Collins - Online
WordPress for Beginners – Level 1
Schedule/Cost

Mon 3-30-2020
6:00pm - 9:00pm
Wed 4-01-2020
6:00pm - 9:00pm




Live Classes



Price: $299.00
Space Available: 16 seat(s)
Location: Digital Workshop Center - Ft. Collins - View Map
Classroom: Classroom



Streaming Live Online



Price: $309.00
Space Available(Online): 16 seat(s)
Location: Online

Course Closing Date: 3-28-2020
Instructor(s): TBD

Choose Location: Digital Workshop Center - Ft. Collins - Online
Adobe Acrobat Pro for Beginners Class – Level 1
Schedule/Cost

Mon 3-30-2020
9:00am - 12:30pm
Wed 4-01-2020
9:00am - 12:30pm




Live Classes



Price: $885.00
Space Available: 16 seat(s)
Location: Digital Workshop Center - Ft. Collins - View Map
Classroom: Classroom



Streaming Live Online



Price: $895.00
Space Available(Online): 16 seat(s)
Location: Online

Course Closing Date: 3-28-2020
Instructor(s): TBD

Choose Location: Digital Workshop Center - Ft. Collins - Online
Email Marketing for Beginners Class
Schedule/Cost

Tue 3-31-2020
6:00pm - 9:30pm
Thu 4-02-2020
6:00pm - 9:30pm




Live Classes



Price: $289.00
Space Available: 16 seat(s)
Location: Digital Workshop Center - Ft. Collins - View Map
Classroom: Classroom



Streaming Live Online



Price: $299.00
Space Available(Online): 16 seat(s)
Location: Online

Course Closing Date: 3-29-2020
Instructor(s): Greg Moore

Choose Location: Digital Workshop Center - Ft. Collins - Online
Introduction to Typing Class
Schedule/Cost

Thu 4-02-2020
9:00am - 12:00pm




Live Classes



Price: $205.00
Space Available: 1 seat(s)
Location: Digital Workshop Center - Ft. Collins - View Map
Classroom: Community Room


Choose Location: Digital Workshop Center - Ft. Collins
Photoshop for Beginners – Level 1
Schedule/Cost

Mon 4-06-2020
6:00pm - 9:30pm
Tue 4-07-2020
6:00pm - 9:30pm
Mon 4-13-2020
6:00pm - 9:30pm
Tue 4-14-2020
6:00pm - 9:30pm




Live Classes



Price: $795.00
Space Available: 16 seat(s)
Location: Digital Workshop Center - Ft. Collins - View Map
Classroom: Classroom



Streaming Live Online



Price: $805.00
Space Available(Online): 16 seat(s)
Location: Online

Course Closing Date: 4-04-2020
Instructor(s): Jake Van Newkirk

Choose Location: Digital Workshop Center - Ft. Collins - Online
JavaScript for Beginners Class – Level 1
Schedule/Cost

Mon 4-06-2020
6:00pm - 9:30pm
Wed 4-08-2020
6:00pm - 9:30pm
Mon 4-13-2020
6:00pm - 9:30pm
Wed 4-15-2020
6:00pm - 9:30pm
Tue 4-21-2020
6:00pm - 9:30pm




Live Classes



Price: $2189.00
Space Available: 4 seat(s)
Location: Digital Workshop Center - Ft. Collins - View Map
Classroom: Community Room



Streaming Live Online



Price: $2199.00
Space Available(Online): 4 seat(s)
Location: Online

Course Closing Date: 4-04-2020
Instructor(s): TBD

Choose Location: Digital Workshop Center - Ft. Collins - Online
Advanced Excel Training – Level 3
Schedule/Cost

Mon 4-06-2020
1:30pm - 5:00pm
Wed 4-08-2020
1:30pm - 5:00pm




Live Classes



Price: $349.00
Space Available: 4 seat(s)
Location: Digital Workshop Center - Ft. Collins - View Map
Classroom: Community Room



Streaming Live Online



Price: $359.00
Space Available(Online): 4 seat(s)
Location: Online

Course Closing Date: 4-04-2020
Instructor(s): TBD

Choose Location: Digital Workshop Center - Ft. Collins - Online
Google AdWords Beginners Class
Schedule/Cost

Tue 4-07-2020
6:00pm - 9:00pm
Thu 4-09-2020
6:00pm - 9:00pm




Live Classes



Price: $395.00
Space Available: 4 seat(s)
Location: Digital Workshop Center - Ft. Collins - View Map
Classroom: Community Room



Streaming Live Online



Price: $405.00
Space Available(Online): 4 seat(s)
Location: Online

Course Closing Date: 4-05-2020
Instructor(s): Steve Fortson

Choose Location: Digital Workshop Center - Ft. Collins - Online
Microsoft PowerPoint for Beginners Class – Level 1
Schedule/Cost

Tue 4-07-2020
1:30pm - 5:00pm
Thu 4-09-2020
1:30pm - 5:00pm




Live Classes



Price: $349.00
Space Available: 4 seat(s)
Location: Digital Workshop Center - Ft. Collins - View Map
Classroom: Community Room



Streaming Live Online



Price: $359.00
Space Available(Online): 4 seat(s)
Location: Online

Course Closing Date: 4-05-2020
Instructor(s): TBD

Choose Location: Digital Workshop Center - Ft. Collins - Online
Adobe InDesign Advanced Class – Level 2
Schedule/Cost

Wed 4-08-2020
6:00pm - 9:30pm
Thu 4-09-2020
6:00pm - 9:30pm
Wed 4-15-2020
6:00pm - 9:30pm
Thu 4-16-2020
6:00pm - 9:30pm




Live Classes



Price: $795.00
Space Available: 15 seat(s)
Location: Digital Workshop Center - Ft. Collins - View Map
Classroom: Classroom



Streaming Live Online



Price: $805.00
Space Available(Online): 16 seat(s)
Location: Online

Course Closing Date: 4-06-2020
Instructor(s): Michael Coronado

Choose Location: Digital Workshop Center - Ft. Collins - Online
Microsoft PowerPoint Advanced Class – Level 2
Schedule/Cost

Mon 4-13-2020
1:30pm - 5:00pm
Wed 4-15-2020
1:30pm - 5:00pm




Live Classes



Price: $509.00
Space Available: 4 seat(s)
Location: Digital Workshop Center - Ft. Collins - View Map
Classroom: Community Room



Streaming Live Online



Price: $519.00
Space Available(Online): 4 seat(s)
Location: Online

Course Closing Date: 4-11-2020
Instructor(s): TBD

Choose Location: Digital Workshop Center - Ft. Collins - Online
Introduction to Windows Class
Schedule/Cost

Mon 4-13-2020
9:00am - 12:30pm




Live Classes



Price: $205.00
Space Available: 1 seat(s)
Location: Digital Workshop Center - Ft. Collins - View Map
Classroom: Community Room


Choose Location: Digital Workshop Center - Ft. Collins
Business Soft Skills
Schedule/Cost

Mon 4-13-2020
9:00am - 12:30pm
Thu 4-16-2020
9:00am - 12:30pm
Mon 4-20-2020
9:00am - 12:30pm
Thu 4-23-2020
9:00am - 12:30pm




Live Classes



Price: $485.00
Space Available: 16 seat(s)
Location: Digital Workshop Center - Ft. Collins - View Map
Classroom: Classroom



Streaming Live Online



Price: $495.00
Space Available(Online): 16 seat(s)
Location: Online

Course Closing Date: 4-11-2020
Instructor(s): Troy Namath

Choose Location: Digital Workshop Center - Ft. Collins - Online
Microsoft Excel for Beginners Class – Level 1
Schedule/Cost

Tue 4-14-2020
9:00am - 12:30pm
Thu 4-16-2020
9:00am - 12:30pm




Live Classes



Price: $349.00
Space Available: 4 seat(s)
Location: Digital Workshop Center - Ft. Collins - View Map
Classroom: Community Room



Streaming Live Online



Price: $359.00
Space Available(Online): 4 seat(s)
Location: Online

Course Closing Date: 4-12-2020
Instructor(s): Tim Gauthier

Choose Location: Digital Workshop Center - Ft. Collins - Online
Excel PivotTables & PivotCharts Class
Schedule/Cost

Tue 4-14-2020
1:30pm - 5:00pm
Thu 4-16-2020
1:30pm - 5:00pm




Live Classes



Price: $349.00
Space Available: 4 seat(s)
Location: Digital Workshop Center - Ft. Collins - View Map
Classroom: Community Room



Streaming Live Online



Price: $359.00
Space Available(Online): 4 seat(s)
Location: Online

Course Closing Date: 4-12-2020
Instructor(s): TBD

Choose Location: Digital Workshop Center - Ft. Collins - Online
Google Apps for Beginners Class
Schedule/Cost

Wed 4-15-2020
9:00am - 12:30pm




Live Classes



Price: $249.00
Space Available: 4 seat(s)
Location: Digital Workshop Center - Ft. Collins - View Map
Classroom: Community Room



Streaming Live Online



Price: $259.00
Space Available(Online): 4 seat(s)
Location: Online

Course Closing Date: 4-13-2020
Instructor(s): TBD

Choose Location: Digital Workshop Center - Ft. Collins - Online
Design Fundamentals for Beginners Class
Schedule/Cost

Mon 4-20-2020
6:00pm - 9:30pm
Wed 4-22-2020
6:00pm - 9:30pm




Live Classes



Price: $289.00
Space Available: 4 seat(s)
Location: Digital Workshop Center - Ft. Collins - View Map
Classroom: Community Room



Streaming Live Online



Price: $299.00
Space Available(Online): 4 seat(s)
Location: Online

Course Closing Date: 4-18-2020
Instructor(s): Michael Coronado

Choose Location: Digital Workshop Center - Ft. Collins - Online
Adobe After Effects for Beginners Class – Level 1
Schedule/Cost

Mon 4-20-2020
9:00am - 12:30pm
Wed 4-22-2020
9:00am - 12:30pm
Mon 4-27-2020
9:00am - 12:30pm
Wed 4-29-2020
9:00am - 12:30pm




Live Classes



Price: $1325.00
Space Available: 4 seat(s)
Location: Digital Workshop Center - Ft. Collins - View Map
Classroom: Community Room



Streaming Live Online



Price: $1335.00
Space Available(Online): 4 seat(s)
Location: Online

Course Closing Date: 4-18-2020
Instructor(s): Phillip Broste

Choose Location: Digital Workshop Center - Ft. Collins - Online
Introduction to Mac Class
Schedule/Cost

Mon 4-20-2020
1:30pm - 4:30pm




Live Classes



Price: $205.00
Space Available: 1 seat(s)
Location: Digital Workshop Center - Ft. Collins - View Map
Classroom: Community Room


Choose Location: Digital Workshop Center - Ft. Collins
Adobe Illustrator for Beginners Class – Level 1
Schedule/Cost

Tue 4-21-2020
1:30pm - 5:00pm
Thu 4-23-2020
1:30pm - 5:00pm
Tue 4-28-2020
1:30pm - 5:00pm
Thu 4-30-2020
1:30pm - 5:00pm




Live Classes



Price: $795.00
Space Available: 16 seat(s)
Location: Digital Workshop Center - Ft. Collins - View Map
Classroom: Classroom



Streaming Live Online



Price: $805.00
Space Available(Online): 16 seat(s)
Location: Online

Course Closing Date: 4-19-2020
Instructor(s): Jake Van Newkirk

Choose Location: Digital Workshop Center - Ft. Collins - Online
Microsoft Word for Beginners Class – Level 1
Schedule/Cost

Tue 4-21-2020
1:30pm - 5:00pm
Thu 4-23-2020
1:30pm - 5:00pm




Live Classes



Price: $349.00
Space Available: 4 seat(s)
Location: Digital Workshop Center - Ft. Collins - View Map
Classroom: Community Room



Streaming Live Online



Price: $359.00
Space Available(Online): 4 seat(s)
Location: Online

Course Closing Date: 4-19-2020
Instructor(s): TBD

Choose Location: Digital Workshop Center - Ft. Collins - Online
DSLR Photography for Beginners Class – Level 1
Schedule/Cost

Wed 4-22-2020
6:00pm - 9:00pm




Live Classes



Price: $119.00
Space Available: 16 seat(s)
Location: Digital Workshop Center - Ft. Collins - View Map
Classroom: Classroom


Choose Location: Digital Workshop Center - Ft. Collins
Essential Web Tools
Schedule/Cost

Thu 4-23-2020
6:00pm - 9:30pm
Tue 4-28-2020
6:00pm - 9:30pm
Thu 4-30-2020
6:00pm - 9:30pm
Tue 5-05-2020
6:00pm - 9:30pm




Live Classes



Price: $1325.00
Space Available: 4 seat(s)
Location: Digital Workshop Center - Ft. Collins - View Map
Classroom: Flex Training Room



Streaming Live Online



Price: $1335.00
Space Available(Online): 4 seat(s)
Location: Online

Course Closing Date: 4-21-2020
Instructor(s): TBD

Choose Location: Digital Workshop Center - Ft. Collins - Online
SEO Beginners Class
Schedule/Cost

Mon 4-27-2020
6:00pm - 9:00pm
Wed 4-29-2020
6:00pm - 9:00pm




Live Classes



Price: $279.00
Space Available: 16 seat(s)
Location: Digital Workshop Center - Ft. Collins - View Map
Classroom: Classroom



Streaming Live Online



Price: $289.00
Space Available(Online): 16 seat(s)
Location: Online

Course Closing Date: 4-25-2020
Instructor(s): Greg Moore

Choose Location: Digital Workshop Center - Ft. Collins - Online
Excel Intermediate Class – Level 2
Schedule/Cost

Mon 4-27-2020
9:00am - 12:30pm
Wed 4-29-2020
9:00am - 12:30pm




Live Classes



Price: $349.00
Space Available: 16 seat(s)
Location: Digital Workshop Center - Ft. Collins - View Map
Classroom: Classroom



Streaming Live Online



Price: $359.00
Space Available(Online): 16 seat(s)
Location: Online

Course Closing Date: 4-25-2020
Instructor(s): Troy Namath

Choose Location: Digital Workshop Center - Ft. Collins - Online
Microsoft Word Intermediate Class – Level 2
Schedule/Cost

Mon 4-27-2020
1:30pm - 5:00pm
Wed 4-29-2020
1:30pm - 5:00pm




Live Classes



Price: $509.00
Space Available: 4 seat(s)
Location: Digital Workshop Center - Ft. Collins - View Map
Classroom: Community Room



Streaming Live Online



Price: $519.00
Space Available(Online): 4 seat(s)
Location: Online

Course Closing Date: 4-25-2020
Instructor(s): TBD

Choose Location: Digital Workshop Center - Ft. Collins - Online
Adobe Lightroom for Beginners Class – Level 1
Schedule/Cost

Tue 4-28-2020
6:00pm - 9:00pm
Thu 4-30-2020
6:00pm - 9:00pm




Live Classes



Price: $775.00
Space Available: 4 seat(s)
Location: Digital Workshop Center - Ft. Collins - View Map
Classroom: Community Room



Streaming Live Online



Price: $785.00
Space Available(Online): 3 seat(s)
Location: Online

Course Closing Date: 4-26-2020
Instructor(s): Michael Coronado

Choose Location: Digital Workshop Center - Ft. Collins - Online
Advanced Excel Class – Formulas & Functions
Schedule/Cost

Tue 4-28-2020
1:30pm - 5:00pm
Thu 4-30-2020
1:30pm - 5:00pm




Live Classes



Price: $349.00
Space Available: 4 seat(s)
Location: Digital Workshop Center - Ft. Collins - View Map
Classroom: Community Room



Streaming Live Online



Price: $359.00
Space Available(Online): 4 seat(s)
Location: Online

Course Closing Date: 4-26-2020
Instructor(s): TBD

Choose Location: Digital Workshop Center - Ft. Collins - Online
Microsoft Outlook for Beginners Class – Level 1
Schedule/Cost

Tue 4-28-2020
9:00am - 12:30pm
Thu 4-30-2020
9:00am - 12:30pm




Live Classes



Price: $349.00
Space Available: 4 seat(s)
Location: Digital Workshop Center - Ft. Collins - View Map
Classroom: Community Room



Streaming Live Online



Price: $359.00
Space Available(Online): 4 seat(s)
Location: Online

Course Closing Date: 4-26-2020
Instructor(s): TBD

Choose Location: Digital Workshop Center - Ft. Collins - Online
Portrait Photography for Beginners Class
Schedule/Cost

Thu 4-30-2020
6:00pm - 9:00pm




Live Classes



Price: $299.00
Space Available: 4 seat(s)
Location: Digital Workshop Center - Ft. Collins - View Map
Classroom: Classroom


Choose Location: Digital Workshop Center - Ft. Collins