Greg Moore
Instructor – Digital Marketing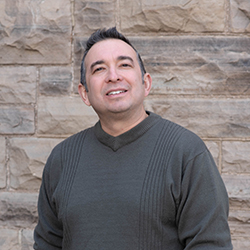 Greg Moore is a family man, entrepreneur, and business coach. His superpower is the ability to find hidden profit and growth potential in ANY business.
After graduating from The University of New Mexico with a degree in Applied Mathematics, he entered the workforce as a Satellite Engineer maintaining software for the government. Later, Greg and his wife answered an internal desire to enter the business world, so they started their own remodeling company netting over $50 million in sales in less than a decade. Due to innovative marketing, advertising efforts, and creativity, their business was very prosperous. Much of their success was earned by internal core belief that empowering and mentoring employees evokes a mutually beneficial environment.
Greg now runs a marketing and business coaching firm called AvaWing. Understanding the challenges of being an entrepreneur, such as working with little capital and the need for guided direction and quick, useful information enables him to pass his knowledge onto others. He also understands that as a small business, implementing smart and economical strategies to get sales, leads, and clients is crucial.
Through conducting national workshops, 100's of sales meetings, and pitching large corporations such as The Home Depot and Ace Hardware, Greg has gained invaluable industry knowledge. Working in the fields of Engineering, Pharmaceuticals, Chemistry, Probiotics, Photography, Hospitality, and Home Improvement also taught him substantial business expertise to offer to the DWC community.
Greg's skills include Web Design, SEO, CRM Development, Lead Generation, Trade Show Planning & Management, Sales Management, Marketing, Advertising, Brand Building, Motivational Speaking, and Business Coaching.
Available Classes Taught by This Instructor
SEO Beginners Class
Schedule/Cost

Mon 10-26-2020
6:00pm - 9:00pm
Wed 10-28-2020
6:00pm - 9:00pm






Streaming Live Online



Price: $279.00
Space Available(Online): 3 seat(s)
Location: Online

Course Closing Date: 10-24-2020
Instructor(s): Greg Moore

Online
Capstone Project Meeting
Schedule/Cost

Mon 11-02-2020
10:00am - 11:00am




Live Classes



Price: $0.00
Space Available: 1 seat(s)
Location: Online - Fort Collins - View Map
Classroom: Online



Streaming Live Online



Price: $0.00
Space Available(Online): 0 seat(s)
Location: Online

Course Closing Date: 10-31-2020
Instructor(s): Greg Moore

Choose Location: Online - Fort Collins - Online
Capstone Project Meeting
Schedule/Cost

Fri 11-06-2020
10:00am - 11:00am




Live Classes



Price: $0.00
Space Available: 1 seat(s)
Location: Online - Fort Collins - View Map
Classroom: Online



Streaming Live Online



Price: $0.00
Space Available(Online): 0 seat(s)
Location: Online

Course Closing Date: 11-04-2020
Instructor(s): Greg Moore

Choose Location: Online - Fort Collins - Online
Email Marketing for Beginners Class
Schedule/Cost

Tue 12-01-2020
6:00pm - 9:30pm
Thu 12-03-2020
6:00pm - 9:30pm






Streaming Live Online



Price: $289.00
Space Available(Online): 6 seat(s)
Location: Online

Course Closing Date: 11-29-2020
Instructor(s): Greg Moore

Online
SEO Beginners Class
Schedule/Cost

Tue 12-15-2020
6:00pm - 9:00pm
Thu 12-17-2020
6:00pm - 9:00pm






Streaming Live Online



Price: $279.00
Space Available(Online): 8 seat(s)
Location: Online

Course Closing Date: 12-13-2020
Instructor(s): Greg Moore

Online
SEO Beginners Class
Schedule/Cost

Tue 1-19-2021
6:00pm - 9:00pm
Thu 1-21-2021
6:00pm - 9:00pm






Streaming Live Online



Price: $279.00
Space Available(Online): 8 seat(s)
Location: Online

Course Closing Date: 1-17-2021
Instructor(s): Greg Moore

Online
Email Marketing for Beginners Class
Schedule/Cost

Tue 2-02-2021
6:00pm - 9:30pm
Thu 2-04-2021
6:00pm - 9:30pm






Streaming Live Online



Price: $289.00
Space Available(Online): 8 seat(s)
Location: Online

Course Closing Date: 1-31-2021
Instructor(s): Greg Moore

Online
SEO Beginners Class
Schedule/Cost

Tue 3-09-2021
6:00pm - 9:00pm
Thu 3-11-2021
6:00pm - 9:00pm






Streaming Live Online



Price: $279.00
Space Available(Online): 8 seat(s)
Location: Online

Course Closing Date: 3-07-2021
Instructor(s): Greg Moore

Online
Email Marketing for Beginners Class
Schedule/Cost

Tue 4-20-2021
6:00pm - 9:30pm
Thu 4-22-2021
6:00pm - 9:30pm






Streaming Live Online



Price: $289.00
Space Available(Online): 8 seat(s)
Location: Online

Course Closing Date: 4-18-2021
Instructor(s): Greg Moore

Online