A Social Media Glossary to help you learn the modern terms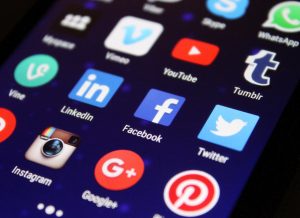 In the digital era, it's important for businesses to reach their clients where they're at, and today… they're on social media! Social media networks like Facebook, Instagram, SnapChat, and more have really taken off in recent years, and chances are that the very people you want to connect with are spending time on these sites. If your business isn't already harnessing the power of social media marketing and advertising, it's high time you start. If you're hoping to land a new career in the digital field, a deep understanding of social media marketing and advertising is great for your resume. Read this social media advertising glossary to help you learn the basics of this emerging advertising channel.
Social media advertising allows businesses to reach customers and future clientele through paid advertising and detailed audience targeting. Use this social media advertising glossary to help you increase your marketing ROI or round out your resume:

Algorithm:

Social media sites use complicated algorithms to determine what kinds of content to show users. These algorithms are based on how users interact with content, what their determined preferences are, and what their friends are doing. Sites also utilize these same algorithms to decide which users are best to show your ads to.

Targeted Audience:

The beauty of social media advertising is that you can be very explicit in who you choose to send advertisements to. You can pick your targeted audience for a wide variety of factors, including age, religion, gender, preferences, and so on. The more targeted your audience, the more likely your ads are to reach your desired fan base.

Web Traffic Ad:

In social media platforms, you have the ability to set up many types of ads that all have different objectives. One of the types of ads available to businesses is a web traffic ad that is designed to bring more users to your site to see your products, services, and content. Users are served this type of ad in a way that will make them want to click on it. By doing so, they'll be brought directly to your site or webpage.  

Page Likes/Follower Ad:

A different type of ad is a "page likes" or follower ad that seeks to increase the number of people who are fans of your work and actively follow your page. These ads grow your following and ultimately help you get your content in front of more people.

Boosted Posts/Content:

Another type of ad available to businesses on social media channels promotes the content you post on your social platforms. If you want a particular post or photo to get seen more often, this is the way to go.

Clickthrough Rate:

In social media advertising, the number of times people click on an ad and head to your website or desired place is known as a clickthrough rate. The more people who click the better.

Cost per Click:

Similarly, the cost per click is determined by the ratio of the number of people who clicked divided by the amount spent on the ad. The more people who click, the lower your cost per click will be. Ideally, the cost per click is as low as possible.

Conversion Rate:

This term refers to the number of people who clicked through and ultimately took your desired action. That may be buying a product or scheduling a demonstration, or any other outcome you'd like to see from your audience. The more people who convert to this outcome, the higher your conversion rate. The higher the rate, the better.

Comment:

One way fans can interact with your content and advertisements is by commenting on it. This means someone saw the information and took the time to respond to it. The more your fans comment on your content, the more likely their friends and others will see it.



Share:

Many social media platforms have made it very easy for users to share your content on their profiles so their friends and connections see the post or information. The more people who share it, the more who will ultimately see your message.

Direct Message:

In many of the social media platforms, users can send your business a direct message or personal message. Some ads in social media are set up specifically to encourage more messaging, and it's a great way to connect one-on-one with followers.

Viral:

In social media, when a post or advertisement goes "viral," it means thousands of people have seen it, shared it, and commented on it. It can be particularly valuable for businesses to have content go viral, because it means many have seen your information and are interested in it.

Re-targeting Ad:

In social media, it is possible to send specific ads to people who visit your website after they leave. This is called a retargeting ad, and it is a good way for your business to remind people of your offerings and products and stay in front of them going forward.
This social media advertising glossary is by no means a comprehensive list, but instead is designed to give you a basis for understanding just how complex and powerful social media advertising can be.
If you're ready to move beyond this social media advertising glossary, learn more about how you can leverage social media advertising for your business, or upskill your resume, consider registering for our Social Media Advertising class at the Digital Workshop Center. This class is taught in Fort Collins and Denver, Colorado, as well as online. In this class, you'll learn the various features of social media advertising and how to best leverage your advertising dollars to improve your return on investment. Click here to learn more about the class and register.
If you're not quite ready for this class, check out our beginner level Social Media for Business class.