Learn how you can Improve Web Search Rank with Analytics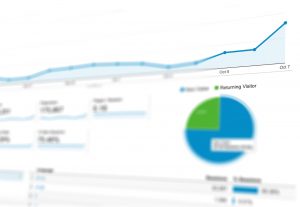 One of the most important investments businesses can make in this day and age is to work to improve your web search rank. Web search rank refers to the ability of your website to be seen by users searching for specific terms, keywords, or services. The higher your website ranks, the more likely users are to see your website and click through to find your offerings. There are many components to improving your rank. These efforts are known as Search Engine Optimization (SEO), and all the work is designed to make sure your website appears on the first page of results. One of the ways to improve web search rank with Analytics.
Google Analytics is a powerful tool that can give you great insight into how your site is performing in search ranking, how users find your website, and the ways in which users interact with your content. Businesses can use Google Analytics to ensure SEO campaigns are working and content is appropriately optimized. Use these tips to help you improve web search rank with Analytics:
Track Views, Click-Throughs, and Behaviors

– With Google Analytics, you can intimately study and track trends in page views, click-throughs, and website behavior. By noting what content is popular, what draws people in, and what your users prefer, you can make sure you're posting new content that meets their needs and keeps people coming back to your site.

Monitor Web Referrals

– The better your site meets the needs of your customers, the more likely it is that other websites will refer traffic to your website. The more you have outside websites referring to your site, the more search engines will trust you, thus improving your search rank. Monitor the number of referrals your site is getting each month and work to improve this number to improve your rank.

Track Keywords

– In your Google Analytics console, you can find the keywords users are typing into search engines to find your site by navigating to Acquisition » Search Console » Queries. In this section, you'll see helpful metrics that will tell you what keywords to focus on and what keyword opportunities your site is missing.

Check Mobile Stats

– Search engines are paying more and more attention to web traffic via smart mobile devices, because they're what visitors are using now. In your Google Analytics console, you can get helpful information about how many mobile users you have and your site's speed on mobile devices. You can get helpful data as to which pages can be better done for mobile devices.
Ready to learn more about search engine optimization and how to improve web search rank with Analytics? Consider taking our SEO for Business class, in which you will learn important SEO skills, from keyword research to optimization, analytics, and more to ensure your site consistently ranks at the top of the page. Click here to learn more about the class and register!