Megan Baker is a Coworker and the Community Manager at Digital Workshop Center. She plans the community calendar and you can find her smiling face in the coworking space on most days.
Meet Megan
I'm Megan Baker, and I'm a second-stager.  I spent 26 years teaching social studies to teens in schools, and now I'm primary support person for my 23-year-old stepson who has an intellectual disability.  I'm also the Community Manager at DWC, so I plan Lunch & Learns and Meetups here.  I also act as a liaison between DWC and the people who CoWork with us or want to use our spaces for their events.  And, I try to make sure the larger FoCo community knows about the great things happening here.
In my spare time, I'm a writer & poet, backpacker and hiker, and I sing with a group called Sound Circle.  I love spending time with my partner, my stepson, and my yellow lab, Molli.
What are your current projects?

I'm almost finished with a certificate in Holistic Health Practice from FRCC, and I'm also completing a 3-Year shamanic apprenticeship.  And, I'm finishing a certification in women's leadership coaching.  With those things going on, plus caregiving for my stepson, I'm busy.  He's about to start a new college program at CSU as well, so we're both very excited to go back to school on August 23.
What are you most excited about professionally right now?
Once all those trainings are done, my goal is to get my website up and running and have an alternative health practice, specializing in reiki and shamanic work.  I also have some workshops I want to design and teach, and a couple of books to write.  I have big, big plans for this second career.  Ultimately, my goal is to own a holistic health center with a variety of different practitioners doing great work for the people of a small mountain community.
When did you first start CoWorking?

I started coworking here in October 2015.
Where is your favorite place to work or be creative?
Two places – my old house overlooking Horsetooth Reservoir, and Digital Workshop Center.  At home, the view is inspiring and the quiet is really indescribable.  And at DWC, we have such interesting people here, doing professional things I barely knew existed outside of the schools where I'd been teaching.
How did you realize it was your dream to do what you are doing?
About two years ago, I realized I'd been teaching almost half of my life.  I still loved working with teenagers, but I wondered what else was out there for me.  A whole bunch of crazy midlife events made me reflect on "What's next?"
I've always loved working with people and seeing them learn and grow, and I wanted the challenge of building my own business.  As I was finishing my last year teaching high school, I moved into putting together my own program at FRCC, and combined it with all the holistic health practices I love and rely on.
Balancing my biz dreams with my stepson's needs is challenging, but I hold onto a long-term view of what we're doing as a family team.  Together, we're working on growing an independent person, who happens to have a disability.  Being a solo-preneur and location independent are big priorities for me right now, and I'm still working on putting all my ideas together.  The vision of what my business will be is still percolating, but I've got some time to get that all worked out.
How did you find Digital Workshop Center?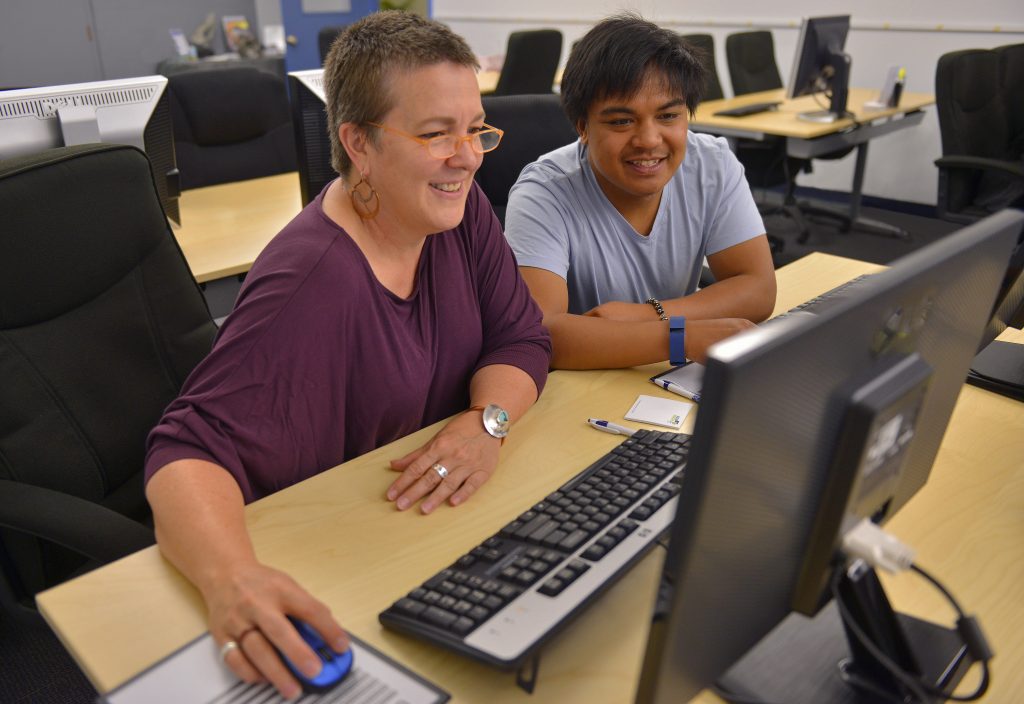 Stu used the DWC Facebook page to put out a call for a CoWorking trade in exchange for doing the Community Manager work.  I came down, took a tour, did an interview, and got this amazing opportunity to add so much to my skill set.  I've learned a bunch about customer service from a business perspective, and about tracking projects and clients.  We've hosted at least 10 Lunch & Learns, plus other events.  We've also grown the number of meetups and nonprofits we sponsor.
DWC is an amazing place with interesting people coming through the doors to CoWork, meet up, and take classes.  I love making connections with all the entrepreneurs, techies, and other interesting humans in this place.  I learn so much from them about what's possible in the professional world, and hopefully I add a little of my own wisdom into the mix.
And, of course, I'm awfully fond of Mason, our Security Officer and Greeter.
I'm always looking for interesting people with skills or stories to share with our DWC community, and also for groups that match our mission who might need space sponsorship.  You can reach me at megan@digitalworkshopcenter.com