How did Actualize Marketing begin?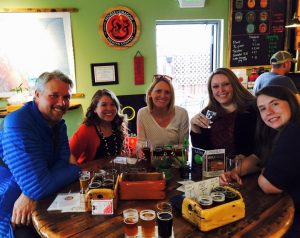 Actualize Marketing is a full-service ad agency that was started in August 2015. Our co-founders, Jessica and Greg, worked together for 10+ years at another agency and, after leaving our previous company independently to be solo artists, we decided it would be awesome to get the band back together. We hired Kate, Laura, and Kristen earlier this year, and now we're really rockin.'
What makes your company unique?
We're big believers in doing more for fewer clients. So we tend to be a one-stop marketing partner for everything from brand development and messaging strategy, to web development and day-to-day copy/creative needs. Current clients include BillHero, FoxDen, PaySimple, Datalink, and Comcast. But we've got room for a few more!
What are you most excited about professionally right now?
To be honest, we're all just super excited to be focused on doing great work for awesome clients. We figure if we do that right, then new success, growth, and opportunities will follow.
Where is your favorite place to work or be creative?
Right here at DWC! Seriously, it's ideal.
When did you realize it was your dream to do what you are doing?
Well, we've all been doing marketing for a long time now. Starting our own agency came from the realization that we didn't love the corporate grind anymore, so we decided to fix that.
How did you find Digital Workshop Center?
We heard about the DWC through a friend and came to take a look. We loved what we saw and signed the lease on our private office the very next day. It's the perfect home for a fledgling business!
Before we discovered the DWC, the plan was to office at Jessica's dining room table. Given that Greg is allergic to cats and Jessica has two of them, the DWC has been a business partnership lifesaver. Ha!