Introduction to Typing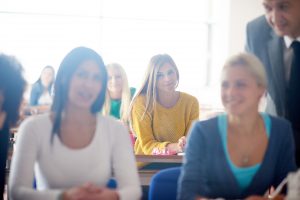 Typing, the process of inputting text by pressing keys on a computer keyboard or typewriter, is a vital skill to have in today's computer-dominated world. This three-hour Introduction to Typing class will get you on your way to quick, efficient typing!
Taught to students of all skill levels, from high school to seniors, we focus on best practices to help you improve your typing speeds on a traditional QWERTY keyboard.  You instructor will work with you or your group to coach your typing skills and help you improve.
Introduction to Typing is ideal for anyone who is looking to improve their typing speeds or those who have not learned the proper way to type in the first place.
Class Objective: You will learn the fundamentals of typing and be able to use a computer keyboard with ease.
Target Student: This course is designed for students who have minimal experience with typing on a computer keyboard, or students who would like a "refresher" course on basic typing skills.
Performance-Based Objectives
Upon successful completion of this course, students will be able to:
Understand why the QWERTY keyboard looks like it does
Use the home row
Use correct posture and hand positions
Type basic sentences quickly and efficiently
Build up their words-per-minute by practicing the skills learned in this class
Pre-requisite: None
Training Type: Instructor led, private, one-on-one, student-paced learning model with structured hands-on activities.  Available for Private or Group Sessions.
Class Includes
Class Info
Classroom equipped with computers
3 hours of training
Breaks taken throughout class session
Class size limited to 1 student
Target Audience: Beginner
Seniors (55+) get an additional 10% off!
Financial Aid
Click here to learn more about financial aid options including DWC's 6-month payment plan, WIOA Workforce Funding, and more.
Terms and Conditions
Please read our Terms and Conditions before you register.
This class is currently offered in a private format.
---
---