Start typing the right way with our Introduction to Typing class
Class Description
Typing, the process of inputting text by pressing keys on a computer keyboard, is a vital skill to have in today's computer-dominated world. In our Introduction to Typing class you will be on your way to quick, efficient typing!
In our Introduction to Typing class you will learn the fundamentals of typing, correct hand position and posture and then practice increasing your speed with your instructor as your coach. Taught to students of all skill levels, we focus on best practices to help you improve your typing speeds on a traditional QWERTY keyboard. Great for students who have not learned to type the proper way in the first place or just in need of a refresher, your instructor will work with you to coach and help you improve your speed and technique. You will leave knowing the fundamentals and be able to type at a computer with ease.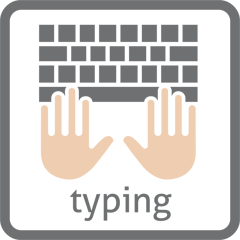 Class Objectives
Upon successful completion of our Introduction to Typing class, students will be able to:
Understand why the QWERTY keyboard looks like it does
Use the home row
Use correct posture and hand positions
Type basic sentences quickly and efficiently
Practice building their words-per-minute

Class Includes:
3 hours of training
Professional Reference Packet
Free access to CoWorking space on class days (FC Only)
One month of technical support
Certificate of Completion

General Info:
Target student: Beginner
Seniors (55+) get an additional 10% off
Computer & software provided in class
Class size limited

Training Type
Instructor led, group-paced, classroom-delivery learning model with structured hands-on activities.  Available for Private or Group Sessions.
This class is currently offered in a private format. Fill out the form below to discuss options with a student advisor.
---
---
Fill out the form below to request more information about Introduction to Typing Class or to request information on customized individual or group training sessions.