Learn the right ways to get started in the Microsoft OneNote for Beginners class
Class Description
Microsoft OneNote is an amazing program for free-form information gathering and multi-user collaboration, available as a part of the Microsoft Office Suite. It gathers users' notes (handwritten or typed), drawings, screen clippings and audio commentaries. In Microsoft OneNote for Beginners, you will learn how to be productive and maximize your time with the program.
During this class, your instructor will customize the training to answer your specific OneNote questions  Microsoft OneNote for Beginners is a hands-on, intensive class that is designed to show you the fundamentals, as well as the collaboration tools that can be invaluable in your daily workflow.
Contact us today to learn more about setting up a Microsoft OneNote for Beginners!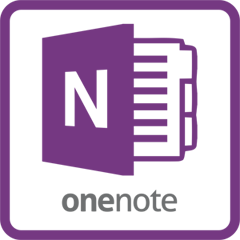 Performance Based Objectives
Upon successful completion of the Microsoft OneNote for Beginners class, students will be able to:
Explore the OneNote interface and create a simple notebook
Create notes
Organize content and search for information in a OneNote notebook
Integrate OneNote with other applications
Share notes with other people

Class Includes:
7 hours of training
Professional Textbook
Download materials with practice data files
Free access to CoWorking space on class days (FC Only)
One month of technical support
Certificate of Completion

General Info:
Target student: Beginner
Coursework may be assigned outside of class
Computer & software provided in class
Class size limited
Training Type
Instructor led, group-paced, classroom-delivery learning model with structured hands-on activities.  Available for Private or Group Sessions.
This class is currently offered in a private format. Fill out the form below to discuss options with a student advisor.
---
---
Fill out the form below to request more information about Microsoft OneNote for Beginners Class - Level 1 or to request information on customized individual or group training sessions.