Microsoft Access Level 2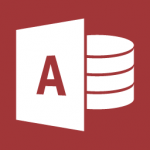 You have the basic skills needed to work with Microsoft Office Access databases, including creating and working with Access tables, relationships, queries, forms, and reports. But so far, you have been focusing only on essential database user skills.
In this class, you will consider how to maintain data consistency, how to customize database components, and how to share Access data with other applications.
Class Objective: You will maintain data consistency and integrity; improve queries, forms, and reports; and also integrate Microsoft Office Access with other applications.
Target Student: Microsoft Office Access Level 2 is designed for students who would like to learn intermediate-level operations of the Microsoft Office Access program. The Level 2 course is for individuals whose job responsibilities include maintaining data integrity; handling complex queries, forms, and reports; and sharing data between Access and other applications. This course is also a prerequisite to taking more advanced courses in Access.
Performance-Based Objectives
Upon successful completion of this course, students will be able to:
Modify the design and field properties of a table to streamline data entry and maintain data integrity.
Retrieve data from tables using joins.
Create flexible queries to display specified records, allow for user-determined query criteria, and modify data using queries.
Enhance the capabilities of a form by grouping form controls and making other aesthetic improvements to make forms work more efficiently and intuitively for the user.
Customize reports to organize the displayed information and produce specific print layouts.
Share data across different applications.
Pre-requisite: Microsoft Access Level 1
Training Type: Instructor led, classroom-paced delivery learning model with structured hands-on activities.  Available for Private or Group Sessions.
Class Includes
Professional Textbook
Download materials with practice examples
Free access to CoWorking space on class days (FC Only)
One month of technical support
Certificate of Completion
Class Info
Classroom equipped with computers and software
7 hours of training
Breaks are taken throughout each session
Class size limited
Target Audience: Intermediate
Financial Aid
Click here to learn more about financial aid options including DWC's 6-month payment plan, WIOA Workforce Funding, and more.
Terms and Conditions
Please read our Terms and Conditions before you register.

This class is currently offered in a private format.
---
---