Get hands-on practice using your camera in our DSLR Photography Intermediate class
Class Description
You've mastered the basics of what different camera settings are, in our DSLR Photography Intermediate class (Level 2) you will get to use that knowledge in a hands-on environment. We're setting our cameras on "manual",  getting out of our seats and photographing a wide variety of situations.
Students in our DSLR Photography Intermediate class will receive a refresher on key camera features like white balance, jpg or raw settings and exposure metering. They will then begin to get an advanced sense of creative image-making practicing with portraits, close-ups and much more. The class will close with a friendly critique of photos taken in class, led by the instructor.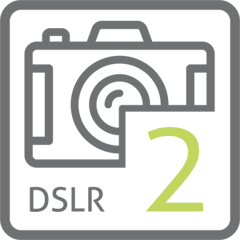 Class Objectives
Upon successful completion of DSLR Photography Intermediate class, students will be able to:
Feel confident in using their DSLR camera
Have a greater understanding in working with exposure, shutter speed, aperture & ISO
Build a sense of creative image making
Critique photography, including their own

Class Includes:
3 hours of training
Professional Reference Packet
Free access to CoWorking space on class days (FC Only)
One month of technical support
One year for a free re-take (for attended students of public classes only)
Certificate of Completion

General Info:
Target student: Beginner to intermediate
Computers & software provided in class
Class size limited

What to Bring
– DSLR camera with a fully charged battery
– Support hardware i.e. lenses, manuals or card readers may be beneficial but not required
* Familiarizing yourself with your specific camera settings is recommended as the instructor may not be able to review each camera individually
Training Type
Instructor led, group-paced, classroom-delivery learning model with structured hands-on activities the ability to practice in a beautiful outdoor setting. Available for Private or Group Sessions.
Available Public Classes
Schedule/Cost

Wed 5-06-2020
6:00pm - 9:00pm




Live Classes



Price: $119.00
Space Available: 16 seat(s)
Location: Digital Workshop Center - Ft. Collins - View Map
Classroom: Classroom

Course Closing Date: 5-04-2020
Instructor(s): Josh Hardin

Choose Location: Digital Workshop Center - Ft. Collins
---
---
Available Private Training
Digital Workshop Center offers each class in a private, one-on-one format. Private training may be scheduled around your availability and customized to your specific needs.
Consulting allows you to work one on one with your instructor, but does not follow a class curriculum.
If the public class schedule above is not ideal, please choose from the following options: