Enhance your productivity by managing your data in our Google Apps for Beginners class.
Class Description
Today's workplace is ever changing. With more people working from various locations and different time zones, collaboration is essential. In our Google Apps for Beginners class, you will learn how the G Suite of Google Apps supports both real-time and asynchronous collaboration, a great start for individuals transitioning from an office environment to a Google Apps environment! Gmail, Calendar, Drive, Sheets, and much more all in one place!
In Google Apps for Beginners, you will learn the capability of Google Apps and how to work within the environment. Collaboration tools and the ability to manage documents effectively online will change how you and your team do your work. This class can be customized for small groups and employee training so that our experts train exactly how your team uses the Google Apps software.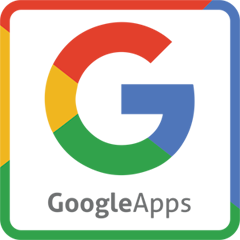 Class Objectives
Upon successful completion of Google Apps for Beginners, students will be able to:
Setup a free Google Apps account
Navigate in the environment
Manage schedules in Google Calendar
Store documents using Google Drive
Upload existing documents created with Microsoft Office
Create and share documents with Google Docs
Collaborate with Google Docs, Sheets, Slides, Forms, and Drawings
Communicate using Google Hangouts

Class Includes:
3 hours of training
Professional Reference Packet
Free access to CoWorking space on class days (FC Only)
One month of technical support
Certificate of Completion

General Info:
Target student: Beginner
Computer & software provided in class
Class size limited

Training Type
Instructor led, group-paced, classroom-delivery learning model with structured hands-on activities.  Available for Private or Group Sessions.
Available Public Classes
Schedule/Cost

Wed 4-15-2020
9:00am - 12:30pm




Live Classes



Price: $249.00
Space Available: 4 seat(s)
Location: Digital Workshop Center - Ft. Collins - View Map
Classroom: Community Room



Streaming Live Online



Price: $259.00
Space Available(Online): 4 seat(s)
Location: Online

Course Closing Date: 4-13-2020
Instructor(s): TBD

Choose Location: Digital Workshop Center - Ft. Collins - Online
---
---
Available Private Training
Digital Workshop Center offers each class in a private, one-on-one format. Private training may be scheduled around your availability and customized to your specific needs.
Consulting allows you to work one on one with your instructor, but does not follow a class curriculum.
If the public class schedule above is not ideal, please choose from the following options: