Adobe Dreamweaver Level 2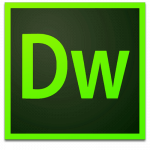 Adobe Dreamweaver has the tools to get you started with basic web design and editing.  If you want to go beyond the basics and learn how Dreamweaver can really save you time on your web projects, then this Level 2 class will get you there.
In this four-part series class, you will learn how to create a responsive web page that will look professional on all devices.  Adding a Bootstrap layout, working with media queries, using images directly from Photoshop, and adding custom interactivity for an advanced site will all be explained within the Dreamweaver environment while requiring you to know little to no code.
This class is hands-on and intensive, but designed to help make difficult topics easier to understand.  Your instructor, an Adobe Certified Expert, will work with you closely to make sure that you avoid common mistakes in Dreamweaver and apply best practices when possible.
Class Objective: To understand the intermediate to advanced features of the Adobe Dreamweaver application and how create dynamic, interactive web sites that are responsive to all media devices.
Target Student: This course is intended for intermediate web designers, web developers, website designers, and graphic artists who want to learn more than the basics of Adobe Dreamweaver.
Performance Based Objectives
Upon successful completion of this course, students will be able to:
Understand Responsive Design
Work with navigation
Work with Dreamweaver templates
Explain advanced concepts with images in Dreamweaver
Add Interactivity
Work with web animation and video
Publish to the web
Prerequisites: Web Design with HTML5 and CSS3 or equivalent knowledge is highly recommended.  Adobe Dreamweaver Level 1 is required.
It is also recommended that you have the Adobe Dreamweaver software before starting class.  You can purchase the software or obtain a trial from Adobe.com.
Training Type: Instructor led, group-paced, classroom-delivery learning model with structured hands-on activities.  Available for Private or Group Sessions.
Class Includes
Professional Textbook
Download materials with practice examples
Free access to CoWorking space on class days (FC Only)
One month of technical support
One year for a free re-take (for attended students of public classes only)
Certificate of Completion
Class Info
Classroom equipped with computers and software
14 hours of training
Additional coursework to be completed outside of class time may be assigned
Breaks are taken throughout each session
Class size limited
All Dreamweaver Level 2 course materials included
Target Audience: Intermediate
**Please read our Terms and Conditions before you register**
Financial Aid
Click here to learn more about financial aid options including DWC's 6-month payment plan, WIOA Workforce Funding, and more.
Terms and Conditions
Please read our Terms and Conditions before you register.
Certificate Program
This course is part of one of the DWC Certification Programs and Bootcamps.
This class is currently offered in a private format.
---
---