Go beyond the basics with our Adobe Dreamweaver Advanced class
Class Description
In the Adobe Dreamweaver Advanced class (Level 2), we will take you beyond the fundamentals and our Adobe experts will teach you how to increase your productivity by simplifying complex tasks and manage your website with ease.
In this Adobe Dreamweaver Advanced class you will learn how to create dynamic, interactive web sites that are responsive and professional looking on all media devices. By utilizing the intermediate to advanced features of Adobe Dreamweaver, you will be able to add a Bootstrap layout, work with media queries, and add custom interactivity. All with using little to no code.
Adobe Dreamweaver Level 2 is hands-on and intensive, but designed to help make difficult topics easier to understand. Your instructor, an Adobe Certified Expert, will work with you closely to make sure that you avoid common mistakes in Dreamweaver and apply best practices when possible.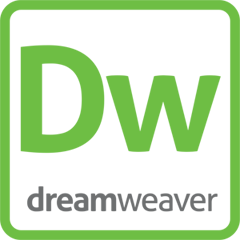 Class Objectives
Upon successful completion of the Adobe Dreamweaver Advanced class, students will be able to:
Work productively within the softeware
Create responsive design
Create navigation menus
Design & edit custom Dreamweaver templates
Add interactivity to their site
Publish to the web

Class Includes:
14 hours of training
Professional Textbook
Download materials with practice data files
Free access to CoWorking space on class days (FC Only)
One month of technical support
Certificate of Completion

General Info:
Target student: Intermediate
Coursework may be assigned outside of class
Computer & software provided in class
Class size limited

Training Type
Instructor led, group-paced, classroom-delivery learning model with structured hands-on activities.  Available for Private or Group Sessions.
This class is currently offered in a private format. Fill out the form below to discuss options with a student advisor.
---
---
Fill out the form below to request more information about Adobe Dreamweaver Advanced Class - Level 2 or to request information on customized individual or group training sessions.