Adobe Dreamweaver Level 1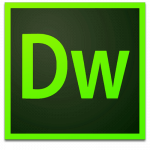 While there are many tools for you to be able edit and manage your website, Adobe Dreamweaver is the most effective application for integrating your Adobe Creative Cloud workflow into your web designs and development.
Adobe Dreamweaver is a versatile web development tool that provides features for users of all skill levels. The program includes many useful and time-saving tools that take your Adobe work to a whole new level.
In this four-part series class, you will learn the ins and outs of the application and how you can apply your coding knowledge effectively. This class is more focused on the Dreamweaver interface than it is on the code. However, you will learn some of the assets, panels, and built-in features that become essential for any Adobe user.
This class is hands-on and intensive, but designed to help make difficult topics easier to understand. Your instructor, an Adobe Certified Expert, will work with you closely to make sure that you avoid common mistakes in Dreamweaver and apply best practices when possible.
Class Objective: To understand the features and benefits of the Adobe Dreamweaver application and how it integrates to the other software in the Adobe Creative Suite.
Target Student: This course is intended for novice web designers, web developers, website designers, and graphic artists with some programming background who need to build simple websites and want to utilize the features of Adobe Dreamweaver.
Performance-Based Objectives
Upon successful completion of this course, students will be able to:
Getting Started with Dreamweaver
Understand HTML Basics
Implement CSS Basics
Utilize Web Design Basics
Create a Page Layout
Work with a web framework
Add Images, Links, Lists, and Tables
Use the code editor tools
Finalize your site
Prerequisites: Web Design with HTML5 and CSS3 or equivalent knowledge is highly recommended.
It is also recommended that you have the Adobe Dreamweaver software before starting class.  You can purchase the software or obtain a trial from Adobe.com.
Training Type: Instructor led, group-paced, classroom-delivery learning model with structured hands-on activities.  Available for Private or Group Sessions.
Class Includes
Professional Textbook
Download materials with practice examples
Free access to CoWorking space on class days (FC Only)
One month of technical support
One year for a free re-take (for attended students of public classes only)
Certificate of Completion
Class Info
Classroom equipped with computers and software
14 hours of training
Additional coursework to be completed outside of class time may be assigned
Breaks are taken throughout each session
Class size limited
All Dreamweaver Level 1 course materials included
Target Audience: Beginner
Financial Aid
Click here to learn more about financial aid options including DWC's 6-month payment plan, WIOA Workforce Funding, and more.
Terms and Conditions
Please read our Terms and Conditions before you register.
Certificate Program
This course is part of one of the DWC Certification Programs and Bootcamps.
This class is currently offered in a private format.
---
---