Customized help on your audio projects with Adobe Audition for Beginners Class
Class Description
The Adobe Audition for Beginners Class is focused on audio mixing, editing and multi-track recording. The Adobe Audition software allows you to make rich audio files that incorporate many sources by editing and mixing tracks. In this course you will also learn to create various outputs such as podcasts, music tracks and more.
The Adobe Audition for Beginners class is hands-on and intensive, however it is designed to help make difficult topics easier to understand. Your instructor, an Adobe Certified Expert, will work with you closely to make sure that you avoid common mistakes when creating, mixing and editing your audio files & help you apply best practices when possible.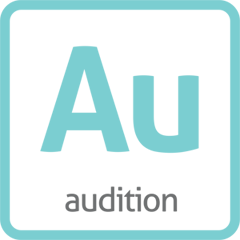 Class Objectives
Upon successful completion of the Adobe Audition for Beginners class, students will be able to:
Navigate the Adobe Audition environment
Work with multiple audio tracks
Mix and edit audio
Understand multi-track recording and its capabilities
Export audio files to various output formats
Create interesting audio projects such as music tracks, podcasts, and more

Class Includes:
3 hours of training
Professional Textbook
Download materials with practice data files
Free access to CoWorking space on class days (FC Only)
One month of technical support
Certificate of Completion

General Info:
Target student: Beginner
Coursework may be assigned outside of class
Computer & software provided in class
Class size limited

Pre-requisites:
Introduction to Computers or equivalent knowledge
We recommended that you have the Adobe Audition software before starting class.

Students at DWC are eligible for a student rate on Adobe Creative Cloud (click to learn how).
You can purchase the software or obtain a trial version from Adobe.com
Training Type
Instructor led, group-paced, classroom-delivery learning model with structured hands-on activities.  Available for Private or Group Sessions.
Available Public Classes
Schedule/Cost

Wed 3-25-2020
9:00am - 1:00pm




Live Classes



Price: $595.00
Space Available: 1 seat(s)
Location: Digital Workshop Center - Ft. Collins - View Map
Classroom: Community Room



Streaming Live Online



Price: $605.00
Space Available(Online): 0 seat(s)
Location: Online

Course Closing Date: 3-23-2020
Instructor(s): Phillip Broste

Choose Location: Digital Workshop Center - Ft. Collins - Online
---
---
Available Private Training
Digital Workshop Center offers each class in a private, one-on-one format. Private training may be scheduled around your availability and customized to your specific needs.
Consulting allows you to work one on one with your instructor, but does not follow a class curriculum.
If the public class schedule above is not ideal, please choose from the following options: