Microsoft OneNote Classes
Learn Microsoft OneNote
Why Should I Take This Class?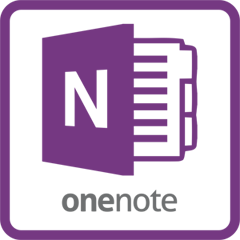 Microsoft OneNote is a digital notebook that stores all of your notes and information in one easy-to-access location. OneNote offers an advanced search feature which allow you to find what you're looking for quickly and efficiently. No more searching through emails, files or word processing programs to find the information you need! Unlike paper-based note-taking systems, OneNote offers the flexibility to organize text, digital handwriting, images, audio and video recordings into one digital repository.
Microsoft OneNote will ensure that you never search for a lost note again!
Upon completion of Microsoft OneNote classes, you will be able to manage and organize your notes with ease. All of our hands-on OneNote classes include: a professional textbook and one month of technical support.
What Skills Will I Gain After This Class?
When you complete OneNote training, you will be able to:
Organize content in a meaningful way
Integrate OneNote with other applications
Share your notes with others
…and more!
How Do I Get Started?
Click a course title below to view the available Microsoft OneNote classes and register online. If you have any questions, please contact our office at 970-980-8091.
Level 1 - Microsoft OneNote for Beginners Class
View Schedule →
Live - $509 | Streaming - $519

You will create, edit, organize, and enhance notes and also integrate them with other applications using Microsoft OneNote.