Launching LinkedIn Job and Event Board for DWC students, alumni, and community to connect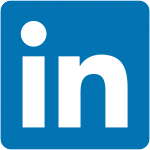 As the Digital Workshop Center (DWC) community continues to grow this year, we recognize that we need a central place to help our job seeking students connect with potential employers.  While DWC does not do direct career placement, our goals are often the same as the organizations we partner with:  we want to help our unemployed students find full-time work.
To help streamline this process, we have launched a new LinkedIn Job and Event Board.  Open to the public, this LinkedIn tool will help us pass along potential job openings to our students.  The hope is that job seekers can connect directly with potential employers, and that employers looking for certain skill sets in digital marketing, web design, graphic design, or business administration will have more direct access to DWC candidates.
Connect with alumni on LinkedIn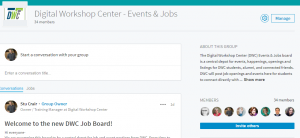 As current students look for more opportunities, the new LinkedIn Job and Event Board will also help DWC alumni to connect with one another in the professional world.  Having an ally in the business world is always a huge advantage to getting a 'foot in the door', and knowing another DWC alum who has had a similar experience to you is beneficial as well.
To connect with DWC alumni on LinkedIn, click here.
Events and happenings in Fort Collins and Denver
DWC is a community resource for technology training and coworking, and there are new events, meetups, and happenings at our campuses all the time.  The LinkedIn Job and Event Board will also post the latest micro-learning sessions, free lunch and learns, and events happening at DWC.  We hope that you connect with our community to find your own opportunities as well!
If you have any questions about the job opportunities or LinkedIn groups, please contact us anytime with questions.  We are here to help!
We hope to see you in class soon!
Need more help?
For more information, fill out the following form and we will respond to you within one business day: