Carrie, a recent Digital Workshop Center graduate, recognized the need to upskill her resume and learn a new set of digital marketing skills to compete in today's digital world. In a recent interview, Carrie provided a real-world Digital Workshop Center review.
Carrie completed the Web Design and Advanced Graphic Design certification at the Digital Workshop Center in Fort Collins. Before receiving additional job training and skills, she was teaching ESL in the local school district. Carrie was looking for a career change and felt graphic and web design would be a good fit with her background and degree in visual arts. The tech-side of this industry and the viable job market really appealed to Carrie.
The career skills she learned at the Digital Workshop Center helped get the qualifications on her resume she needed to land a job at local marketing giant, Madwire – where she began her newfound career. She has now moved on to be the Project Manager and Marketing Assistant at the Eye Center of Northern Colorado. She is convinced she would have never gotten her first marketing job at Madwire without gaining new skills from the Digital Workshop Center.
Carrie found the Digital Workshop Center through a simple Google search and is so glad she did. Carrie mentioned, "The Digital Workshop Center taught me the basics of HTML, CSS, Photoshop, and InDesign. I don't use these computer programs everyday but I am able to talk to the designers and IT people and understand their language. I can explain a problem and function in my new role with the skills and lingo I learned." She also explained, "By learning new skills at the Center, I was able to apply for jobs I would never have been qualified for before."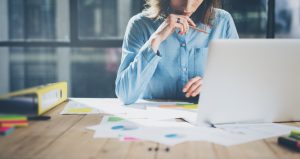 She is thrilled that she has changed her career and said, "I would highly recommend the Digital Workshop Center to anyone looking for a career change. The teachers are good; the material is good and for me, it was a great introduction into this field." She continued, "By having the certifications on my resume, I was confident I could apply for a new job and fill the role well."
If you'd like to up-skill your resume, learn new computer software, or transition your career join us at the Digital Workshop Center in Fort Collins, Denver, or online. Our Certificate Programs and classes offer competitive, high-level instruction in a comfortable, relaxed setting. Each program is designed to help you advance in your current career or transfer to a new industry. Learn more about or programs or call (970) 980-8091 to speak with an adviser now!