Alumni Spotlight – Kelley Buster

Alumni Spotlight – Kelly Buster
Of the nearly 10,000 students we have served in the past years, we are always thrilled to hear about our student's success stories after they have completed courses, bootcamps, or certificate programs here at DWC. In this Alumni Spotlight, we will share the story of Kelly Buster who went from military to working in risk management and now, after taking a variety of courses at DWC, owns a professional real-estate photography business. Our student's success is something we here at Digital Workshop Center pride ourselves on, and Kelly's story is sure to inspire you, just as it did us.
The Beginning of a Passion
Being a Colorado native, Kelly has been inspired by the Rocky Mountains since childhood. As an adult, his travels in the Middle East, Europe, and the western United States further fueled his passion for photography, all events leading him towards his dream of opening his own photography business. That dream became a reality this year with the opening of Kelly Buster Photography. 
Kelly Buster Photography focuses on three main niche markets within photography; Residential Real Estate Photography, Commercial/Architectural Photography, and Business Marketing Photography.
After quitting his job of five years in risk management, Kelly decided it was time to pursue his dream of opening his photography business. He chose to enroll in digital marketing, graphic design, business administration, video design, and web development courses at DWC to gain the skills he needed to get his business up and running.
"I ended up enrolling in DWC because the courses offered were all very appealing to me in terms of business potential. Digital marketing, graphic design, and web development courses looked to be very useful for building and marketing my business to future clients."
Our Alumni Spotlight student also mentions that being a Veteran, it can be difficult to find schooling outside of the traditional university setting that is covered by the Veterans Association. Kelly was able to utilize the Digital Workshop Center's Veteran Benefits program offered by the Colorado State Approving Agency. This allows serviceman or women who have honorably served to be eligible for full-payment with additional payment for attending educational classes. Spouses and children also have rights to these benefits. We proudly offer educational opportunities and benefit to these military members.
DWC Changed Kelly's Career
"The DWC was extremely beneficial in building my photography business in a number of different ways."
The digital marketing classes, gave Kelly the knowledge of social media, email marketing, and advertising to help promote his business. He also took courses in SEO and Google Analytics. These courses ensured Kelly would be able to boost and optimize his website to gain a prominent online presence for his business.
classes such as two levels of Adobe Photoshop, Illustrator, and InDesign. Fully utilizing the skills he gained in graphic design, he created a beautiful logo, business cards, and brochure templates for his clients.
At this point, our Alumni Feature student took his education to another level by completing multiple web development courses, business administration, and video design classes.
He created a well-functioning and fully-optimized WordPress website for Kelly Buster Photography. The website beautifully showcases Kelly's ability as a photographer in a sleek, modern, and clean fashion. The photos of his Business Marketing Photography will literally make your mouth water!
Kelly mentions that the courses offered in business administration benefited the overall organization of how he runs his business. Also, the video design classes were extremely insightful and Kelly looks forward to incorporating those skills in the future to add value to his customers.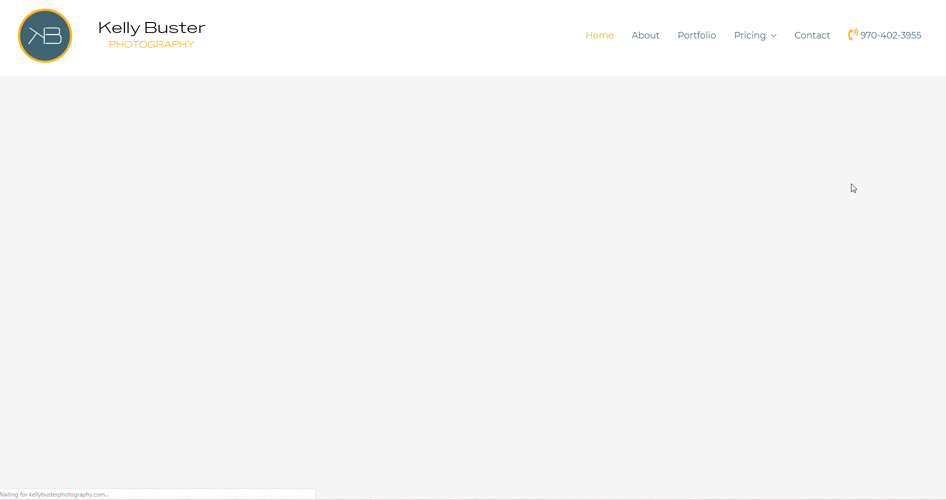 Kelly Buster Photography Website
Advice & Recommendations to Current & Prospective DWC Students
1 – Effectively Build Yourself & Your Business:
"I would highly recommend the DWC for anyone looking to learn the skills needed to build themselves and/or their businesses as efficiently as possible. The biggest draw of the DWC is the fact that you can learn very specific skills, without the need for attending other unnecessary classes as you might do in a traditional college setting"
2 – Knowledgeable and Skilled Instructors:
"The

instructors at the DWC bring a wealth of knowledge and experience to the table

, as they all have a number of years working in the fields that they teach. They all did a great job of addressing questions that I had which were specific to my business and my needs."
3 – Highly Recommend for Veterans with GI Bill Benefits:
"I would also highly recommend the DWC to fellow Veterans looking to gain knowledge and skills, without burning up a large chunk of their GI Bill benefits in the process. Had I attended a traditional college degree program for Graphic Design or Business Marketing, I would have used a significantly higher percentage of my GI Bill benefits in the process. I now have a number of useful skills for my business, as well as a large portion of my GI Bill benefits remaining for future education. Talk about a win-win!"

A big thanks to our Alumni Spotlight student, Kelly! All of us here at DWC are so proud of your accomplishments and are grateful to have assisted you in your journey to build a passionate career for yourself. We wish you the best of luck and cannot wait to see the continued success of Kelly Buster Photography.
If you too are ready to open your own business, gain promotion in your current career, land a new job, or simply want to learn a new skill, Digital Workshop Center provides a variety of courses to fit all your needs. Check out our course list here, and get started building your skills with Digital Workshop Center. Who knows, maybe you will be featured as our next Alumni Spotlight!
Ready to Advance Your Career?