Working to increase access to job opportunities and networking for alumni on LinkedIn
Employers and job seekers know that LinkedIn is the single most important tool for recruiting talent.  Employers often review a LinkedIn profile as much (if not more) than a resume to determine your skills and qualifications before hiring.
For skills assessment, LinkedIn is a tremendous tool for recruiters to be able to accurately analyze how a candidates skill set would match their open position.  Furthermore, organizations like Skillful are working with employers to educate them on skills based hiring decisions versus more traditional hiring methods.
Skillful describes their mission, via their website, as "creating a labor market that values each individual's skillset and provides them with opportunity for a meaningful career path. Skillful focuses on empowering the nearly seven out of ten Americans who don't have a four-year college degree but have great skills needed in today's job market."
"Along with the Markle Foundation, LinkedIn, the state of Colorado, and many others, Skillful is helping connect American workers to good paying middle-skill jobs by prioritizing skills and removing barriers that keep many talented people from applying for in-demand jobs. We do this by:
Leveraging data and technology tools to ensure workers can find training and support to prepare them for the growth jobs in their community;
Supporting employers in implementing skills-based hiring practices that can open up their talent pool; and,
Aligning employers and educators so that training programs teach to the skills that are in demand."
Digital Workshop Center alumni on LinkedIn

At Digital Workshop Center, we have been working closely with LinkedIn to build our official school page.   The goal is to create a central place for DWC alumni to connect and network, as well as employers to filter our alumni by the candidates specific skills.
From time to time, DWC is contacted directly about placing some of our students into open positions.  While DWC does not do direct career placement, we strive to see our students succeed, and that often means helping a student get the skills they need to get back to work.
Going forward, we encourage all unemployed or job seeking DWC alumni on LinkedIn to accurately list the technical skills you have learned while in the classroom.  Whether this is a stand-alone class or an entire certification program, having an up to date profile on LinkedIn will be key to your job search now and in the future.
When listing your skills or certificates, be sure to list Digital Workshop Center as the school.  That way, you can be a part of our alumni on LinkedIn page, and, when employers do ask us for qualified candidates, we can send them directly to that page and your profile will be included in their search.
How do I add my DWC classes to LinkedIn?
In order to join the DWC alumni network on LinkedIn and appear on DWC's LinkedIn alumni page, follow these steps:
Go to your LinkedIn profile
Go to your profile page and click on 'Add New Profile Section', located on the right side of the page

Click to add a new 'Education' section by clicking the plus sign
Enter in 'Digital Workshop Center' as the School name, as well as the class or program name you completed, date range, and any other pertinent information.

Click 'Save'
You should now see your Digital Workshop Center programs listed under the education section of your profile!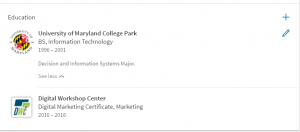 Furthermore, when you visit the DWC alumni page, you should now see your profile included.
If you have any questions or need help with the process, please contact us anytime and we are happy to help walk you through it.  It's been our privilege to help countless DWC students get back to work, and we hope that this new community tool will only improve our ability to connect employers with DWC students in the future.
Need more help?
Fill out the following form to contact us today: