Incorporate a professional content marketing strategy to take your inbound traffic to the next level
"Successful improvisation is mostly a matter of taking your thoughts out of the equation, because thinking can keep the magic from happening. You have to be open enough to let the magic happen, instead of trying to make it happen because magic is never made." – Jimmy Herring
Content Marketing is emerging to be one of the most common practices in a company's branding strategy. Content creation should is an integral part of design. Overall, it is part of the user experience. It should enhance your UX/UI.  Content Marketing is an art. There is a degree of improvisation in creating content, just like in any design or craft.
What is Content Marketing?
Content marketing is a strategic marketing approach focused on creating and distributing valuable, relevant, and consistent content to attract and retain a clearly-defined audience — and, ultimately, to drive profitable customer action.
Content marketing is a communication tool from you to your audience. In a traditional view of marketing, we thought of building ads to attract. This would be more temporary and static, like a billboard or a commercial. When you shift to the current content strategy, it has more permanence. It is a work of art that is produced to be owned by your audience. It is a solid set of guides. The information is given freely to users in hopes it will enrich their lives in some way and create an action. Creating content is essential to marketing today. As you build the plan behind it, you must choose the right content creation tools that are both productive and collaborative.
Content Creation Tools
"The most popular content marketing tactic reported by 90% of B2C businesses is social media; the next most used tactics are illustrations and photos (87%), eNewsletters (83%), videos (82%) and website articles (81%)." (source)
As a content marketer, the creation tools must enable you to produce varying types of content. You must be well versed in:
writing blogs
editing photos
creating video
publishing e-books
and creating attractive visuals like Infographics
You may have a solid team of collaborators, or you may be a solo multimedia content creator. Learning valuable programs for content creation could be what makes your team, or you, stand out above the rest.
Adobe is the most powerful tool for content creation. It is the one solution that can standardize your digital strategy.
"Creative Cloud includes the entire collection of creative apps for desktop, from favorites like Adobe Photoshop and Illustrator to new tools like Adobe Experience Design CC (Preview). It's everything you need to transform your photos, design graphics and illustrations, edit video, create UX designs, and more." (source)
Level up the quality of the content you produce by using the most noted development tools on the market today like Adobe.  Open up the doors for collaboration by aligning your whole team on the same program. It is important to have a keen productivity software that your team can access the raw files behind the content, and a central repository that all can access at any time.
Tools and techniques that increase productivity
Tools and technology that improve productivity start with strong teamwork:
"Teamwork can make you more creative and help you grow. In a high functioning team, where teammates support each other, the enthusiasm to collaborate and learn can mean taking more risks, ultimately resulting in greater personal rewards and a better final product or project. Added bonus: the new ideas and skills learned through positive team interaction will be a career boost."(source)
If your graphic designer, web developer, and creative personnel all use the cloud, so should your content creator. Align all the aspects of your creative team to be more robust and productive. Each is creating a separate component of a bigger picture. The doors of creativity must be open. Working in the same space outlines clear expectations and communication around the project. This is a linear way of working along the timeline and all objectives can be met quickly.
"A lack of speed and collaboration can inhibit the craft. Actually, 31% of senior marketers say creating content faster is a major challenge for their marketing teams, according to a recent report by marketing software provider Percolate." (source)
No more waiting on other creatives on your team to give you access to the file you need. The Cloud can assist you in a workflow based on autonomy and empowerment. All the data is in the same place at all times.
Content Marketing Software
Invest in a content marketing software like Adobe Cloud for cross team alignment. Integrate your team through one core technology where all files are in one place and their most current version. Think of your content creator as part of your creative design team. You will gain ultimate productivity and efficient work flows. The content you produce will be a reflection of this improv form of collaboration.
Having everyone trained on the same tools will cut down on excessive "bringing you up to speed on the project meetings." Implement an internal language to the creative team by giving everyone equal access to the same tools. This is the actual key to productivity. Have an efficient team that runs like clockwork because of the infrastructure in place.
"By utilizing the Creative Cloud Library feature, creative assets including logos, photographs, fonts and styles can be shared between team members or even between departments (i.e. sales and marketing) within a larger organization. This, in turn, creates a single source of truth for marketing efforts and brand initiatives." – DWC Certified Adobe Instructor Brian Wilke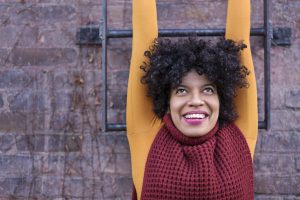 Takeaway
Content creation should be an integral part of design
Implement an internal language to the creative team by giving everyone equal access to the same tools
 Use one solution to standardize your digital strategy
Tools and techniques that increase productivity start with strong teamwork
 Invest in a content marketing software like Adobe Cloud for cross team alignment
 Learning valuable programs for content creation could be what makes your team, or you, stand out above the rest