Home
»
Posts Tagged "Adobe illustrator"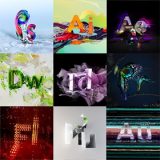 Choosing which Adobe Creative Suite graphic software is right for my project The Adobe Creative Suite offers an array of industry-leading software products for graphic design, web design, professional photography, video editing, and much more.  For any aspiring designer looking at the Adobe software choices, there is a lot of overlap between the graphic design products (and for good reason!). If you are confused as to which product is right for you when you decide to tackle that new, creative project, it is helpful to know the key differences between the three major graphic design programs...
read more
Feeling a bit lost in Adobe Illustrator or InDesign? This tool palette cheat sheet should help you find your way. If you still need extra help, take a look at our Illustrator and InDesign courses! Illustrator Artboard Tool It is: A tool that allows you to resize and move artboards. Graph Tool It is: A quick way to create various graphs. What it does: Takes data for your graph and places it into whatever form of graph you choose, including stacked, bar, line, area, scatter, pie, radar and mixed forms of graphs. Symbol Sprayer Tool It is: A convenient way to add numerous copies of a graphic to...
read more