Home
»
Posts Tagged "Adobe illustrator"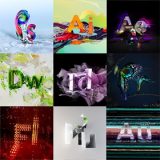 Choosing which Adobe Creative Suite graphic software is right for my project The Adobe Creative Suite offers an array of industry-leading software products for graphic design, web design, professional photography, video editing, and much more.  For any aspiring designer looking at the Adobe software choices, there is a lot of overlap between the graphic design products (and for good reason!). If you are confused as to which product is right for you when you decide to tackle that new, creative project, it is helpful to know the key differences between the three major graphic design programs in the Creative Suite: Photoshop, Illustrator, and InDesign. Adobe Photoshop: Photoshop is the industry leader in raster image graphics creation and manipulation software.  A raster is a grid of pixels, so any raster image is going to be composed of pixel information.  Each pixel can hold color, brightness, contrast, and other information.  When you get a large amount of pixels together in a document, it creates a recognizable image that the human eye can process. Adobe Photoshop is one of the best software tools for editing your raster images.  If you take a photo with a digital camera or camera phone, you can use Photoshop to make professional edits such as changes to brightness, color information, and much more. However, Photoshop can be much more than an image editing tool.  It can also create new designs from scratch.  You can combine images or selections of images from several sources and use advanced layer techniques to create a new image that is greater than the sum of its parts.  The blending and combination of many small images, plus the control of all the pixel information makes Photoshop an incredibly powerful graphic design tool. Adobe Illustrator: Illustrator is a vector graphics application, which is a completely different method to generate an image than a raster.  Instead of using pixels like a raster graphic, vector graphics use paths and points to create objects based on mathematical proportions.  For this reason, vector images can be scaled to any proportions without losing quality. Graphic designers mainly use Illustrator for corporate identity projects like logos and brochures, but the design possibilities are endless.  Vector images will have less detail than a raster graphic because there is not the high resolution of pixels in the document.  However, the advantage of "scalability" and ease of use with these types of images makes Illustrator the "go-to" for these projects. Adobe InDesign: Once you have designed your graphics in either Photoshop or Illustrator, you may be ready to layout your images into one final design.  Whether for print or web, Adobe InDesign is an essential tool for digital layout. InDesign is built to replace the manual design layout process.  Popular features of the program include text styling and threading, master page options, and smart guides.  In addition, there is a wide array of long document features to help you keep that long document organized. When you are finished, InDesign can output the design into the proper media and includes some handy features to mark-up your design for the web or prepare a file for commercial printing. Similarities All three of these Adobe products have some cross-over between them. While Photoshop is intended for raster graphics first, there are some vector tools built into the program.  In addition, Illustrator is primarily to create vector graphics, but it definitely allows you to place raster images into the designs and can handle the translation of the two types of images.  Last, while InDesign is not thought of as an editing tool, there are some basic editing features...
read more
Feeling a bit lost in Adobe Illustrator or InDesign? This tool palette cheat sheet should help you find your way. If you still need extra help, take a look at our Illustrator and InDesign courses! Illustrator Artboard Tool It is: A tool that allows you to resize and move artboards. Graph Tool It is: A quick way to create various graphs. What it does: Takes data for your graph and places it into whatever form of graph you choose, including stacked, bar, line, area, scatter, pie, radar and mixed forms of graphs. Symbol Sprayer Tool It is: A convenient way to add numerous copies of a graphic to a design. What it does: Establishes what object you want to replicate and lets you create copies that can be altered for variety. Blend Tool It is: Great for adding dynamic colors to a graphic. What it does: Takes two points and natural progresses colors from point "A" to "B." What that means: Colors blend naturally together like a sunset. Mesh Tool It is: A way to create various color effects in an object. What it does: Uses "mesh points" as guidelines for where to add colors; mesh points are like anchors from the Pen Tool, but add color effects. What that means: If you don't want an object to have a flat, solid color, the Mesh Tool can mix and blend colors to offer object rendering. Perspective Grid Tool It is: For creating a cube effect. What it does: It places objects along planes. There are two planes that meet at that middle of the screen. The opposite ends to the left and right represent "vanishing points" where objects will appear miniscule as compared to being in the middle of the screen. The orientation and perspective of the objects will change depending on where they are placed in this grid. Shape Builder & Live Paint Tools They are: Good for creating custom shapes and coloring. What it does: Shape Builder fabricates new objects by adding pieces of shapes together. For example, you can create a snowman by stacking various circular shapes on top of each other. Using Live Paint, you can freely paint designs using paths. Width Tool It is: A means to change the width of a path. What it does: Makes anchors along a path grow in width to change the overall shape of an object after filling the path. What that means: You can make objects larger without feeding it fast food three times a day. Scale Tool It is: A fast way to shrink or enlarge an object Rotate & Reflect Tools They are: Ways to tweak an object's position. What they do: The Rotate Tool moves an object, using one fixed point as the "hinge" to pivot the object. The Reflect Tool flips an object. Blob Brush Tool It is: A little bit paint brush, a little bit pen (for paths). What it does: Creates a filled path of the shapes defined by your brush strokes. Any additional shape will be added to the path if it has the same stroke and fill color. InDesign Notes Tool It is: For keeping all parties accountable for their changes. What it does: Color-codes and tracks changes by users and allows individuals to leave notes in a document for others to read. Gradient Feather Tool It is: For putting a lighter touch on gradients. What it does: Softens the coloring of any gradient. This can be done by dragging the mouse over the gradient. Scissors Tool It is: A slicer and dicer What it does: Splits a...
read more