About
The DWC is here to create the perfect training solution for you!
Founded in 2006, The Digital Workshop Center is a locally-owned independent computer training school offering professional development and training classes on design software programs, desktop applications, business solutions and advanced computer training concepts. In addition, the DWC now offers coworking and private office space for rent.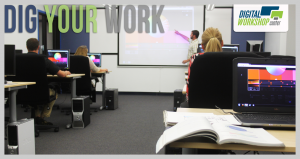 Through classroom or private learning methods, the Digital Workshop Center is here to help you and your business with all of your training needs.The Digital Workshop Center also offers private training and consulting. On-site group classes and free "Tips & Tricks" seminars are also available for businesses.
Our Training Style
The success of our students is realized through hands-on, personalized training. All of our classes are kept very small (about 16 students maximum) to ensure each student receives focused and personalized attention. We are PC and Macintosh friendly and familiar with a wide range of digital arts and computer applications.
Quality of Our Instructors
All of our instructors have 10+ years of computer training experience, IT/Computer Science or related degrees, and significant job experience in the IT training field.
Training Options
For one individual or 50 employees, the DWC has a training solution to fit your needs. You can choose from one of our many regularly scheduled courses, including:
Training Location Options
The Digital Workshop Center will work to find the perfect training solution for you.
Our training location options include:
1. Our Location: students complete training at the Digital Workshop (map) in downtown Fort Collins. All software and materials are provided.
2. On-site (your location): we send an instructor, all course materials, and equipment to your workplace.
3. Online: Training can be delivered from the comfort of your home or office. The course is taught in a webinar-style format by a live instructor to keep the human element of a traditional classroom alive. Additional lab time is provided to give students a chance to practice what they learned and ask our instructor questions. Visit our online classes page for more information.
4. Private Instruction: you will work one-on-one with an instructor to achieve all of your learning goals.
Group, senior, and corporate discounts are available!
Business Solutions
For businesses of all sizes, The Digital Workshop Center is your one-stop solution for IT and computer training. Working closely with HR and management, our customized training programs are easy to administer and allows a manager to track the progress of all participating employees. From our initial skills assessment of your employees to our detailed progress reports after the completed course, we are with you every step of the way through the training process.
Our personalized classes are flexible and designed around your schedule, budget, level of expertise, and preferred method of learning. Visit our Business Training page for more information!
Course Resources
Included in the cost of every computer training course at the Digital Workshop Center is the following:
Professional Textbook or course reference packet
Take-home CD / downloadable materials with practice examples
One month of technical support
One year for a free retake of the same course*
Certificate of Completion from the Digital Workshop Center
*Attended students only. Some restrictions may apply.
Your Local Training Resource
Thank you for considering us as your local training resource! We invite you to take a look around and explore the many training options available for you!